10th Annual Golf Tournament
26 Jan 2021 — 2 min read
Tagged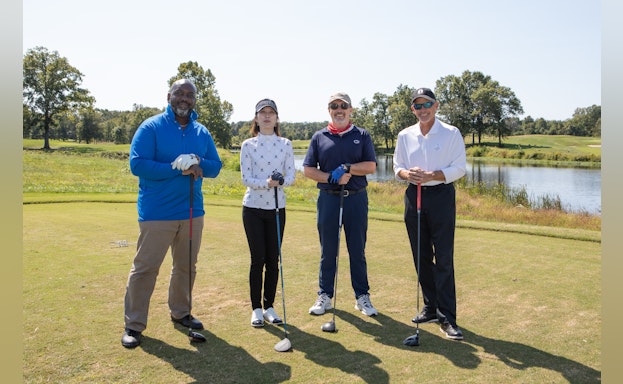 10th Annual AFSP NCAC Golf Tournament: The Perseverance Edition
In January 2020, the NCAC Golf Tournament committee was excited and eager to start planning for the event's 10th Anniversary year! Early in the year, they had already begun meeting and even arranged the menu, the venue, the seating. But, no one knew that Covid was gonna happen - Covid was gonna happen - Covid was gonna happen…
When March came and the pandemic changed everything, the event's website was already up and running and we had so far secured 12 golfer foursomes as well as 4 major sponsors. The committee knew that we had to adjust quickly to ensure the safety and well-being of our participants. So, we reached out to Bull Run Golf Club, our loyal supporter and venue of 7 years, and they were absolutely wonderful in accommodating our need to not only postpone but to rework the details of our event to provide a safe, outdoor, physically-distanced experience.
First, we pushed the 10th Annual Golf Tournament back from May 20th and rescheduled it for September 22nd, in hopes that the local COVID-19 positivity rates would begin to subside by the end of the summer. Next, to take precautionary safety measures, we started working on the details of the event logistics. Safety signage, face masks, and sanitation supplies were provided for all and we were able to minimize in-person contact for the volunteers and golfers by taking advantage of digital options. We moved all the event's registration and check-in process from on-site to online; developed additional "buy-now" options on our website for mulligans, door prizes, and the 50/50 raffle; and posted massive signs with tee assignments at the event. As an alternative to having a buffet-style continental breakfast and indoor post-play banquet, we stocked the golf carts with water and snacks, provided on-course beverage carts, and distributed individual boxed lunches. The positive response from the players at the event was overwhelming as they continued to praise our efforts, make online donations, and stand 6 feet apart on the patio to bid on our live auction and support AFSP!
The committee ultimately persevered, despite enormous obstacles, in hosting a SOLD OUT, pandemic-friendly event. Not only were our special accommodations well-received and appreciated by our guests and volunteers, but we were able to host a wildly successful live auction that raised $7,000 and overall raised $40,000 to save lives and bring hope to those affected by suicide!
Thank you to the 10th Annual NCAC Golf Tournament planning committee for your outstanding dedication and to our golfers, sponsor, and donors for sticking with us – especially during this incredible time of need!