2019 Chapter Achievements
1 Mar 2020 — 4 min read
Tagged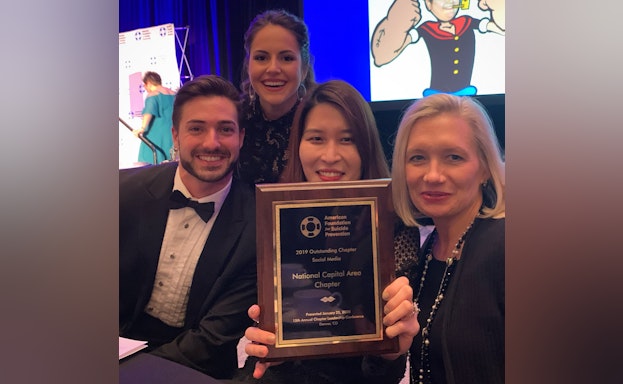 2019 Chapter Highlights & Awards
The National Capital Area Chapter is proud to share the many accomplishments of our hard work throughout 2019, with an expanse in leadership, volunteer participation, online and social media presence, outreach to a broader region, and fundraising. We are excited by the ways our chapter has continued to take form, working to support those affected by suicide.
Chapter Growth
Our chapter leadership team grew with the addition of several new and highly motivated board members. Our chapter volunteer base grew as well, with more than 150 new volunteers signing up to help #StopSuicide! In an effort to improve volunteer engagement and community outreach, we added and restructured a number of committees. For example, we established a formal Communications Committee to improve communications with our volunteers and community supporters. We also reorganized our Education Committee with additional leadership opportunities that will enable us to effectively provide more programming across the area. To strengthen our relationship with communities across the National Capital Area, we added a Development Chair to our chapter board and also established a board member to serve as a liaison in the Prince William Area. The board intends to expand liaison roles to improve representation for other parts of the region as well.
Chapter Awards
At the annual Chapter Leadership Conference in January 2020, the AFSP National Capital Area Chapter was recognized for several achievements during 2019. We were awarded:
Century Club Award for the Fairfax, VA Out of the Darkness Walk
D.C. Out of the Darkess Walk ranked #6 in the country for Top Fundraising
2019 Outstanding Chapter Social Media
Chapter Education
The Education Committee established a new leadership structure to enable more frequent volunteer trainings and subsequently, increase educational program presentations. Our chapter participates in tabling opportunities to raise awareness and share resources with the community, and also presents AFSP's core educational programs: Talk Saves Lives, More Than Sad, and It's Real: College Students and Mental Health. Conservative estimates reveal a collective reach of more than 2,000 people having received resources and education from our 40+ program presentations throughout 2019. Through our partnership with Prince William County Public Schools, AFSP NCAC supported the suicide prevention education of more than 700 high school seniors. We strove to reach audiences across all stages of life, also appearing on a local radio program, "Aging Matters", to discuss the way suicide impacts our aging population. We brought resources to a range of local organizations and businesses, spanning all industries from an immigration law firm to several military bases and even NASA. In addition to our usual programming, we also hosted a Research Connection featuring Dr. David Jobes, a leading researcher in the field of suicidology.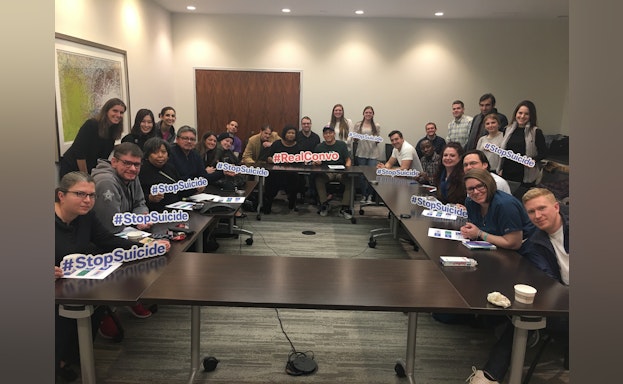 Chapter Advocacy
With appreciation for the impact we have at a grassroots level, the chapter has also worked to nurture its relevance in local and state policy. Our chapter collaborated with the Virginia Chapter to organize the second annual VA State Capitol Day, with more than 15 National Capital Area advocates traveling to Richmond to meet with state officials. Under the leadership of our Public Policy Chair, Trevor Bernard, the Public Policy Committee has become a dynamic and active committee of 15-20 members. In November 2019, the committee also hosted the first-ever D.C. State Capitol Day complete with a press conference to discuss the introduction of the "Suicide Prevention Continuing Education Amendment Act of 2019" by Councilmember at-large, David Grosso. The committee has also been in communication with the Virginia State Department of Education as they update their school suicide prevention policy for the first time since 2003. They also worked closely with Virginia representatives to reintroduce legislation on suicide prevention training for teachers and relevant personnel and decriminalization of suicide in the Commonwealth.
Chapter Communications
In an effort to improve constituent knowledge about volunteer opportunities, educational programs, fundraisers, and overall community impact, the chapter has invested heavily in expanding the Communications Committee. With the addition of a Communications Chair in November 2018, the Communications Committee came to fruition and continued to prosper throughout 2019. Chapter volunteers with expertise in graphic design created numerous social infographics consistent with AFSP branding, attracting recognition from national communications staff. Our followers took notice too, with an increase in engagement across all social platforms including more than 600 new Facebook followers and a consistent month-to-month increase in Twitter followers since the committee's founding.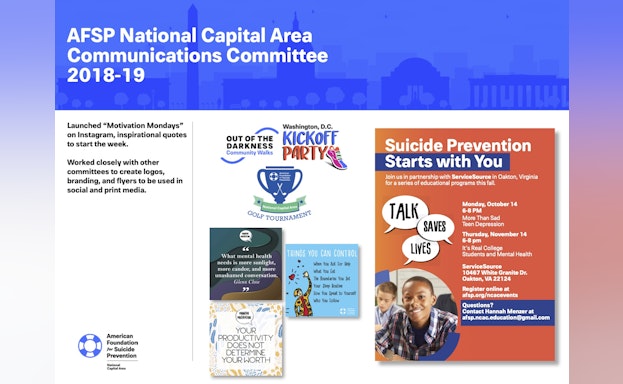 Chapter Support for Loss Survivors
The National Capital Area Chapter continues to support loss survivors through its Healing Conversations program. The chapter also hosted four Survivor Day events where each site enjoyed a keynote speaker with personal experience related to suicide loss, complimented by thoughtful creative activities. Attendees at our Manassas area location planted succulent gardens to represent resilience and exchanged commemorative stones to place in their gardens as a reminder that they are not alone.
Your Support Made This Possible
Thank you to our many wonderful supporters! From Out of the Darkness Walk participants and team captains to our Annual Golf Tournament competitors, our Hike for Hope and Marine Corps Marathon outdoor enthusiasts, and our community partners and corporate sponsors -- we thank you for your shared commitment to saving lives and bringing hope to those affected by suicide in the National Capital Area. It is because of you that we are able to deliver our educational, advocacy, and loss survivor support resources and programming to the community at no cost. And thank you to the hundreds of dedicated volunteers who have turned your generous gifts into action across the area.
The AFSP National Capital Area Chapter is grateful for you. Check out some faces of the chapter in Shinedown's GET UP (Live) music video which launched in February 2019 featuring the 2018 D.C. Out of the Darkness Walk!