2020 NCAC Achievements
25 Jan 2021 — 8 min read
Tagged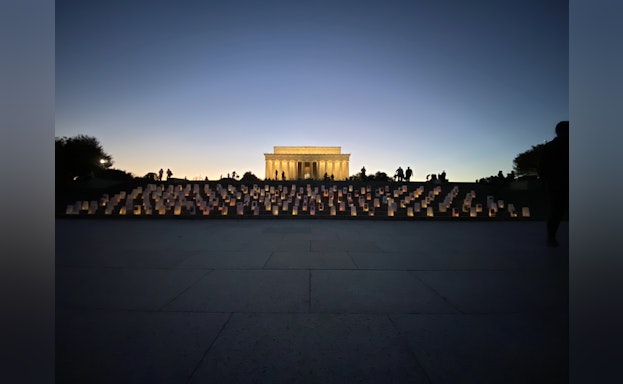 2020 National Capital Area Chapter Highlights & Awards
In the year 2020, we learned that it is going to take a lot more than a global pandemic to get in the way of the important work being done by volunteers, leaders, and staff here at the American Foundation for Suicide Prevention (AFSP). Our local National Capital Area Chapter (NCAC) explored creative ways to continue in our mission to #StopSuicide, and we are proud of the teamwork and dedication that enabled our chapter to carry on at a time when we are reminded just how important it is to care for each other and safeguard our wellness. Join us as we celebrate all the good that came from AFSP NCAC this year!
AFSP Chapter Leadership Awards
At AFSP's annual Chapter Leadership Conference in January 2021, our chapter was recognized for a number of 2020 achievements. We are excited to share that NCAC received national awards in the following categories:
Chapter of the Year! (Large Market)
Outstanding Chapter Public Relations
#8 Top-Fundraising Out of the Darkness Walk: Washington, D.C.
These achievements and awards would not be possible without the outstanding support of our chapter volunteers, event & program participants, donors, and community partners - THANK YOU!!!
Chapter Growth
In 2020, the National Capital Area Board of Directors celebrated the wonderful years of dedicated service and friendship of a few departing members of our team who moved out of the area and went on to bring their passion for suicide prevention to places like California, New York, England, and South Korea! We also are also excited to have welcomed five new Board Members and more than 160 new volunteers to our team! Despite the need to physically distance due to the pandemic, the NCAC community was able to stay socially connected - and even grow our chapter engagement - through online meetings, programs, happy hours, scavenger hunts, improv lessons, the #StopSuicideNCAC hashtag, our first-ever "Real Convo with NCAC" on Facebook Live, the Out of the Darkness online programs for Fairfax, Loudoun, Manassas, and D.C., and more! We also made progress in deepening our presence in previously underserved communities and developed a strategic plan to strengthen diversity, equity, and inclusion in our chapter which we have begun to implement.
NCAC Prevention Education
In accordance with public health guidelines, NCAC quickly transitioned to online educational programming in March 2020 (something we had never done before). The NCAC Education Committee kept busy scheduling no less than 3 virtual presentations each month and even collaborated with other AFSP chapters to serve additional communities around the country, increasing our collective impact. The chapter presented its core programs (Talk Saves Lives, More Than Sad, and It's Real: College Students and Mental Health) 50+ times with a reach of more than 580 people.
In addition, NCAC was excited to also bring our Talk Saves Lives program to the Spanish-speaking community for the first time in 2020, and we hope to continue engaging multilingual volunteers who are interested in helping us serve our diverse National Capital Area community!
Another cool opportunity came for our Education Team when we teamed up with the Washington Capitals and MedStar Health to promote mental health awareness and suicide prevention through their Hockey Talks event in January 2020. As part of this collaboration, AFSP NCAC presented Talk Saves Lives and moderated a panel discussion with #3 Nick Jensen, #21 Garnet Hathaway, and their spouses Jenner Jensen and Lindsay Hathway at the MedStar Capitals Iceplex in Arlington, VA. A short film featuring NCAC Board Chair Ali Walker Naso and NCAC Founding Board Member Marge McConnell was shared on the Caps social media account and played on the Capital One Arena jumbotron during the 1/16/20 New Jersey Devils @ Washington Capitals game.
While 2020 certainly looked different, our Education Committee did not give up and worked harder than ever to serve our community during this incredible time of need. To this day, we have not slowed down in training new volunteers, presenting to our constituents, and preparing for all that the future holds!
NCAC Advocacy
Virginia Advocacy
In February, AFSP NCAC and Virginia Chapter advocates traveled to Richmond, VA for the third annual Virginia State Capitol Day. After collaborating with elected officials, HB 74 was introduced, passed with large margins, and signed into law requiring that all teachers and relevant personnel as determined by the school board must complete mental health training. The Public Policy Committee met with representatives from The Trevor Project ahead of the State Capitol Day and supported their successful efforts to ban the harmful practice of conversion therapy in the Commonwealth of Virginia. We also advocated in support of SB 280 which passed, requiring the Joint Legislative Audit and Review Commission (JLARC) to conduct a third-party review of the annual State Corporate Commission's Bureau of Insurance report on mental health and substance use claims, and with that requires the JLARC examine mental health parity and access to services while reviewing reported data from 2017 to 2020.
District of Columbia Advocacy
At the close of the 2019, our Public Policy Committee hosted the first-ever D.C. Capitol Day event where our collaboration yielded the introduction of DC B23-0543, the Suicide Prevention Continuing Education Amendment Act of 2019, which proposed continuing education requirements in suicide prevention for all health professionals. The chapter later provided written and oral testimony to the D.C. Council's Committee on Health in support of the bill in July 2020.
NCAC Communications
Throughout 2020, NCAC focused on the development and implementation of a new strategic communications plan in response to the COVID-19 public health crisis and the dissemination challenges it presented to our marketing and PR teams. Amid an unprecedented public health crisis, we knew we also had an extraordinary opportunity to come together within our community to improve the understanding of mental health.
The NCAC Communications Committee applied creative strategies to raise awareness for AFSP programs & resources, volunteer opportunities, and chapter events throughout our community. For example, we developed and distributed more than 8,000 informational postcards directing people to AFSP resources like afsp.org/COVID19 and our chapter's website afsp.org/NCAC. 54 local businesses helped NCAC deliver these postcards to the community, including them in restaurant take-out bags and handing them out at checkout counters. Not only did NCAC develop this resource, but we also created adaptable graphics templates that other AFSP chapters personalized and printed across the country.
In addition, NCAC promoted our #StopSuicideNCAC hashtag so our community members could stay connected on social media during this time of physical distancing. Here, chapter constituents shared their stories, posted pictures and videos, helped to raise funds. and pledged their support for AFSP's mission. And throughout the Out of the Darkness (OOTD) season, chapter communications used new platforms and hosted virtual trainings to amplify our collective voice around our mission to save lives and bring hope to those affected by suicide.
2020 also marked the fourth year that DC101's One More Light Team has supported the Washington, D.C. Out of the Darkness Walk. Since 2017, the team, led by DC101's Music Director and on-air talent Gregory Roche, has recruited more than 500 team members and raised over $200,000 in support of AFSP's mission to save lives and bring hope to those affected by suicide. As the largest and highest-fundraising team in NCAC history, One More Light returned last year with a new goal and a new partner – Leidos, a Fortune 500® information technology, engineering, and science solutions and services leader solving the world's toughest challenges in the defense, intelligence, homeland security, civil and health markets. Together, the duo combined their teams to create "DC101 + Leidos, One More Light and tirelessly worked to promote lifestyles that foster mental well-being within their families and our communities.
In addition, Leidos signed on as the first-ever NCAC Out of the Darkness Presenting Sponsor and iHeartMedia went above and beyond to raise awareness for mental health and suicide prevention throughout the Washington, D.C. and Baltimore metro areas. Just a few of their countless endeavors to shine a light included: Read More
NCAC Support for Survivors of Suicide Loss
Despite challenges brought forth by the pandemic, NCAC's Loss & Healing committee continued to strengthen its efforts and impact in 2020. Achievements in the past year include:
Printed Resource Packets

- Stuffing & distributing folders with helpful resources to newly-bereaved individuals
Local Resources for Loss Survivors - The L&H Committee developed this page to provide local resources in addition to what can be found on AFSP's national I've Lost Someone website. These local resources can be found on our chapter website (afsp.org/NCAC) and are shared regularly on social media accounts.

Out of the Darkness Loss & Healing Support

- Under the leadership of our Loss & Healing Chair, we also preserved the meaningful opportunities to commemorate loved ones during the Out of the Darkness (OOTD) season:

NCAC hosted Luminaria Displays at Harris Pavilion in Manassas, Mervin Jackson Park in Leesburg, Old Town Square in the City of Fairfax, and the Lincoln Memorial in Washington, D.C. to honor and remember those for whom we walk. Participants were able to create their own luminaria or request the Loss & Healing Committee to make one for them to be displayed at each of these events. Each Luminaria Display was also featured on our social media accounts with livestream videos and posted photos.
Digital Memory Quilt appeared on each of our OOTD websites and social media pages

Honor & Remembrance Signs

were available for OOOTD participants. For those who requested them, they were shipped to the individual and also featured in the online programs for each of the walks.

International Survivors of Suicide Loss Day While we could not gather in person this fall, the Loss & Healing Committee organized a thoughtful online "Survivor Day" complete with remembrance activities, guest speakers, and small breakout groups for loss survivors to connect with one another.
Healing Conversations The chapter continues to support and promote this program, through which loss survivors can receive peer support and connection.
NCAC Out of the Darkness Experiences
Each year, the National Capital Area Chapter joins AFSP chapters from all across the country in hosting Out of the Darkness (OOTD) Community Walks to raise awareness and funds to further AFSP's mission to save lives and bring hope to those affected by suicide. Typically, all across our region, we host season-long OOTD experiences that ultimately culminate in the fall with in-person walk events in Washington, D.C., Fairfax, Manassas, and Loudoun where thousands of community members come together to walk in our communities to #StopSuicideNCAC.
This year, while we weren't able to safely gather in-person as we usually do, under the strong and resilient leadership of our OOTD Walk Chairs and their volunteer committees, we were able to deliver a season-long series of meaningful Out of the Darkness Experiences that brought our community together to fight suicide. Read More
10th Annual NCAC Golf Tournament
In January 2020, the NCAC Golf Tournament committee was excited and eager to start planning for the event's 10th Anniversary year! Early in the year, they had already begun meeting and even arranged the menu, the venue, the seating. But, no one knew that Covid was gonna happen - Covid was gonna happen - Covid was gonna happen…
When March came and the pandemic changed everything, the event's website was already up and running and we had so far secured 12 golfer foursomes as well as 4 major sponsors. The committee knew that we had to adjust quickly to ensure the safety and well-being of our participants. So, we reached out to Bull Run Golf Club, our loyal supporter and venue of 7 years, and they were absolutely wonderful in accommodating our need to not only postpone but to rework the details of our event to provide a safe, outdoor, physically-distanced experience. Read More
Thank You For Another Great Year!
It is with great thanks to the support of our donors, community partners, and volunteers that the National Capital Area Chapter has been able to continue saving lives and bringing hope to those affected by suicide. Thank you for joining us at our 10th Annual Golf Tournament, the Out of the Darkness Kickoff Party & Experiences, all of our online programming, and everything in between! We will continue to be here for you, and we look forward to serving the national capital area in even bigger and better ways to come -- bring it on, 2021!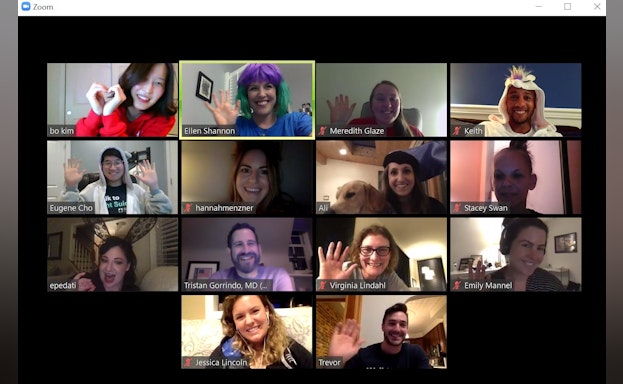 Thank you from the National Capital Area Board of Directors!