2020 NCAC Out of the Darkness Experiences
26 Jan 2021 — 7 min read
Tagged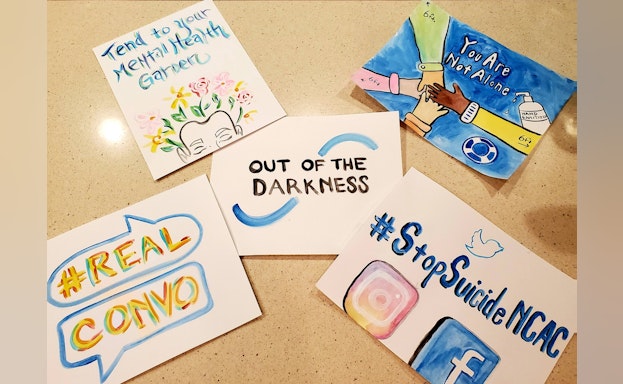 2020 NCAC Out of the Darkness Experiences: Year in Review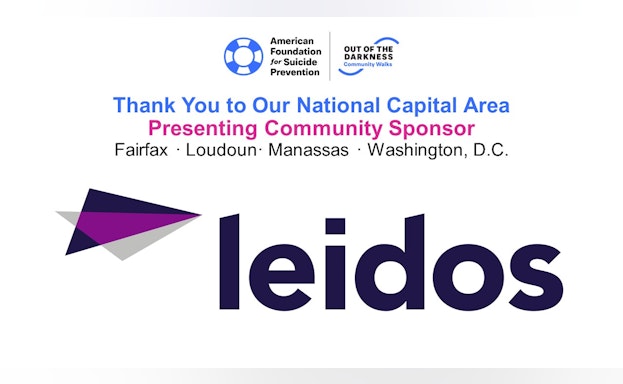 Each year, the National Capital Area Chapter joins AFSP chapters from all across the country in hosting Out of the Darkness (OOTD) Community Walks to raise awareness and funds to further AFSP's mission to save lives and bring hope to those affected by suicide. Typically, all across our region, we host season-long OOTD experiences that ultimately culminate in the fall with in-person walk events in Washington, D.C., Fairfax, Manassas, and Loudoun where thousands of community members come together to walk in our communities to #StopSuicideNCAC.
This year, while we weren't able to safely gather in-person as we usually do, under the strong and resilient leadership of our OOTD Walk Chairs and their volunteer committees, we were able to deliver a season-long series of meaningful Out of the Darkness Experiences that brought our community together to fight suicide.
July
We started off the season with a virtual NCAC OOTD Kickoff Party, hosted by DJ Noah Curtis on Twitch. This online event attracted more than 120 partygoers and raised more than $1,000!
That same month, NCAC Board Member & 2019 Top Fundraiser/Team Captain Eugene Cho hosted our first-ever OOTD Participant & Team Captain Orientation to help our participants connect, share ideas on how to raise awareness and fundraise in a COVID-19 world, and to learn more about what we had in store for each of our OOTD Experiences in Manassas, Loudoun, Fairfax, and D.C. By the end of the season, Eugene had hosted four of these orientations for dozens of participants!
And to add even more opportunities for social engagement (not to mention fun!), we also hosted a social/improv event on Zoom called "Whose Mental Health Break is it Anyway?" and a physically-distanced scavenger hunt for Fairfax OOTD participants.
August
NCAC Marketing Chair and communications pro Erin Pedati led an online OOTD Social Media Training which provided information, tools, and resources for OOTD participants so they could best utilize social media to maximize awareness-raising and fundraising efforts.
The Chapter also launched our first-ever "Real Convos With NCAC" event to connect our chapter leaders and volunteers with our community. Moderated by NCAC Board Member Meredith Glaze, this Facebook Live event featured a group discussion among volunteers leading our OOTD Experiences, including Fairfax OOTD Chair Andrea "Hobbit" Brown, Manassas OOTD Chair Mike Pappas, and Loudoun OOTD Deputy Chair Sarah Kurtz.
And to top it all off, Loudon OOTD Experience volunteers even wrote, directed, produced, and starred in a video that helped explain the new concept of what our OOTD Experiences were and inviting people to join us!
Luminaria Displays throughout Northern Virginia illuminated our personal stories and connections to the cause by honoring and remembering those for whom we walk. In the months leading up to the display events, OOTD Experience committee volunteers helped distribute supplies for participants to create their own luminarias. Then, once completed, the NCAC Loss & Healing Committee collected and displayed them at Harris Pavilion in Manassas, Mervin Jackson Park in Leesburg, and at Old Town Square in the City of Fairfax.
Additionally, the OOTD Experience Committees hosted a number of small, outdoor, in-person pickup events where OOTD registrants could collect participant info packets, swag bags filled with goodies, honor beads, t-shirts (for walkers who raised more than $150), and more! These events not only provided our community with a fantastic set of AFSP resources and materials, but they also created safe opportunities for individuals to come together and show our support for suicide prevention as well as for one another.
October
Much like what the Northern Virginia OOTD Experiences did in September, the D.C. OOTD Experience hosted several materials pickup events throughout October and their moving Luminaria Display at the Lincoln Memorial on 10/17.
Finally, October also brought the pinnacle of the season: Our "Walk Days" for the Northern Virginia OOTD Experiences (Fairfax, Loudoun, and Manassas) on 10/3 and Washington, D.C OOTD Experience on 10/24. We commemorated these special days by hosting online programs featuring slideshows of participant photos and #StopSuicideNCAC social media posts from throughout OOTD season, special messages from AFSP staff and volunteer leadership, recognition of our sponsors and other outstanding support, Honor Beads Ceremonies, live musical performances, celebrity endorsements, and even a live-stream of teams walking safely in their community in real-time! We would like to give a special thank you to Joe McGrath of Showcrew and Ian MacInnes for their combined production genius and artistic brilliance.
Shout Out to NCAC's OOTD Planning Committees!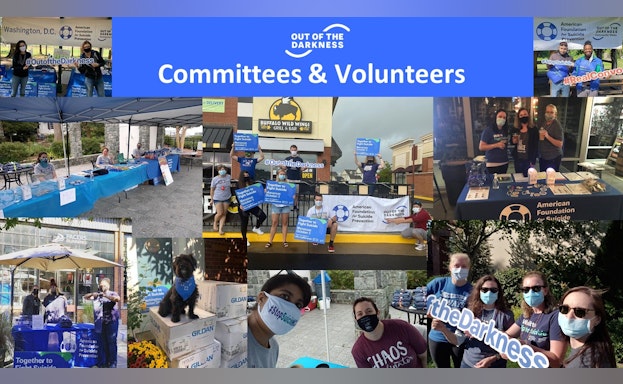 NCAC OOTD Experience committee volunteers from D.C., Fairfax, Loudoun, and Manassas all went above and beyond to create an inclusive experience for everyone throughout our communities all season long! They worked tirelessly to bring our community together in this time of need and raise awareness and support for these OOTD Experiences and AFSP's mission. They did this by participating in online meetings regularly, posting marketing materials in their communities and on social media, distributing printed AFSP COVID-19 resources to restaurants and other businesses, doing personal outreach to participants and supporters, soliciting and securing sponsorships, hosting virtual and smaller in-person events, and so much more!
Thanks to the outstanding dedication and support of our OOTD Planning Committee volunteers, NCAC was able to continue to connect, serve, and bring our communities together to fight suicide during this incredible time of need.
Words from NCAC's OOTD Leadership
This year, the Out of the Darkness Walks looked different as we gathered virtually to honor those who struggle and remember those we have lost to suicide. But while these events looked different, we remained true to our mission and are grateful for the leaders and volunteers that made this another memorable OOTD season. Here are some words of reflection from NCAC's 2020 OOTD Planning Committees' Leadership:
Brittany Lang, Loudoun OOTD Chair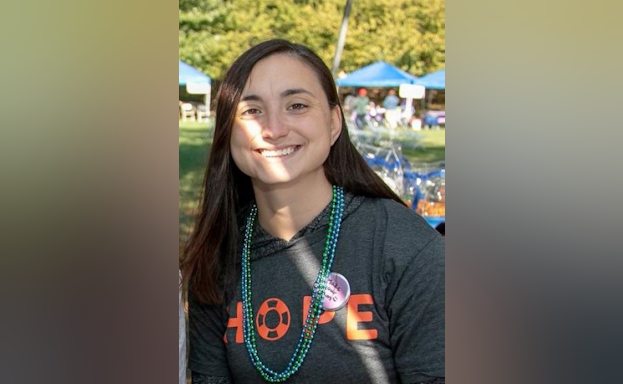 This year was tough for everyone in some way or form, but there were some positives. We had a great team come together as a committee and since we had small and frequent "events", we were able to make connections with the walkers. The community came together and it is really great to see people engage in discussions about mental health that used to be surrounded by stigma and uneasiness.
Sarah Kurtz, Loudoun OOTD Deputy Chair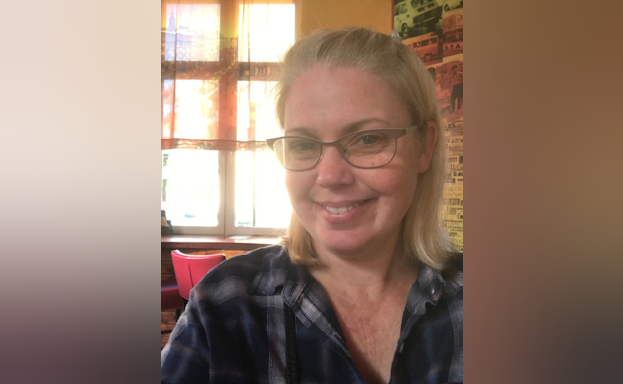 I have to agree with Brittany - I think we had a much larger impact on the community by having our pop-ups. This past walker season we were reaching out to our walkers in more personal ways and I think that allowed us as a committee to actually feel like we were meeting people, names to faces. It felt more personal for me.
Kim Fischer Werner, D.C. OOTD Chair
On behalf of the 2020 Washington, D.C. Out of the Darkness Experience, I would like to thank the walk committee members for their hard work under difficult circumstances, the volunteers for their dedication, and the walkers for participating from many different locations. We are especially grateful for our new and continuing sponsors for their generosity and support in our efforts to save lives and bring hope to those affected by suicide. Because of COVID-19, we took creativity and commitment to a new level this year. I also want to thank Ellen Shannon whose guidance, support, and unwaivering passion and committment to the National Capital Area Chapter make us stronger and better able to successfully connect with those who need our support and resources. Through our collective efforts, we were the 8th largest Out of the Darkness Experience in the nation!
Andrea "Hobbit" Brown, Fairfax OOTD Chair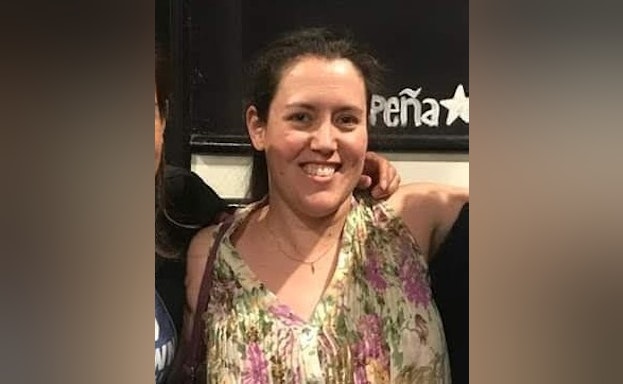 This past year was an exercise in flexibility, patience, and resourcefulness. None of this could have been accomplished without the whole team!
Mike Pappas, Manassas OOTD Chair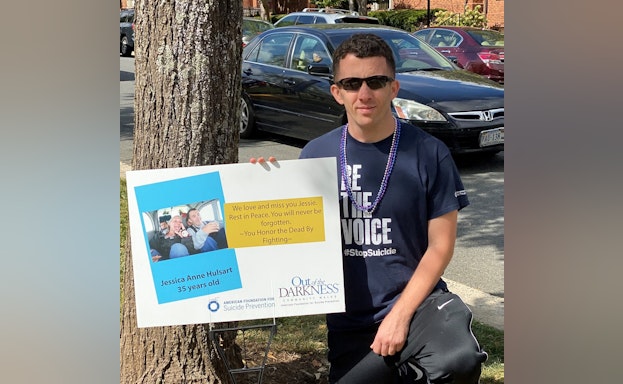 Being involved with AFSP for the year 2020 brought some serious challenges to the table, but we were all extremely grateful to see people rise to the occasion to show the world that the resources were still there. I look fondly at my time with AFSP because it has given me a positive outlet after the passing of my cousin in the summer of 2015. I needed somewhere to focus all of the emotion I was feeling, AFSP was it. After my loss, I wondered how I was supposed to move forward and keep going. I found motivation in a quote from the TV show Arrow -- "You honor the dead by fighting." So I've decided to honor my cousin by getting out of bed every day and fighting. By pushing through the day, through the trials and challenges it brings -- and honoring her memory that way. Through AFSP I've found an avenue to keep up the fight, and I want to continue to play a role in supporting others to do the same.
Thank You & Congratulations!
We wish to sincerely thank everyone who played a role in the success of AFSP-NCAC's 2020 OOTD Experiences and our mission impact. Right now, awareness and support for mental health and suicide prevention are more important than ever before and we are only able to meet this need with the help of our dedicated participants, fundraisers, planning committee members, volunteers, sponsors, donors, program participants, event hosts, and everyone who supports our work. We want to express our gratitude to all of you for adapting so smoothly and sticking with us throughout this challenging year. Your support during this incredible time of need is profoundly appreciated and we will never forget the much-needed positivity you brought to 2020!
2020 Top-Fundraising OOTD Participants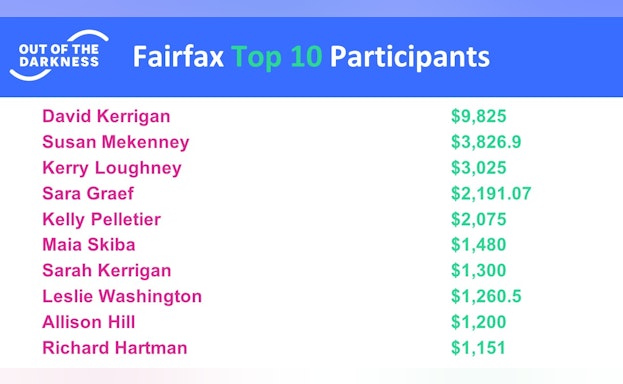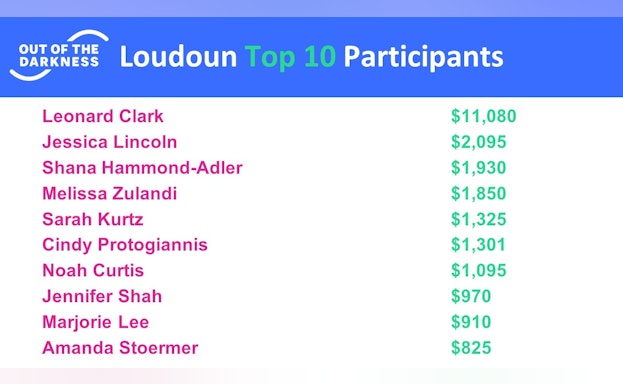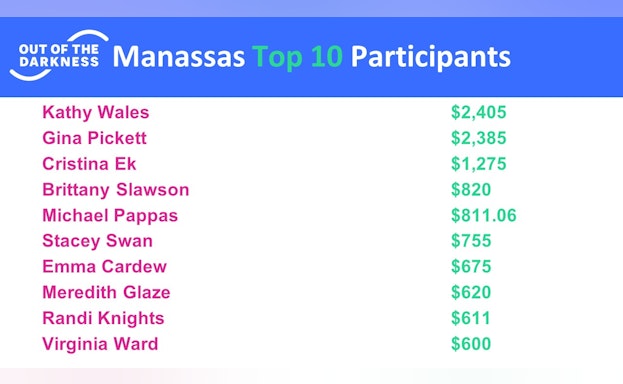 2020 Top-Fundraising OOTD Teams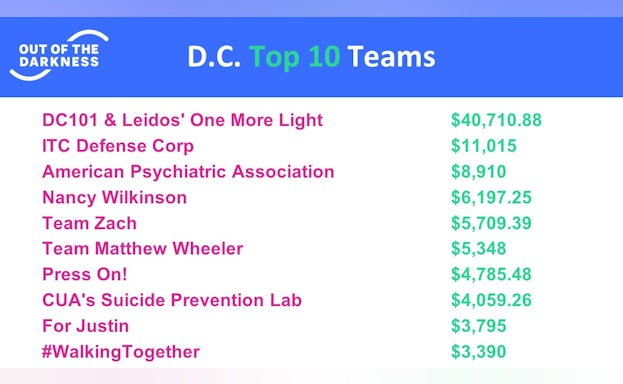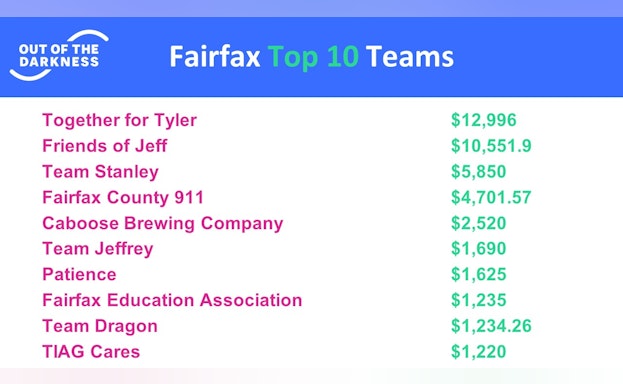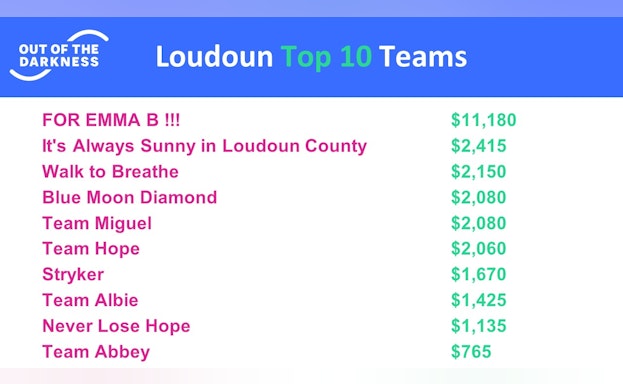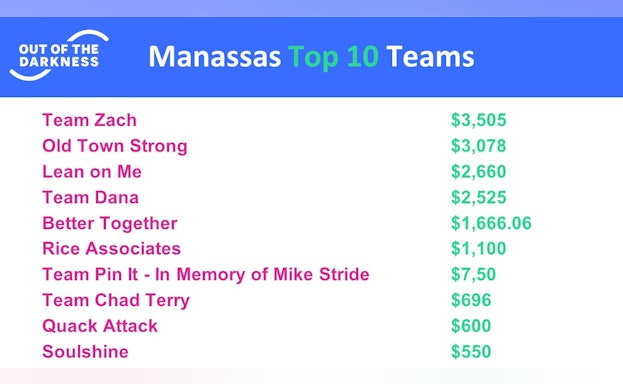 Thank You to Our Outstanding Sponsors!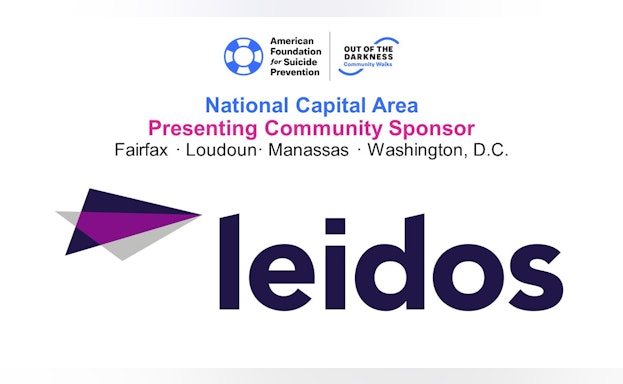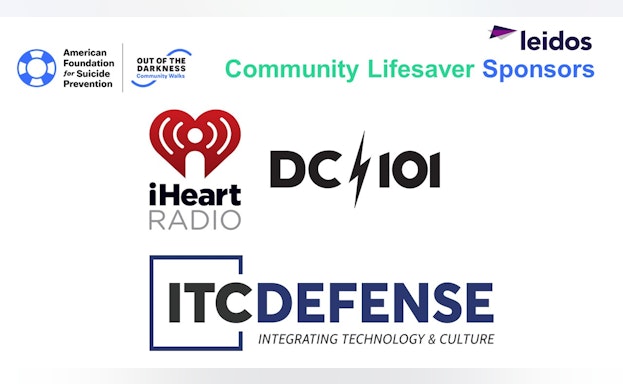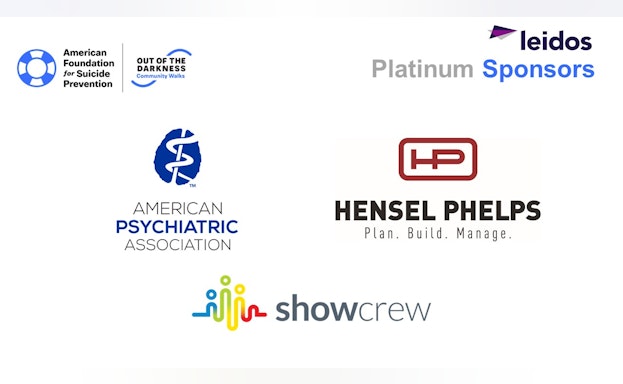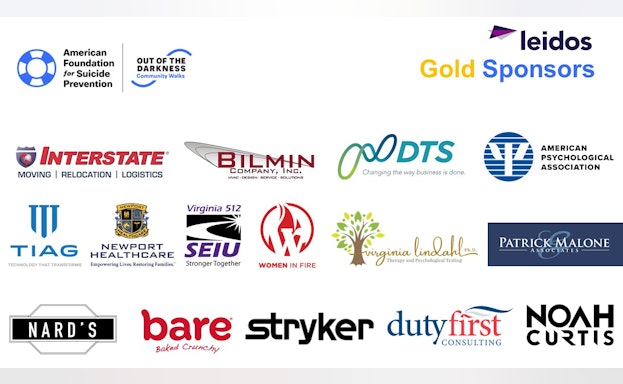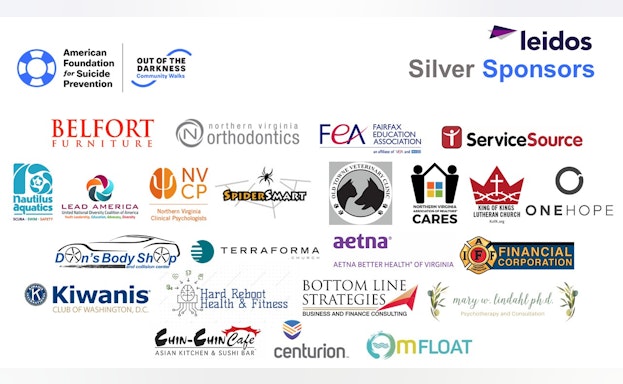 D.C. OOTD Experience: AFSP's #8 Top-Fundraiser!
We are also thrilled to celebrate the Washington, D.C. Experience for its national recognition as AFSP's #8 Top-Fundraising Experience for 2020! Congratulations to D.C. Experience Chair Kim Fischer Werner and the 2020 D.C. OOTD Planning Committee for this well-deserved award; and congratulations to all of our OOTD Experience Chairs, Deputy Chair, Planning Committees, volunteers, and supporters for a job well done!
Support the 2021 OOTD Walks!