Healing Through The Holidays
21 Oct 2021 — 3 min read
Tagged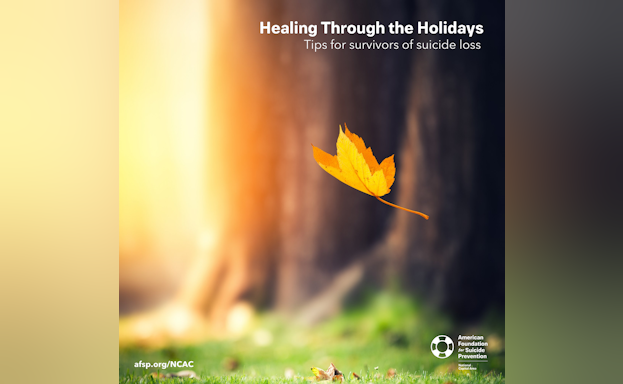 Healing Through the Holidays
Special occasions such as holidays can be difficult, including for those who have experienced a suicide loss. Here are some tips and resources to support your healing through the holidays. Above all, bear in mind that there is no "right" way to handle special occasions -- you and your loved ones may decide to try several different approaches before finding what is best for you.
Tips for Handling Special Occasions
Read this article with some tips for strategies to help you and your loved ones through these occasions.
Holiday Bill of Rights for Those Experiencing Grief
Adapted from other sources, this list reminds you that you have a right to experience your grief on your own terms:
You have the right to say "time out" anytime you need - to arrive late or step away from family gatherings early, to be alone without explanation when you need to grieve in the quiet, to walk outside when you feel overwhelmed.
You have the right to tell others how you are feeling with honesty - you're not obligated to answer the way others might expect or want.
You have the right to not be joyful every single moment of the holiday, but if you look for and feel joy and love during the holidays you have an equal right to that, too.
You have the right not to send out holiday cards.
You have the right to not listen to holiday music or participate in gift exchanges and/or holiday celebrations.
You have the right to be excited about going holiday shopping then change your mind when you get there, or buy a present for your loved one and do what you want with it.
You have the right to laugh at unexpected times.
You have the right to be angry.
You have the right to long to have your loved one back, to have the life you once had.
You have the right to find a way to honor and remember your loved one during the holidays by whatever ritual you feel comfortable with.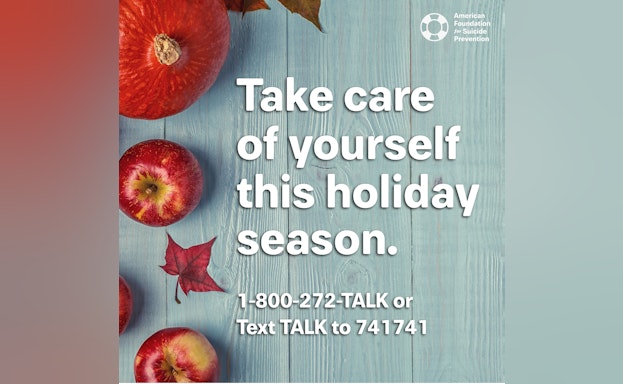 Helpful Resources for Loss Survivors
"Loss Survivors" are those who have lost someone to suicide. Navigating life after a suicide loss can be challenging. We are here to let you know that you are not alone, and that there are resources available to help you and your loved ones.
This is a guide for suicide loss survivors providing support, resources, and tools to foster hope and healing. It contains practical informatiom as well as stories from experts and fellow loss survivors.
There are numerous resources available locally to support individuals following a suicide loss, including support groups, suggestions for finding a therapist, and community crisis resources for those experiencing significant distress.
Each November, AFSP supports hundreds of ISOSL Day events around the world. These events offer the opportunity for loss survivors to come together to find connection, understanding, and hope. Visit the ISOSL Day website to locate the event nearest you. If you live here in the National Capital Area, you can view our local ISOSL Day events at afsp.org/NCAC under the "events" section.
Our Healing Conversations program gives those who have lost someone to suicide the opportunity to talk with our experienced volunteers who are themselves survivors of suicide loss. You can request a visit in person, on the phone, or by video chat.