Meet Our Board Members - Hannah Hayes
22 Feb 2023 — 2 min read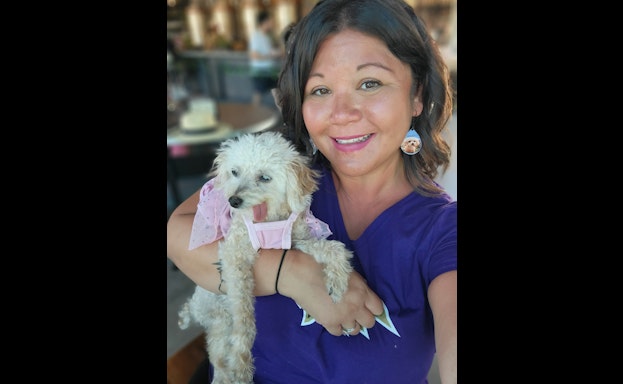 Name and Board Title
Hannah Hayes, Board Chair
Tell us a little bit about your background – personal and/or professional.
I live with my husband, Matt, and we have three adorable fur babies here and two rainbow fur babies in our hearts. I am extremely passionate about suicide prevention among Veterans and youth. I have a master's degree in education and currently work as a first grade teacher.
What city do you call home?
St. Pete, Florida has become my home.
Where did you grow up?
I grew up as a Navy Brat, but spent most of my time in Hawaii, Northern Virginia, and Virginia Beach
What are some of your favorite hobbies?
I love going to the beach, it is my happy place. I love starting my mornings in nature and meditation. I enjoy spending time with my husband and three doggies. We love Sunday Football and especially enjoy dressing our dogs in jerseys of our favorite teams.
What might someone be surprised to learn about you?
I can sing Journey's "Don't Stop Believing'" at Karaoke Night like nobody's business!
Why did you become involved with AFSP-Tampa Bay FL?
When I was 22 years old, I lost my dad to suicide. I quickly learned that this was a very complex type of grief. After working on my own personal grief and healing through support groups with fellow loss survivors, I decided I wanted to get involved on a deeper level that will impact more people. I attended my first research conference in Orlando, FL because I wanted to learn as much as I could about suicide prevention. I attended my first ever Day at the Capitol in 2015 where my excitement to become more involved was ignited and I have not looked back since.
What was your first introduction to AFSP?
When I lost my dad in 2009, AFSP was the only organization I could find that had a program for loss survivors. I attended my first International Survivors of Suicide Loss event in 2009 at a location in Virginia (where I was living at the time). I have attended an ISOSL day every year since my dad passed away.
What is one of the most important things you would share with the community about AFSP?
AFSP is a phenomenal organization made of volunteers and staff who are truly passionate about the mission to save lives and bring hope to those affected by suicide. If you are interested in getting involved, the people you meet through AFSP and the programs will truly change your life and help you in your healing journey.
Anything else you'd like to share?
No difficult feeling is ever permanent, it will get better. You are not alone. Your life matters.
What are three unexpected items on your desk?
Oyster shell that serves as a picture frame of my rainbow fur baby, Princess Sparkle
A pink post-it note with a message from my husband that says, "I need your smile."
Usually a picture one of my students drew me. 😊