Meet Our Board Members: Miranda Khan
16 May 2022 — 3 min read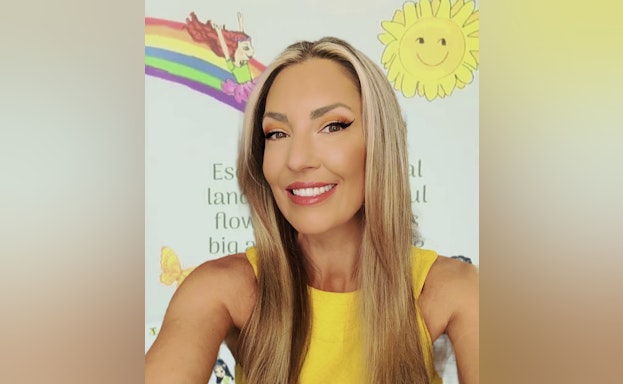 Name and Board Title:
Miranda Khan
AFSP Board Member
What city do you call home?
Boynton Beach, Florida
Where did you grow up?
I grew up in Lenexa, Kansas.
What are some of your favorite hobbies?
I would describe myself as the adventurous and creative type. I enjoy traveling and trying new things, whether that be a restaurant or an activity. I'm also a big foodie, who enjoys cooking, writing, and being outdoors, especially when animals are nearby.
What might someone be surprised to learn about you?
My friend's often call me "Snow White" because they say I share a special connection with animals. A year and a half ago, I adopted two kitties, brother and sister, who I have successfully trained to shake. Yes, cats can be trained.
While not mentioned in The Blossoms of Floraland, a children's book series began and originated by my sister, Meredith, you will see several references to animals and insects, some of whom I've based off of my own connections with them and people I know.
What was your first introduction to AFSP?
I discovered AFSP-SEFL after publishing The Blossoms of Floraland, a children's book series started by my only sister, Meredith Khan, who died by suicide. I was looking for an organization dedicated to suicide prevention and saw it was holding an Out of Darkness walk at one of my favorite parks. It seemed fitting, since it was this same park that often served as the inspiration for completing my sister's book.
After attending that event, I decided to go to its Survivors of Suicide Loss event. I could see quickly the impact and the need for AFSP.
Why did you become involved with AFSP-SEFL?
I volunteered to serve on the committee for Stand Up for Hope after my co-host for Real Convo, a National Network show dedicated to Mental health, Alan Mednick, came up with idea. It was after all, AFSP, who connected me to Alan.
I thought the event was brilliant and exactly what ALL of us need more than ever. Now, we're gearing up for the second of what will undoubtedly be many more to come.
What is one of the most important things you would share with the community about AFSP?
Suicide is more common than you think, but it's also preventable. Be the voice of the voiceless. Speak up and learn the facts today. Together we can and will make a difference and save lives.
What are three unexpected items on your desk?
Being that I work behind an anchor desk for Real America's Voice, as the host for News On at 12pm ET and Real Convo, I would say in addition to my laptop, scripts and lots of notes. Probably not a surprise, but what may be is that I became first involved in Broadcast journalism while in high school to overcome by fear of public speaking.
Do you have a hidden talent?
Speaking of sharing voices, some people say I have parrot ears for my ability to mimic certain voices. While mostly for entertainment, I have actually used this so-called talent for various projects, including a music video.