Montana Lifekeeper Memory Quilts
8 Mar 2020 — 4 min read
Tagged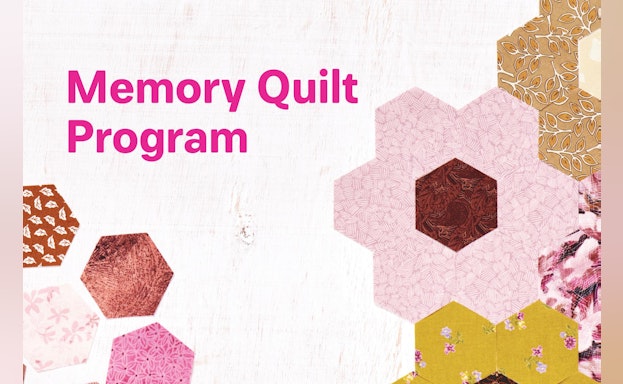 Our Memory Quilt Program gives suicide loss survivors a way to share memories of their loved one, either through physical memorial squares assembled into traditional Lifekeeper Quilts displayed at public events, or through the Digital Memory Quilt.
Learn more at afsp.org/quilts
Each panel in our quilts tells the story of someone who took their life. The panels are lovingly stitched together, and the quilts are publicly displayed at Montana events to remind us that no survivor of suicide loss stands alone.
Montana Chapter currently has 2 completed quilts and are working toward enough quilt squares for a third.


Quilt #1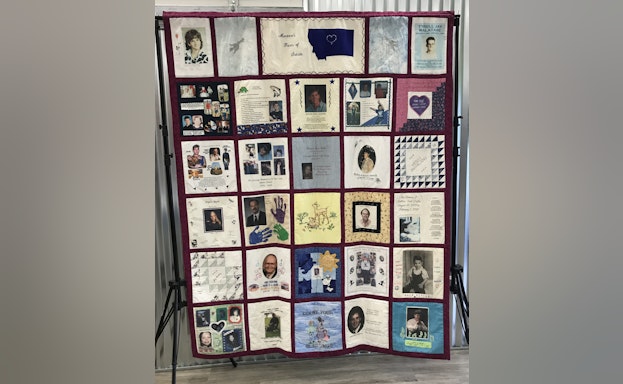 Row 1 Ranoda Jean Rowe, 4/2/74 – 7/13/89, Pat Jones • Tyrell Jay Malatare, 1/4/80 – 1/1/00, Janet Nelson and Grandma Marnie
Row 2 Lance W. Taylor , 5/26/82 – 9/29/98, Diane Taylor • Adam P. Taylor, 9/4/83 – 11/2/00, Diane Taylor • Dylan Fagan, 7/10/85 – 5/12/98, Sherry Turner • David Paul Eaton, 3/9/75 – 8/24/93, Michelle Eaton • Matthew Badger, 1/25/80 – 6/5/95, Marsha Badger • Toni Hoff, 9/21/61 – 2/13/97, Alana Barone
Row 3 Travis Lawrence Moser, 8/13/72 – 4/10/96, Linda Fleming • Nate Chute, 1980-1999, Terry Chute and Jane Kollmeyer • Kendra Rose Held, 5/27/88 – 8/20/01, Dionne Adams • Robin Annette Meech, 5/20/67 – 7/1/90, Sandy Meech • Wesley McFarland, 11/6/1918 – 5/13/66, Laila Lindberg for Marjorie McFarland
Row 4 Angela Marie Ottoson Roe, 5/31/77 – 6/4/01, Rhonda Castner • Willam Duncan Jacobsen, 1956-1999, Cynthia Jacobson • Jerry Lindberg, 6/9/1950 – 1/26/00, Linda Lindberg • Matthew Scott Duffin, 8/16/79 – 2/1/95, Terri Duffin

Row 5 Jerry Lindberg, 6/9/1950 – 1/26/00, Laila Lindberg • Richard D McFarland, 3/18/25 – 10/21/95, Rose McFarland • Jeremy Mark Young, 8/18/80 – 5/5/99, Mark and Liz Young • Brent Dale Meier, 11/11/83 – 12/31/00, Brenda Ocheltree • Jack Keeler, 1/1949 – 2/1990, Terry Sather

Row 6 Jennifer Mae, 1978 – 1993, Jan Sarasua • Carl E. Faber, 6/14/29 – 5/11/97, Lindy Faber • James Lloyd Chinnock, 7/4/64 – 1/14/01, Mary Meagher • John V. Meyer, 10/18/79 – 6/27-99, Joan Nye


Update: We are saddened to report that Quilt #1 was stolen in Missoula in Friday night, March 9, 2019. The quilt was folded, wrapped in cloth and stored inside a pillowcase and the person likely had no idea what they were stealing. It has never been returned to the chapter, despite having offered a reward. We have reached out to as many of the original square creators as we could, inviting them to recreate their square. We have since received one such recreation square which will go on our next quilt. Anyone else wishing to recreate their square, we would be honored to add it to our next quilt.
Quilt #2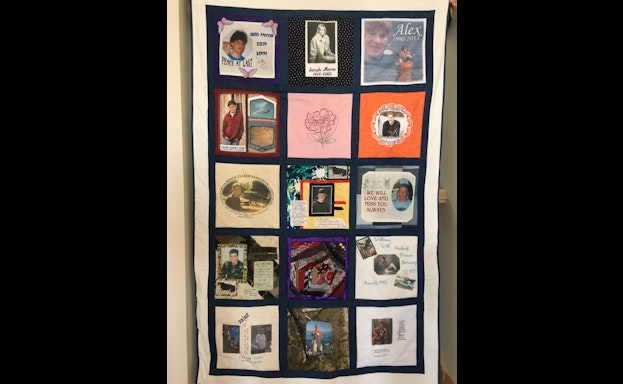 Row 1: Greg Fanyak, 1970-1994 Billings • Sarah Moore, 1968-2002 Billings • Alex Chessen, 1990-2013 Billings
Row 2: Kevin Daniel Zahn, 1990-2009 (Jill Wilson son) Billings • Andrew Charles Hay, 1982-2008
Row 3: Jack Clason Sanford, 1985-2001 (Mare Sanford son) Polson • Tyler Jay Hockett, 1985-2001 (Brother of Daniel) • John Paul Greni, 1977-2002 Billings
Row 4: Daniel Jeffrey Hockett (Brother of Tyler) • William Richard Brown, 1971-1990
Row 5: Trevor Mead, 1979-2011 • Unnamed blond man holding salmon, he looks about 40 • Daniel Dean Habel, 1975-2002
We are actively seeking additional squares for Montana's 3rd quilt.
Submit a Square in Honor of Your Loved One
You don't need to have sewing or other special skill to make a quilt panel. Download our helpful instructions to develop your quilt square. (download link)
NEW: Get Assistance with Your Quilt Square
Montana Chapter has a volunteer who is willing to assist those who need some help with honoring their lost loved ones with a quilt square. In order to have your quilt square made, we have developed an online request form.
This form will provide our volunteer with the information necessary to develop a square with your loved one in mind. Upload a photo or photos, tell us about them, and a square will be made for you. If any further information is needed, we will contact you.


Send In Your Quilt Square
Please Send Your Quilt Square with the Following Information
Your Name
Your Address
Your Phone Number
Your Email Address
Your Loved One's Name
Your Loved One's Date of Birth
Your Loved One's Date of Death
Where In Montana Did Your Loved One Reside
Any other information you feel we should have
Mail To:
AFSP Montana Chapter - Attn: Memory Quilt
2017 Harrison Ave #123
Butte, MT 59701