Oregon Chapter invites high schools, colleges to host 2023 spring campus walks
14 Dec 2022 — 1 min read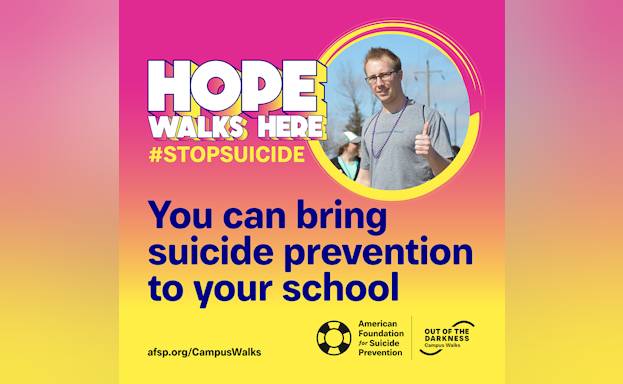 The Out of the Darkness Campus Walks are the American Foundation for Suicide Prevention's (AFSP) signature student fundraising series, designed to engage youth and young adults in the fight to prevent suicide, the third leading cause of death among people ages 15-24. The Oregon Chapter is seeking high schools and college campuses interested in hosting an Out of the Darkness Campus walk for suicide prevention at their school this spring, between March and June.
What's it look like to host a walk? You identify a walk chair, and put together a committee of volunteers to plan the walk. At high schools, the walk chair must be an adult staff member. We recommend having both students and staff on the planning committee. AFSP provides support throughough the process with a step-by-step guide on how to plan your walk, as well as technical resources such as managing registration and accounting.
Learn more about campus walks here. Interested in hosting a walk at your school? Contact us at [email protected]. We'll set up a time to chat, share more about the process, and learn about your school.
Because students can save lives.
Students are a force for change.
Because we can prevent suicide.
Together we can bring mental health conditions like depression and anxiety out of the darkness and put a stop to this loss of life.
Walk to support a friend, a loved one, or yourself.
We all have a reason to walk, and each reason connects us.