Volunteer Spotlight: Nutan Chaturvedi
1 Apr 2022 — 3 min read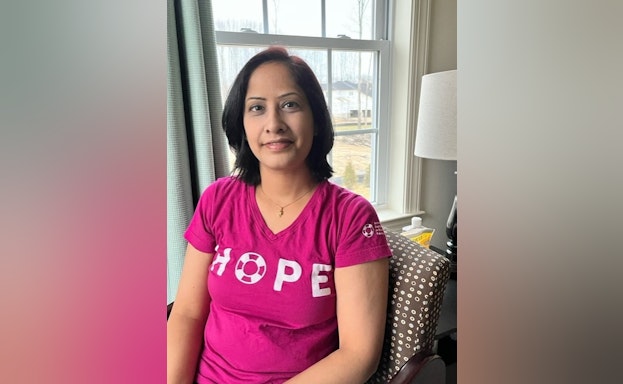 By Meghan Nelligan
Nutan Chaturvedi got involved in the New Jersey Chapter of the American Foundation for Suicide Prevention over two years ago. Like many, she had a personal story attached to the cause. She did research on organizations promoting mental health and suicide prevention, found AFSP, and filled out the volunteer form. She was then contacted by the NJ Area Director of AFSP who explained the various volunteer opportunities the chapter held. Chaturvedi decided to get involved in the education programs and a walk committee. This coming fall will be her fourth year organizing, planning, and working the Out of Darkness Walk in her county. As a committee member, her responsibilities include reaching out to sponsors, planning the details of the walk, organizing activities for the day, and monitoring all volunteers for the event. Meetings to prepare start in the Spring with the Out of Darkness Walk happening each November.
On the education front, Chaturvedi presents a program titled, "Talk Saves Lives," which is a 45-60 minute presentation that gives participants an understanding of research-based information surrounding suicide, resources to help those struggling, strategies for managing mental health, and how to identify warning signs and risk factors for suicide. When giving this presentation, Chaturvedi has noticed that many have the same question after, "how can I get involved?". While her volunteer work is dedicated to this particular educational program, there are many other programs available for the public and Chaturvedi is looking forward to getting involved in even more herself. Her favorite part about volunteering is being able to share these resources with those struggling, "at the end of the day, if I feel I have raised awareness or made information available to someone that needs it at that time, it is successful."
When asked why the walks are important for suicide prevention work, Chaturvedi did not hesitate, saying, "If you attend a walk, it is not only raising awareness but also providing a platform for those who need some help. It makes [mental health] normal or casual." Through her years working on this event, she has seen the way that people who have lost a loved one or are struggling with mental illness themselves are able to find a kind of comfort in these walks. Maybe, just for the fact that there are other people who understand this grief. Or because we are truly never as alone as we feel. The Out of Darkness Walks show that suicide is not something to ignore, or stigmatize because it affects all of us. And it is essential that we talk about it.
Being a volunteer can be the experience you want. In each department, the role of a volunteer will differ depending on what you are involved in. There is no distinct amount of time you need to dedicate. How you engage with your chapter or participate in events is entirely up to you. When you are filling out the volunteer application, just mention how much of your time you can or cannot dedicate as well as some of your interests. If Chaturvedi's volunteer work connects with you, mention that in your volunteer form. What really matters is that you are giving a moment of your day to a cause that is truly changing lives. Chaturvedi has already impacted so many through the Out of Darkness Walks and Talk Saves Lives programs. You can make a difference in your community too!
To get involved with a walk committee or webinar presentations, contact Beth Stapleton, Volunteer Coordinator for the NJ Chapter at [email protected] or 908-798-1701.