A Letter to My Dad on Father's Day
17 Jun 2021 — 4 min read
Tagged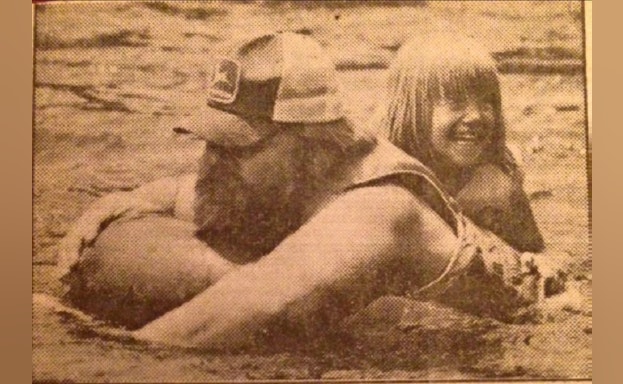 Dear Dad,
I pause after writing those words and trace my finger over these sacred letters: D-A-D.
How freely I said the word "Dad" when we'd hike through the woods and you'd teach me what to do if I got lost. How I loved being with you on the river, absorbing your lessons about respecting nature as you built my confidence by teaching me what to do in the worst-case scenarios. "Dad" is strength and adventure. "Dad" is riding Harleys and writing poetry. "Dad" is who taught me my greatest lessons about survival — and my greatest lesson about loss.
I remember returning to school after you died, a scared nine-year-old kid, not knowing anyone else who'd lost a parent from suicide. Each time a classmate effortlessly said the word "Dad," I noticed. Sometimes when I was alone, I would whisper the word "Dad" to myself to see what it still felt like.
The truth is, losing you dropped a nuclear bomb on our family. I will never forget the guttural cries from Nana and Papa, the sheer chaos and fallout happening all around me — happening to me. My first thought was I could rescue you. My mighty little heart thought I could bring you back. If love alone could have done it, you'd be here now. When I realized it wasn't possible, I thought somehow you had faked your death and would come back to us when you healed from your bipolar disorder and alcoholism. I faithfully searched for you in every passing car and every face I saw on the sidewalk. It was unfathomable to me that you left us.
Your absence made our family shadows of ourselves. Our saving grace was tying the lifelines of our love to one another. Better to drift as one through the sea of grief, better to brace ourselves against the crashing waves of this new reality. I know you are proud of us for that. Your death robbed us of our voices, though. We desperately, but silently, clung to one another. No one could put words to what happened.
As a child, that silence infected me. It became fertile soil for shame. I was left to piece together an explanation of your death — a puzzle I was too young to attempt alone. When I heard parents say things like, "I'll do anything for my kids," or, "I survived because of my children," I interpreted this as proof that something was very wrong with me. Over and over, I imagined you in your last moments, picturing all of us one last time, and my face not stopping you. I thought as your daughter, I carried the most influence and purpose for you to live. If only I had been smarter, prettier, funnier — anything more than what I was — I could have saved you. I swallowed the poisonous idea that I failed you. I swallowed the poisonous idea that I was responsible for your death. Since our family wasn't talking about what happened, for decades of my life, I had no way of knowing I was wrong. Carrying that shame for so many years nearly destroyed me.
But Dad, I have something amazing to tell you. Somehow, I found my way. After feeling so alone in my grief, I connected with other people who have lost loved ones to suicide. I talked about my shame. I lifted the superhuman expectations off my shoulders and learned healthy ways to cope. I've experienced healing I didn't think was possible. I no longer blame myself. I found a place where I belong and can help others. In fact, I recently became the Loss and Healing Chair for the Virginia State Board of the American Foundation for Suicide Prevention. I want to help people, especially children, deal with their grief and not feel alone. Sometimes life comes full circle in ways we never expect. Sometimes an ember of hope turns into a fire.
Dad, what I want you to know this Father's Day is I love you. I love you as fiercely now as I did then. Nine years of knowing you was enough to fill me with a lifetime of love for you. And Dad, all is forgiven. All that's left is compassion, compassion for all of us.
Throughout my lifetime, I promise to bear witness for us both. I will tell our story fully because you are more than the moment of your death and so am I. You are not defined by your mental health challenges or addictions. I promise to make sure the world knows it.
Most of all, Dad, thank you for everything you taught me, for everything you continue to teach me. Thank you for infusing me with music, art, writing, nature, adventure, and a passionate heart that's half yours. Thank you for every single second.
To finish this letter, I've come to a spot in the mountains I know you would love. I swear I can hear your name in the wind, your laugh in the waving trees, and feel the warmth of your smile in the sun. So, in honor of you and all you are, with full lungs and all my might, I joyfully yell "I LOVE YOU DAD," and smile as the echo travels through the valley below.
I am proud to be your daughter.
I survived, Dad, just like you taught me to do.
Then, now, and until we meet again. I love you.
Brooke