To the Rescue: One Firefighter's Quest to Stop Suicide
6 Apr 2018 — 4 min read
Tagged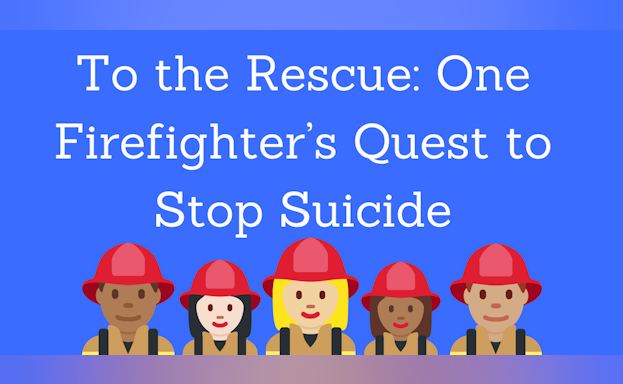 April 6, 2018 - I've spent a 27-year career in the Fairfax County Fire and Rescue Department fixing things that were broken. Like all first responders, I solve problems: whether it's a heart attack, a car accident, or a burning house, I've been trained to fix it. When a sister firefighter died by suicide in April of 2016, I was devastated, confused, angry and heartbroken. I wanted answers. I wanted to know how to fix it.
When the tragedy of suicide struck my fire department, I felt helpless. I wanted to find an organization that could help. I found the American Foundation for Suicide Prevention. I got involved, and was invited to attend the 2016 Advocacy Forum, an annual event that brings suicide prevention advocates from across the country to meet with members of Congress, share their stories, and encourage them to make suicide prevention a priority. I was so inspired by all those I met who had either lost someone or who courageously shared their personal stories of struggle. I was also inspired to become even more involved with AFSP.
Following that event, I became the Walk Chair for AFSP's Out of the Darkness Walk in Fairfax, Virginia. My approach to the walk relies on the same notion I was trained to use in the fire department: it's a total team effort. I believe in order to accomplish anything of any significance you must build a broad, community-based coalition. The very first thing I did was to reach out to Fairfax County Fire Chief Richard Bowers. He was all in from the very beginning. The next thing I did was to reach out to my friends who are leaders within the fire department and in their communities. I told them I needed help and they each said yes without hesitation.
Our first walk in Fairfax, in 2016, was a bit crazy. Most of us had never been to an Out of the Darkness Walk, let alone planned one! The success of the walk was without question due to our teamwork. In my opinion, one of the greatest things about AFSP is the way those involved in the different chapters across the country are so willing to help one another. Chapterland, AFSP's internal electronic hub of information provided a wealth of information including an invaluable Community Walks Manual, as well as putting us in touch with others, and helping us to understand all the considerations involved in putting together a walk. We stole ideas like crazy.
For the 2017 Fairfax Walk, the logistics doubled in size. After the previous year's success, we now estimated that we needed 100 tables and 250 chairs. We needed large coolers, cooling misters (industrial, oscillating misting fans to cool walkers along the route and at the finish line), electrical cords, and tents. The fire department provided all of that to us in 2016, and was prepared to do so once again in 2017.
Then came the hurricanes in Texas, Florida, and Puerto Rico.
The Fairfax County Fire and Rescue Department suddenly had three teams deployed to provide rescue and support for the hurricanes, and it became clear that it was going to be very difficult to deliver our supplies due to the increased demands placed on them. It would cost us thousands of dollars to rent the large moving trucks, and hire the personnel we needed.
Luckily, help was on the way.
I made a phone call to Interstate Van Lines, one of our corporate sponsors, and explained the problem. Without hesitation, they dispatched two large moving trucks and three personnel to our Logistics Distribution Center to get the needed items. They packed the truck and moved the equipment to the walk location. They were even good enough to retrieve the two trucks the Saturday after the walk, and then returned and unpacked them that Monday.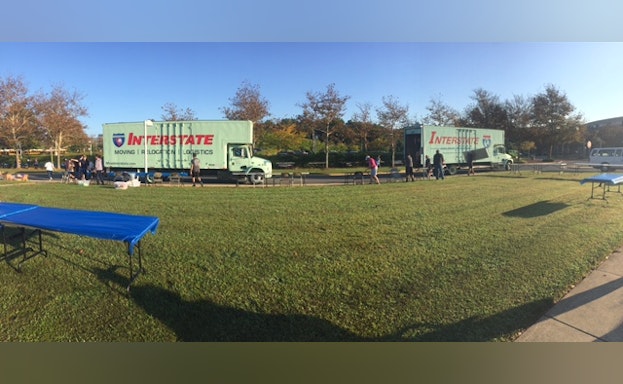 Interstate Van Lines is without question one of the most community-oriented businesses I know. They were proud to support AFSP families, and a cause they know is important for the entire community.
According to the International Association of Firefighters, there is growing concern about behavioral health issues and the significant impact on wellness for first responders. The stresses faced by fire fighters, paramedics and EMTs throughout the course of their careers – incidents involving children, violence, inherent dangers of firefighting, and other potentially traumatic events – can have a cumulative impact on their mental health and well-being.
Between the IAFF, which represents 300,000 firefighters across the United States and Canada, and organizations like the International Association of Fire Chiefs, behavioral health is being moved rapidly to the front burner for all firefighters, fire departments, and dispatchers.
I would recommend that anyone organizing an Out of the Darkness Walk reach out to their local fire department and police department. There is no better way to weave together a coalition then to start with your first responders. The IAFC, which is headquartered in Fairfax, sponsored the Fairfax Walk, and even formed a team to participate in it. Telling a fire chief that the IAFC endorsed our walk will mean something significant to them; the IAFC is to fire chiefs what AFSP is to suicide prevention: a leader in the industry.
I am beyond grateful to AFSP for everything it has done to help first responders in Virginia. And I am so proud to be a part of this organization, in memory of my fellow firefighter, and in hopes of saving more lives in the future.
For information on how to find an Out of the Darkness Walk in your community – or learn how to start one – click here.