"Let people tell their story, tell of their pain. And let others listen. We discovered that in telling, that people began to experience a healing." – Desmond Tutu
Mar. 5, 2019 - The above quote from Desmond Tutu so eloquently and succinctly captures the work of AFSP's peer-to-peer support system for suicide loss survivors – originally known as the Survivor Outreach Program – that I have it displayed at my desk. This way, I can glance at it and be reminded of the power of this crucial program: one that arranges conversations between people who have recently lost someone to suicide with trained volunteers who have experienced the same type of loss.
The Survivor Outreach Program began 11 years ago by a small group of volunteers, each of whom had lost a loved one to suicide, and who knew and remembered all too well how difficult those first weeks, months and years could be following a suicide. They understood the isolation that so often accompanies a death of this kind, and knew firsthand that moving forward can feel nearly impossible. Through the program, our volunteers are able to show suicide loss survivors a way forward into a world of support, by creating an opportunity for the newly bereaved to speak openly with someone who has been there, too, and truly gets it.
Over the years, the program has grown and evolved: people can now request to speak with one of nearly 500 trained volunteers located all over the United States, either in person, by phone, or via computer. Through this evolution, we gradually came to realize that the name "Survivor Outreach Program" doesn't fully represent or accurately describe the scope of these peer connections.
After much thought, exploration, discussion and feedback from our national team and volunteers, I am pleased to introduce you to the new name of our peer-to-peer suicide loss survivor support program: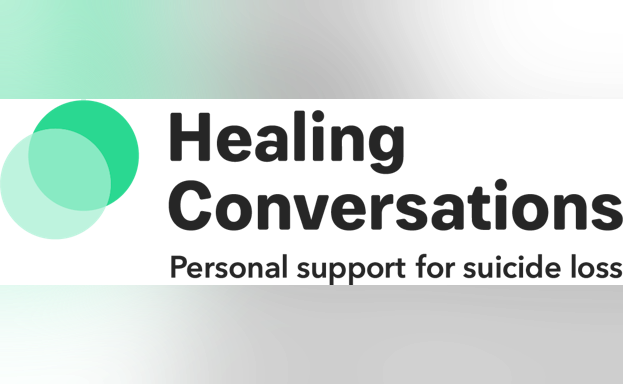 In selecting a new name and a fresh look for this program – including a new logo, lettering, colors and photos – we sought to arrive at something that would more warmly convey to suicide loss survivors of all ages, races, genders and religious backgrounds – not to mention all specific relationships to the deceased (i.e. whether they've lost a close family member, friend, co-worker, etc.) – that this program is a space that welcomes them, as they are, wherever they are in their grief. The two circles within the new design originate from different places to merge together, momentarily, as one, symbolizing the opportunity we provide through the program for new loss survivors to meet with our volunteers in a brief yet meaningful moment of connection.
While our volunteers won't have all the answers – we can never know exactly what our loved one was thinking or why exactly this happened – they are able to point those who are grieving to places they might find ongoing comfort, such as a local support group, or suggest a book or film that was particularly helpful in navigating their own grief journey.
On a personal note, I am one of those people who "gets it." I lost my grandma to suicide 27 years ago, well before such outreach programs had been developed for suicide loss survivors. I echo many other long-term loss survivors when I say how much I wish I had been able to have a conversation with someone else who had lost someone to suicide, back when I first experienced my loss.
I am grateful my own journey led me to work here at AFSP on this program, and alongside the entire suicide loss survivor community, where I take great satisfaction in doing all I can to help others find their own way as well.
To request a conversation with one of our trained volunteers through the Healing Conversations Program, click here.
If you'd like to learn more about becoming a volunteer for our Healing Conversations Program – and your loss took place at least three years ago – please contact your local AFSP chapter.