Stephanie Rogers
Executive Vice President and Chief Communications Officer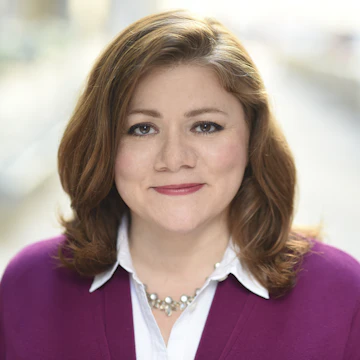 Stephanie Rogers came to AFSP to change the conversation about mental health and suicide, and built a communications department dedicated to raising awareness, spreading education, and bringing suicide out of the darkness.

Under her leadership, the communications and marketing team has refreshed the organization's brand identity and messaging, created new marketing and educational materials, established a PR/social media presence, and developed a new, streamlined AFSP website and internal site to support the organization's network of chapters nationwide. In the last six years, she's expanded AFSP's leadership voice, storytelling approach and digital presence, and grown its national partnership engagement efforts in the media/entertainment fields.

More recently, Stephanie is leading AFSP in an award-winning national public service campaign called 'Seize the Awkward', in partnership with the Ad Council, to empower young adults to have a conversation with friends who may be struggling with their mental health. 

Rogers is forming and expanding partnerships within in the media/entertainment industry including with the ABC Network, Kenneth Cole's Mental Health Coalition, ViacomCBS, CNN, HBO, Entercom, Universal Music Group, Netflix, Facebook, Instagram, Aetna/CVS Health, the Movember Foundation—to raise awareness and understanding of mental health and safe messaging for this critical health issue. She's also a founding member of Kindred, a coalition for purpose-led business leaders.

Rogers brings more than 20+ years of experience in brand communications and marketing, having worked with companies including Microsoft, Infosys, American Airlines, GlaxoSmithKline and The College Board. 

She holds a master's degree in strategic communications from Columbia University, and a bachelor's degree in journalism and marketing from the University of North Texas.
You can follow Stephanie Rogers on Twitter at @StephRo9ers.