Victor Armstrong, MSW
Vice President for Health Equity and Engagement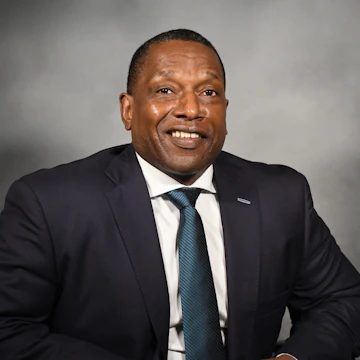 Victor (Vic) Armstrong was born and raised the son of a pastor in rural NC. As such, he developed an appreciation for the challenges experienced in historically marginalized communities, including the stigma and discrimination often perpetrated upon individuals living with mental health challenges. He leveraged that experience to become a champion and nationally recognized speaker on health equity and access to healthcare, and how to leverage existing community resources to fill gaps in access to care.
In his professional career spanning over 30 years, Vic has held many prestigious roles including serving as North Carolina's inaugural Chief Health Equity Officer; Director of the NC Division of Mental Health, Developmental Disabilities, and Substance Use Services; and Vice President of Behavioral Health with Atrium Health, NC's largest hospital system. It was during his tenure with Atrium Health that Vic first developed a passion for suicide prevention and awareness, as he saw far too many individuals experiencing mental health emergencies ending up in the backseat of police cars, in acute care emergency departments and sadly dying by suicide, a preventable health outcome.
Vic has presented nationally and internationally on implicit and explicit bias in the behavioral health system and the need for culturally relevant resources. He has worked as an AFSP volunteer on eliminating stigma and spreading the word that no one should "suffer in silence". Drawing upon his roots, Vic partnered with AFSP to help develop the curriculum and train presenters, for "Soul Shop for Black Churches", a workshop/toolkit designed to help Black faith leaders talk about mental health and suicide in and with their congregations, which he frames as creating access to care. As Vic often states, "Providing access is not merely about physical proximity to traditional resources. It is about providing culturally relevant resources, relatable to my lived experience that I am willing to utilize".  
Many people know Vic from his social media presencewhich he utilizes to raise awareness about suicide prevention and the need to eliminate discrimination against those living with mental health challenges. Perhaps, he is best known for his elaborate collection of mental health advocacy t-shirts which he wears in his posts. He is also the host of the Strong Talk Podcast.
Vic serves on the Steering Committee of the National Action Alliance for Suicide Prevention. He is a member of the Board of Directors of East Carolina University School of Social Work and of the Council of Advisors for St. Augustine's University and RI International. He is also a member of the National Association of Social Workers (NASW) and the NC Institute of Medicine. He is a former member of the board of directors for AFSP-NC, NAMI NC and for the National Council for Mental Wellbeing.
Vic has been the recipient of numerous awards including National Association of Social Workers North Carolina-Social Worker of the Year; Addiction Professionals of NC- DEI Leadership & Impact Award; Mental Health America's H. Keith Brunnemer, Jr. Award for "Outstanding Mental Health Leadership"; Black Mental Health Symposium Mental Health Advocate of the Year; East Carolina University School of Social Work Distinguished Alumni Award and National Alliance on Mental Illness NC- Mental Health Professional of the Year.
A proud HBCU alum, Vic graduated Magna Cum Laude from North Carolina Central University with a bachelor's degree in business management and received a Master of Social Work (MSW) from East Carolina University. He is the husband of Dr. Charletta Armstrong and the father of three sons, Carter, Alonzo and Victor Jr.
Vic joined the AFSP staff having served as a volunteer for several years . He believes together we can #StopSuicide.