Advocacy Impact 2020, AFSP Maryland Chapter
23 Dec 2020 — 3 min read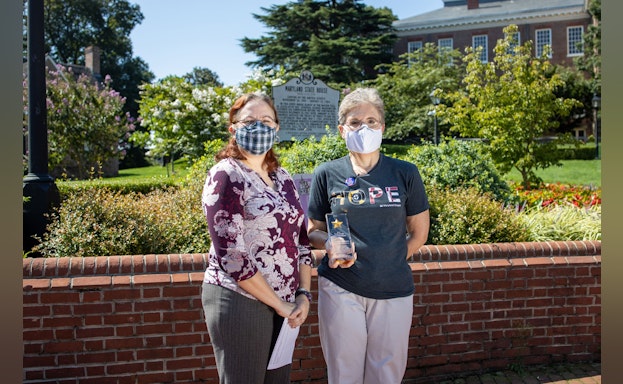 In February of 2020, the AFSP Maryland Chapter hosted its 4th annual Maryland State Capitol Day. Every year this event is an opportunity for AFSP volunteers to meet with legislators and share how suicide and mental illness have impacted their lives. This year 35 field advocates participated by scheduling and meeting with 25 Delegate and 13 Senate offices. In each meeting they bravely shared their personal story and urged legislators to make suicide prevention a priority. Resource folders were delivered to each of the 180 offices on the House and Senate side. During the Maryland Legislative Session, Sue Maskaleris, Advocacy Chair for the AFSP Maryland Chapter, wrote and submitted several testimonies to support suicide prevention legislation. Throughout the year, board members and field advocates emailed, called, and met with legislators to provide resources and make sure our voices are being heard. A big thank you to all of our incredible field advocates! #bethevoice
Become a field advocate to make your voice heard!
Register for the 2021 Maryland State Capitol Day Event
AFSP Maryland Advocacy Chair Sue Maskaleris wins Award
On September 10, AFSP presented volunteer advocate and Waldorf, Maryland resident Susan Maskaleris with the national Sandy Martin Grassroots Field Advocate of the Year Award at the annual Allies in Action Awards ceremony. Sue serves as the Advocacy Chair of the AFSP Maryland Chapter and has gone above and beyond to motivate and engage her fellow AFSP Maryland Chapter members in the legislative process, raising the profile of the suicide prevention movement nationally and across Maryland. As the advocacy lead for the Maryland Chapter, Sue has been an example of the impact advocacy can have, from providing testimony and letters of support to meeting with legislators and organizing the Maryland State Capitol Day events for the past four years. "Sue Maskaleris is a passionate suicide prevention hero working to make the lives of Marylanders better every day. We are proud to present her with this prestigious award which she earned through her hard work and dedication. She is a true lifesaver and grassroots leader in AFSP's mission to save lives and bring hope to those affected by suicide," said Robert Gebbia, AFSP CEO.
The Sandy Martin Grassroots Field Advocate of the Year Award recognizes volunteer Field Advocates who have devoted their time to working with public officials, networking with state and local agencies and organizations, recruiting others to work for the cause, and furthering AFSP's public policy priorities.
Federal Advocacy in Action!
Increased Funding for Evaluating Suicide Prevention Approaches for Vulnerable Populations - In September, the National Center for Injury Prevention and Control, Centers for Disease Control and Prevention (NCIPC) announced a new initiative to direct $35 million over five years to support nine states' programs to implement and evaluate public health approaches to suicide prevention with vulnerable populations. Through this support, these grants will help communities to develop tools to address suicide prevention for people in rural areas, LGBTQ youth, people experiencing homelessness, tribal communities, and Veterans.
988 and the Future of the National Suicide Prevention Lifeline - In October, S. 2661, the National Suicide Hotline Designation Act, was signed into law. This historic legislation will actualize 988, as a universal, easy-to-remember, 3-digit phone number to connect people in crisis with life-saving resources. This victory was made possible through our advocates making their voices heard and engaging with their members of Congress. These efforts will save future lives and has helped to make suicide prevention the national priority it deserves to be.
As a reminder, 1-800-273-TALK (8255) is still the number to call for the National Suicide Prevention Lifeline until 988 is active nationwide in July 2022.