Massachusetts Brings Home the Awards
2 Feb 2023 — 1 min read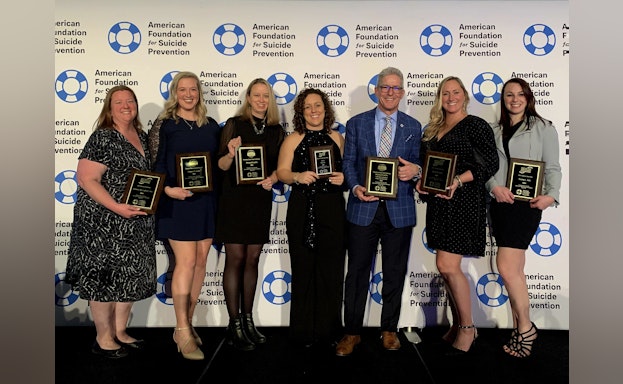 Seattle – Hundreds from across the country recently gathered in Seattle for the American Foundation for Suicide Prevention's 18th Annual Chapter Leadership Conference. The Conference is an opportunity for AFSP volunteers and staff members to hear about current and future programs and activities, acknowledge our accomplishments, and learn more about moving our mission forward. The 4-day event culminated with an awards ceremony, recognizing the outstanding achievements of chapters in the past year.
The AFSP Massachusetts Chapter is proud to announce we received several awards at this ceremony:
Perseverance Award –

For outstanding performance under difficult circumstances

Outstanding Chapter Support of Research

– Massachusetts Suicide Prevention Conference / Research Connection Program with Dr. Toomey

Outstanding Chapter Event Fundraising

– 126th Boston Marathon & A Sip in the Park

Top 10 Community Walks

– #10 Boston Area Out of the Darkness Community Walk

Century Club

– Easton Out of the Darkness Community Walk

Century Club

– Central MA Out of the Darkness Community Walk

Century Club

– Greater Springfield Out of the Darkness Community Walk
"These plaques represent the incredible work our staff and volunteers do across the state of Massachusetts every single day of the year," said Jessica van der Stad, AFSP Massachusetts Executive Director. "Thank YOU to our volunteers, community partners, and donors for their support and involvement. Together we are truly making a difference."