Mental health care advocates bring issues to Capitol
22 Feb 2023 — 3 min read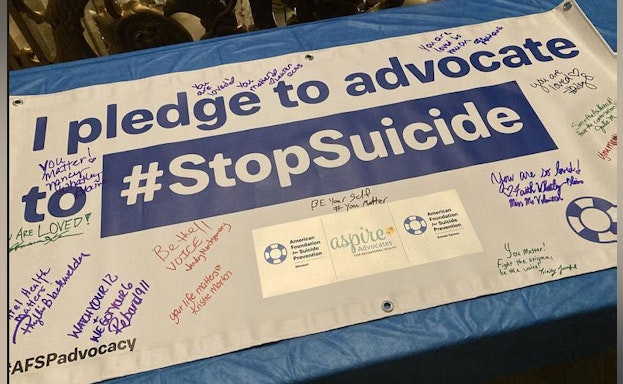 JEFFERSON CITY — Dozens of volunteers assembled Wednesday at the state Capitol for the American Foundation for Suicide Prevention's annual Mental Health Advocacy Day.
The volunteers were divided into groups, then dispersed throughout the building to find the offices of their local representatives and talk to them about the need for mental health reform.
"I think as a whole in the country we're moving in the right direction, but there's the issue with access to care," said Ashley Wright, a volunteer for AFSP. "I'm on Medicaid, and I've been on a waitlist since August for therapy."
The difficulty of accessing mental health care was a recurring concern among organizers and volunteers, both in terms of cost and availability.
"Missourians are experiencing, truly, a crisis," Whitney Shumway, chair of the AFSP's Missouri chapter, said. "There's a lack of resources both in funding as well as in clinicians. You can't make a call and get in same day, same week, usually, for a new patient. It takes months."
Many volunteers and organizers spoke about how struggles with mental health in their own lives, either theirs or a loved one's, had led them to get involved with advocacy.
"I lost my dad in 2002, to suicide," Lauren Ross, AFSP Missouri chapter secretary, said. "I didn't find the organization until 2018, but when I did, it wasn't really a slow transition; it was jumping in feet first."
Organizers set up a display with the photographs, names and death dates of volunteers' loved ones from Missouri who had died of suicide. Over 90 people were represented.
"This is our way to be able to show legislators the faces of those that we've lost," Shumway said, "and really help them to understand the crisis at hand."
In 2020 in Missouri, the latest year for which CDC data is available, 1,125 people died of suicide.
Rep. Deb Lavender, D-Manchester, opened the event, speaking in support of the volunteers' work and of increasing funding for mental health care.
"A million dollars might get us 200 counselors," Lavender said. "Divide that across Missouri, and I don't think that's one per school district. Many of our school districts would be able to benefit from five or more mental health counselors."
The organizations hosting the event voiced support for multiple bills in the legislature. One of these, House Bill 132, would make the Missouri Veterans Commission expand its efforts to understand and prevent veteran suicide.
Another is Senate Bill 397, which would create a task force to make recommendations regarding dialectical behavior therapy, or DBT. DBT is a type of intensive therapy that seeks to treat suicidal behavior by encouraging emotional regulation.
Kelli Unnerstall, founder of Aspire Advocates for Behavioral Health, one of the organizations involved in the event, is an advocate for DBT.
"Suicide and overdose are the number one and two causes of death for young adults," Unnerstall said. "And this is an effective therapy for suicidality and substance abuse."
Advocates also opposed the wave of anti-LGBTQ bills currently moving through both chambers of the legislature, which they say could have massively detrimental effects on the mental health of young LGBTQ people.
A fact sheet distributed by the organizers noted that research shows access to gender-affirming care is directly associated with lower rates of depression and suicidality among transgender and nonbinary youth. Among the proposed bills the organizations support is also Senate Bill 285, which would place a ban on conversion therapy for minors.
"I'm kind of scared," Wright said. "Especially for LGBT youth."
Originally published by Evy Lewis, the Columbia Missourian