Missouri launches new website for Missouri 988 suicide and crisis lifeline
April 13, 2023 – 2 min read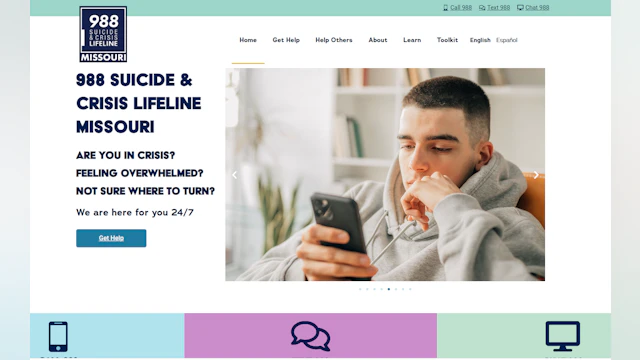 JEFFERSON CITY — Gov. Mike Parson announced Wednesday that the Missouri 988 Suicide & Crisis Lifeline has launched a new website. 
The new site provides resources and information for anyone experiencing a mental health, suicide or substance use crisis. 
Lauren Ross, American Foundation for Suicide Prevention (AFSP) Missouri Chapter treasurer and advocacy chair, said having a resource to search on a browser is incredibly important. 
"I think a lot of times people don't know exactly how to get the help they're needing, so they just go online and they google 'mental health help,'" Ross said. 
"If there's a website that pops up with all of the 988 information, then I think that's going to be super helpful for people to have essentially at their fingertips," she said.
Ross said she has been on the website and found it user friendly. One of the tabs on the website is labeled "help others." Ross emphasized the importance of everyone knowing about mental health.
"The more that you know, the easier it is to recognize those symptoms," she said. "It's 988. Anyone can call that number. You don't have to be in crisis yourself."
The new 988 phone number went live across the United States in July 2022. The line connects anyone experiencing a mental health, suicide or substance use crisis to 24/7 accessible care and support. Support is free and confidential.
"The 988 crisis call line created a more streamlined and effective resource for Missourians in behavioral health crisis," Parson said. "We know that when individuals are experiencing crisis the sooner we can connect them to support and provide assistance the better. This website adds even more access to critical resources that will help save lives."
Casey Muckler, a crisis services coordinator for the Missouri Department of Mental Health, said that connecting with 988 aims to be more than just a one-time connection.
"Someone who is struggling, they have access to crisis services, connection to a trained crisis specialist and talk to them about what it is that they're experiencing. [They'll] develop a safety plan if needed and then get them connected to ongoing support and resources," she said, noting that 988 directly connects people with specialists.
Muckler said the new website is a way to promote awareness of the 988 hotline and connect people seeking help across platforms. 
Learn more about the new website at missouri988.org.