New Jersey Wins Large Market Chapter of the Year!
19 Apr 2022 — 3 min read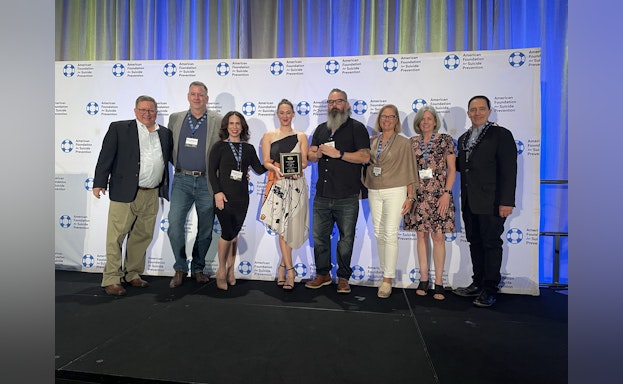 New Jersey, April 19, 2022 – More than 300-chapter leaders, volunteers, and staff joined together in Houston, Texas, earlier this month to celebrate the essential work being done to save lives and bring hope to those affected by suicide during the 17th annual Chapter Leadership Conference (CLC) hosted by the American Foundation for Suicide Prevention (AFSP).
Attendees heard from AFSP executive officers and volunteer leaders, including the national leadership council and the national board of directors, regarding the remarkable work being done in our field and the critical investments being made to enhance research, diversify programs, and the workplace, and to reduce the national suicide rate.
CLC is also a time for AFSP employees and volunteers to network with one another, share ideas, collaborate, and work together on local and national efforts while making friendships and memories that will last a lifetime.
Over three days, participants had the opportunity to learn from each other during breakout sessions focusing on volunteer engagement, impact measurement, fundraising, advocacy, diversity, equity, and inclusion, expanding programs, Project 2025, and the critical research on suicide prevention that is being funded by AFSP.
A highlight every year is the annual award ceremony, where AFSP presents awards across a number of categories, including the most improved chapter, best chapter social media, tremendous loss and healing program, and more.
Among being the first chapter to have 5 walks raise $100k or more, during the annual awards ceremony, the New Jersey Chapter was honored to receive an award for Outstanding Chapter Survivor of Loss Programs AND Chapter of the Year - Large Market!

In 2021 the New Jersey Chapter raised over $1.1 million for suicide prevention. We hosted over 100 presentations/workshops and trained over 3,200 community members throughout the state on how to prevent suicide. Chapter volunteers participated in over 50 resource tabling events reaching all 21 counties.
Each year volunteers advocate for mental health and suicide prevention by contacting their legislators and representatives. Our most recent push helped to get about half of the 988 Implementation Act included in the critical House Energy Committee hearing held today.

We hosted 14 Out of the Darkness Walks and 5 in-person International Survivor of Suicide Loss Day events across the state as well as a virtual event in partnership with the Maryland and Delaware Chapters. In addition, the AFSP New Jersey Chapter facilitates the Healing Conversations program. In 2021, over 45 New Jersey residents requested a visit or call after a loss to suicide and were able to connect with other loss survivors.

None of this would have been possible without the tireless efforts of our board members, chapter volunteers, and YOU! Let's make 2022 an even better year by bringing HOPE to New Jersey!
The American Foundation for Suicide Prevention is dedicated to saving lives and bringing hope to those affected by suicide. AFSP creates a culture that's smart about mental health through education and community programs, develops suicide prevention through research and advocacy, and provides support for those affected by suicide. Led by CEO Robert Gebbia and headquartered in New York, and with a public policy office in Washington, D.C., AFSP has local chapters in all 50 states with programs and events nationwide. Learn more about AFSP in its latest Annual Report, and join the conversation on suicide prevention by following AFSP on Facebook, Twitter, Instagram, and YouTube.