NJ AFSP collaborates with the NJ Devils and Prudential Center to host a Mental Health Awareness Night in support of Hockey Talks
1 Feb 2022 — 3 min read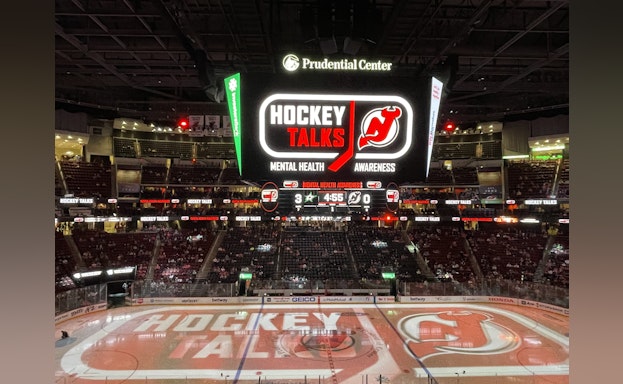 The New Jersey Chapter of the American Foundation for Suicide Prevention (AFSP) had the honor of participating in the New Jersey Devils and Prudential's Mental Health Awareness Night on January 25th. This night was in support of the Hockey Talks annual initiative which began in 2013 to honor the legacy of Vancouver Canuck player, Rick Rypien who fought depression. To continue the legacy of their teammate and dear friend, the Vancouver Canucks became determined to raise awareness for mental health and destigmatize the conversation; making it as casual as one would reference a physical injury or illness.
Hockey Talks calls for fans and individuals alike to turn to social media where they can share personal stories, messages of support, and engage in an open dialogue about mental health with the hashtag #HockeyTalks. Because so many suffer in silence, the Vancouver Canucks want their fans to know that talking about what they are going through can not only save their lives but impact others going through similar struggles. Most inspiring to see is the support from other NHL teams in recent years who have come together both on and off the ice to be a part of this important dialogue.
Our very own Elizabeth Roithmayr-Clemens, NJ Chapter Area Director of AFSP, was a vital part of a panel alongside RWJBarnabas Health before the start of the game. This panel discussed several mental health impacts on youth such as COVID-19 as well as the work Roithmayr-Clemens and her team are doing to reduce mental health barriers, fundraise for essential resources, and promote suicide prevention. Roithmayr-Clemens mentioned how the NJ Chapter is focusing on helping youth navigate the effects of the pandemic, especially when it comes to returning to a new normal. She said, "We were so concerned about how it was going to be for them when we were remote that I think we weren't really thinking about what happens when they go back. They're really struggling with that in New Jersey and that's something that we as a chapter are working with many schools on to try to combat and get these kids back to the place where they were in terms of going back into the world."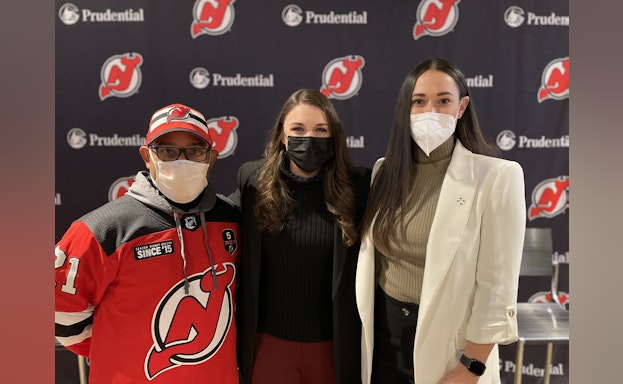 Hockey Talks began in remembrance of an exceptional athlete and person, Rick Rypien. The aim of events like the Mental Health Awareness Night during the NJ Devils game is to end the silence around suicide and mental health issues. While it can be intimidating to seek out help, it is worth it. And it might take time to find the right therapist for you so do not get discouraged by your first session. As Roithmayr-Clemens mentioned during the panel discussion, "One size does not fit all. It's ok to do a couple of sessions with one person. You have to find that comfort level, you have to be able to feel comfortable with this person, or else you might not be getting everything you need from that therapy session." It can be hard to be your own advocate sometimes, but you deserve to receive the help you need. And there is no shame in asking for that help or advocating for the right treatment for you and your situation.
The panel concluded with a powerful statement by Roithmayr-Clemens as she stated: "We can't do those programs without our volunteers." With the help of our volunteers, resources such as our educational programs, conferences, and Out of Darkness Walks are made possible. For anyone looking for resources, we encourage them to visit our website to learn more about the initiatives we have as well as opportunities to be a part of the change. The New Jersey Chapter of the American Foundation for Suicide Prevention was honored to be included in this Mental Health Awareness Night for the powerful Hockey Talks initiative. Conversations around mental wellbeing and suicide prevention should be happening in every space and we are glad to see all the NHL is doing to normalize these discussions.
Are you in a crisis? Please call the National Suicide Prevention Lifeline at 800-273-8255. Or contact the Crisis Text Line by texting TALK to 741741.