Suicide Prevention Advocates visit Tennessee Lawmakers
February 23, 2022 – 1 min read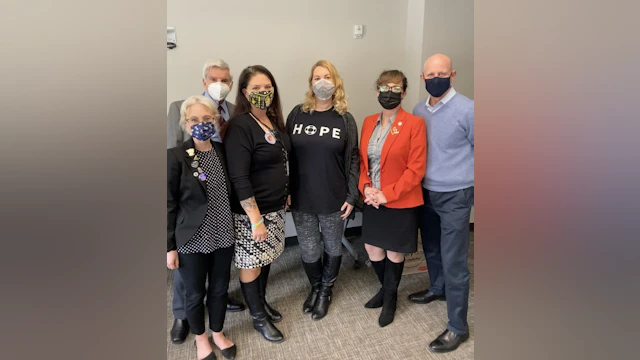 Tennessee State Capitol Day 2022
On Wednesday, February 16, 2022, AFSP Tennessee Advocates gathered in Nashville to advocate for suicide prevention on Capitol Hill. We met with lawmakers to share our stories and encourage them to support legislation that is smart about mental health. 
This year's policy priorities included:
- Educating lawmakers about the upcoming National Suicide Prevention Lifeline transition to the three digit, easier to remember 988.
- Supporting a bill to include the National Suicide Prevention Lifeline on the back on all student IDs in grades 6-12 public schools.
- Encouraging lawmakers to oppose bills that are harmful to LGBTQ+ youth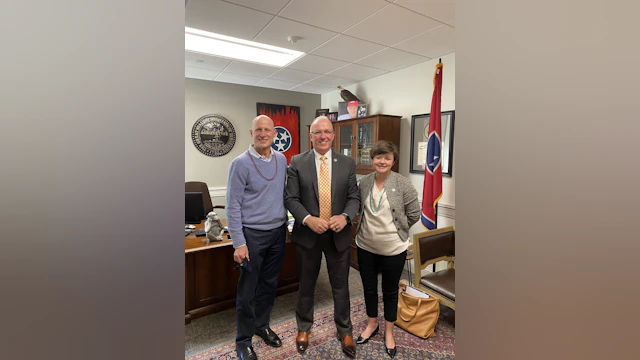 One very exciting part of the day was our meeting with Tennessee House Representative Eddie Mannis. Rep. Mannis recently introduced HB 2062 which would requiere the National Suicide Prevention Lifeline to be printed on all student IDs for Tennesssee studens in grades 6-12. This life-saving bill would help to descrease stigma around mental health care for faculty, staff, parents, and students at Tennessee schools. We are honored to support Rep. Mannis as he fights to protect Tennessee's young people. 
Thank you to all AFSP Advocates who used their voices to stand up for suicide prevention! To become a AFSP Field Advocate and use your voice to influence mental health policy, sign up here, it's one of the easiest ways you can support our work.