Volunteer Spotlight: Cherise Krug
15 Dec 2021 — 2 min read
Tagged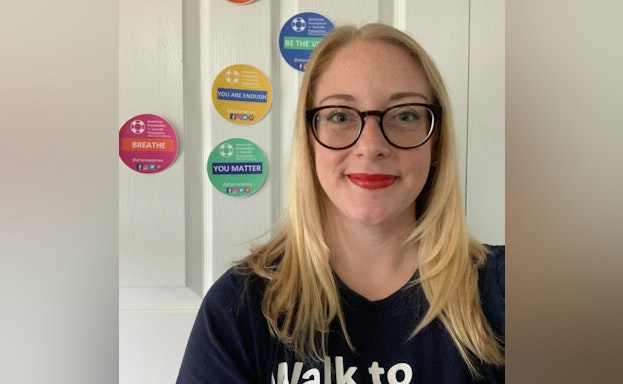 By Meghan Nelligan
Cherise Krug is a part of the Social Media team for the New Jersey Chapter of the American Foundation for Suicide Prevention. Her typical day in her role is going onto the social media ambassadors page, usually over the weekend, and looking at a spreadsheet that the National organization of AFSP shares which outlines content, information, and more that local chapters can use for their social posts. She also researches New Jersey-specific news around mental health to promote local events that residents can get involved with or learn more about how their state is doing work around suicide prevention.
Krug specifically handles Facebook and says her favorite part about her role is, "learning about and sharing information about local things in New Jersey," as well as, "working towards suicide prevention and education and disseminating that information onto other people," in hopes of making it a local issue where all New Jersey residents can be a part of the change. She got involved in her role in the Spring of 2019. Losing several people in her own life due to suicide has made prevention efforts a cause she deeply cares for.
For Krug, social media seemed like the best way to reach the largest audience when it came to mental health topics as, "almost everybody has social media." With so much misinformation that surfaces online, Krug emphasizes that, "having an outlet where people can learn more about mental health awareness is important." Getting involved is simple: reach out to your local chapter and express your interest in volunteering. If you have a specific department in mind such as the social media team, mention that. Krug says volunteering is a really easy way of getting involved in mental health awareness without a major time commitment yet still with the emphasis that you are doing good and meaningful work.
And when it comes to social media, we all know how one post can reach hundreds of individuals. One way to be an everyday advocate on social platforms is to repost what organizations like the New Jersey Chapter of the American Foundation for Suicide Prevention or our nationals shares. That way, you are sharing accurate, informative, and resourceful information for all who follow you to see. Since most of us have social media, it is our responsibility to use it as a platform for good and talk about these important issues happening in our own backyards.
To get involved with the social media department, contact Beth Stapleton, Volunteer Coordinator for the NJ Chapter at bethstapleton0201@gmail.com or 908-798-1701.