Extreme risk protection orders
AFSP supports the use of ERPOs as a tool to help prevent suicide when voluntary efforts to separate an at-risk individual from a firearm are unsuccessful or impossible and suicide risk is imminent.
About the issue
Many states are now considering legislation that establishes a process for issuing an Extreme Risk Protection Order (ERPO) to ensure individuals at risk for harm to themselves or others are temporarily prohibited from purchasing or possessing a firearm.
In states that have enacted these laws, the ERPO is issued by a court. In most states, law enforcement or family/household members of a person at risk for harming themselves or others can petition the court to issue an ERPO. If granted, the ERPO temporarily prohibits the purchase and possession of a firearm by the person at risk. After the ERPO is granted and a warrant is issued, law enforcement will temporarily remove all firearms from the person's possession or control if the person does not do so voluntarily.
The following terms have all been used to describe the same type of court order and approach: extreme risk laws, red flag laws, gun violence restraining orders, lethal violence protection orders.
Our policy position
AFSP seeks to use our expertise in suicide prevention to help reduce all suicide, including suicide by firearm. AFSP supports the use of ERPOs as a tool to help prevent suicide when voluntary efforts to separate an at-risk individual from a firearm are unsuccessful or impossible and suicide risk is imminent.
This policy position is part of AFSP's larger strategy to reduce access to lethal means and reduce suicide by firearm. For more information on related advocacy, educational, and research efforts, click here.
For more detailed policy information, email [email protected]. Media inquiries, call 347-826-3577 or email [email protected].
Suicide prevention efforts cannot ignore access to firearms
We must address access to firearms if we are to reverse the rising rate of suicide in the United States.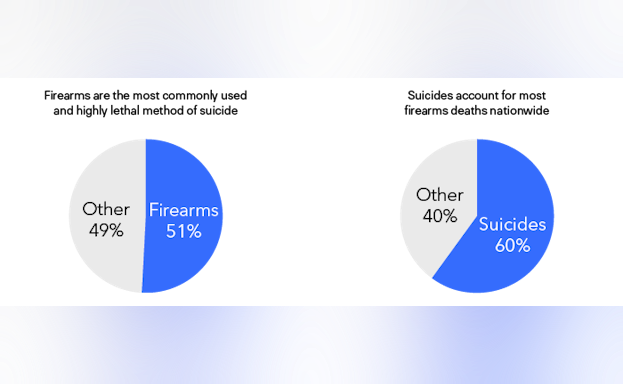 What the research shows
Suicide risk increases when lethal methods, like firearms, are readily accessible. Putting time and distance between a person at risk and the lethal method can save lives. This allows time for the suicidal risk to diminish, for the intense suicidal impulse to pass, or for someone to intervene with mental health support and resources.
The presence of a firearm in the home increases the risk of suicide. Individuals with firearm access are no more likely to have suicidal thoughts or a suicide plan than those without firearm access. However, individuals at risk with access to firearms in the home are much more likely to use a firearm than those without.
Most individuals who are prevented from making a suicide attempt via one method typically do not go on to attempt with another method. If we can prevent a person who intends to die by firearm suicide from attempting with that firearm, they will likely not go on to attempt with another method. If they do substitute another method, it will have a lower likelihood of being lethal.
State ERPO laws as of June 2020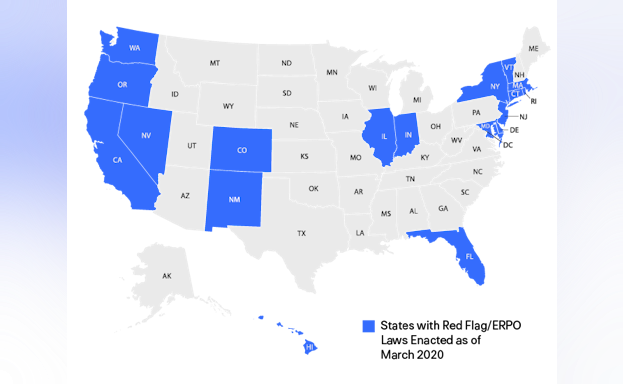 As states introduce ERPO legislation, AFSP will evaluate each bill individually for potential to prevent suicide. For this analysis, AFSP considers the following:
Urgency of a court decision to prevent suicide — ERPO bills should provide for emergency or ex parte orders that immediately remove the firearm from an individual at risk to keep them safe. Language should be included to allow for issuance of an ex parte order by telephone or reliable electronic means if the petition is filed when the court is closed (for example, on a weekend or holiday). Without these provisions, the time period between when the petition is filed, when the hearing is scheduled, and when the final order is ultimately issued could be potentially deadly for the person at risk.
Consideration of risk factors for suicide – Suicide is complex and multiple risk and historical factors must be considered. An at-risk person's mental health history must not be the sole criteria used for determining whether to issue an ERPO.
Due process protections – ERPO bills should set a high standard for securing an order and provide for due process protections for the at-risk individual and for the individual petitioning the court. Language should address penalties for false petitions.
Development and accessibility of related educational materials – ERPO bills should include language regarding who may file a petition and the steps to take when filing a petition. Bill language should address guidance to the general public, state employees, and law enforcement regarding ERPO policies and protocols. See California's Speak for Safety campaign as an example.
Data collection – ERPO bills should require statewide data collection and reporting regarding use of ERPOs. Reports should track use and effectiveness of the orders and may include information such as the number of petitions filed and granted, the number of orders that led to a respondent's forfeiture, the number of petitions filed that are deemed to be fraudulent, the duration of each order, and the reasons given for each order (i.e., danger to self or danger to others).
Related advocacy, education, and research efforts
Lethal means education and counseling in healthcare
AFSP advocates for educating healthcare professionals about the importance of lethal means counseling in the treatment of potentially suicidal patients. When a patient is at risk of suicide and there is access to a firearm in the home, healthcare professionals should work with the patient and their family on voluntary strategies to store household firearms away from the home, or otherwise inaccessibly, until the patient recovers. AFSP opposes gag orders on medical personnel to inquire about firearm access.
Voluntary action to make the environment safe from lethal means, including firearms, is an essential component of any effective suicide prevention strategy. This is why AFSP is collaborating with a national firearms industry trade association and others to educate gun owners and their families across the U.S. about suicide prevention, including the risk factors and warning signs, the need for safe storage (locked and unloaded), and about voluntarily removing guns from the home when someone is struggling with a mental health condition and/or suicidal ideation. Our goal through this work is to provide lifesaving suicide prevention education for communities and homes where firearms are present, as well as wide-scale incorporation of suicide prevention education as a basic tenet of firearm safety and responsible gun ownership.
Support for research regarding firearms and suicide prevention
AFSP funds, supports, and encourages research into the co-association between firearms and suicide. More data is needed on which firearm policies are most effective in reducing suicide rates, which educational efforts are most effective in changing attitudes and behaviors around firearms and suicide risk, and how best to bring promising practices to scale so we can affect more widespread change across the U.S.