2018 Chapter Leadership Conference: Transforming Communities to Prevent Suicide
30 Jan 2018 — 5 min read
By AFSP
Tagged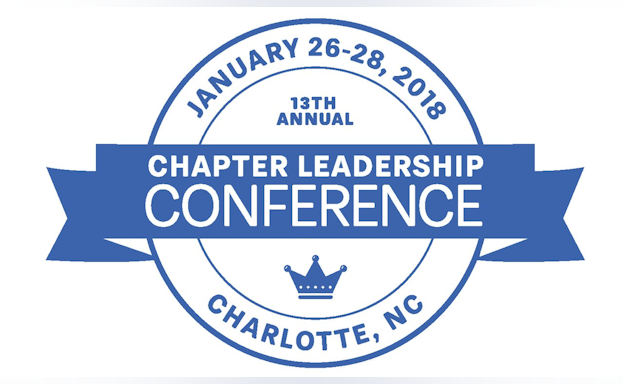 January 30, 2018 - Chapters from all 50 states converged on Charlotte, North Carolina this past weekend for the American Foundation for Suicide Prevention's 13th Annual Chapter Leadership Conference. Based around the theme of "Transforming Communities to Prevent Suicide," the three-day event featured panels and discussions on topics critical to the organization's mission, and empowered AFSP staff and volunteers with tools they can use to reduce the suicide rate in our respective communities around the U.S.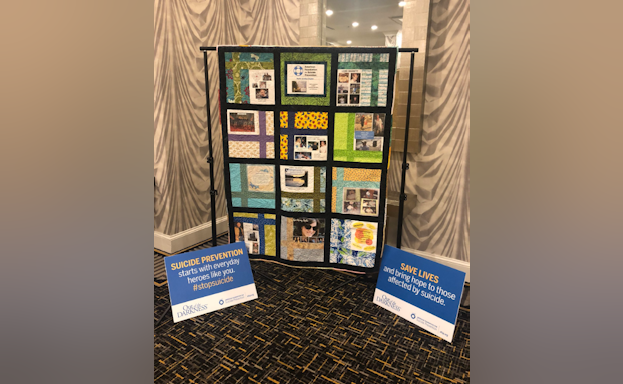 FRIDAY
This year's conference opened with a video highlighting all the wonderful accomplishments of AFSP's individual chapters this past year. The powerful video highlighted the scope and depth of our volunteers' efforts in 2017, which involved putting on educational programs, advocacy, raising awareness, providing support, and fundraising in local communities.
Christopher Epperson, chair of the Chapter Leadership Council, gave an overview of what to expect at this year's conference, and conducted a chapter role call to the resounding cheers of all attendees. Meredy Swafford, founding chair and current treasurer of the North Carolina Chapter, welcomed the great volunteers and thanked the many community partners for bringing the conference to Charlotte.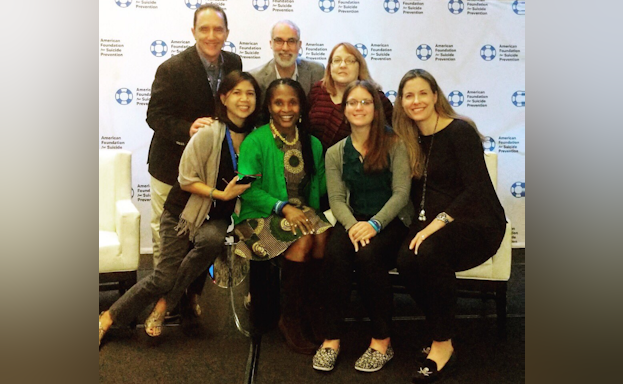 AFSP's National Board Chair Steve Siple spoke about how he became involved with AFSP, and shared his vision of AFSP's sustainability and growth for the coming year. "The two most important days in your life are the day you are born, and the day you find your purpose," Siple told the crowd. "AFSP gave my tragedy a purpose."
In a rousing and hopeful leadership message, AFSP CEO Robert Gebbia noted the enormous growth of the organization since its founding, the changes in our culture's understanding of mental health and suicide prevention, and how AFSP must lead the charge in communities across the country in spreading awareness and preventing suicide. Gebbia referenced the rise of the lived experience movement as a sign that there is less stigma than ever before. "With growth comes opportunity," he added. "There is still more to do."
In a keynote address, bestselling author, neuroscientist, and high-performance strategist Robert Cooper, Ph.D. gave the crowd practical guidance based on scientific findings on how to reach personal success as we engage in our rewarding but difficult work.
Nicole Dolan, senior director of Out of the Darkness Walks, gave a presentation on the new logo and branding for the walks, which will accompany all materials our volunteers will use this year in building stronger walks around the country.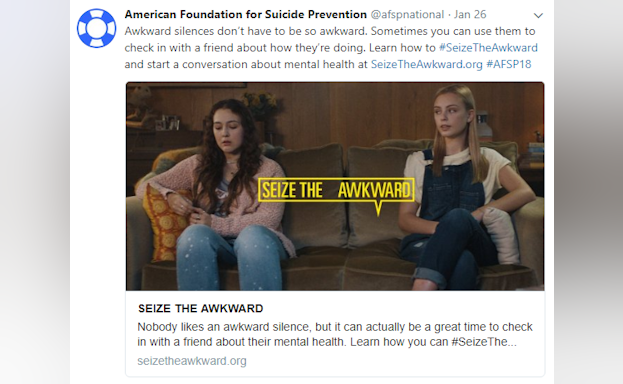 Stephanie Coggin, AFSP's vice president of communications and marketing, was then joined by Sheri Klein, vice president of campaign development at the Ad Council, to unveil the exciting year-long "Seize the Awkward" PSA campaign which includes the Jed Foundation and advertising firm Droga5 as key partners. The groundbreaking online campaign, which includes videos, social sharables, and blog content, empowers teens and young adults to reach out and help a friend who may be struggling with their mental health.
Breakout sessions were held at the end of the afternoon on topics including Loss and Healing program offerings; Creative Ways to Share the AFSP Story; chapter fundraising events; supporting workplace suicide prevention efforts with Talk Saves Lives™ and the Interactive Screening Program; and using chapter nominations and leadership committees to strengthen chapters and make an impact in local communities.
SATURDAY
AFSP Chief Medical Officer Dr. Christine Moutier began the day recapping the breadth of what AFSP has done in spreading our message as we move forward with prevention efforts. Lessons learned from youth suicide research were outlined in an informative discussion with Vice President of Research Dr. Jill Harkavy-Friedman and AFSP-funded researcher Dr. David Goldston, Ph.D., associate professor of psychiatry and behavioral sciences at Duke University School of Medicine.
Mid-morning, Gebbia was joined onstage by Vice Present of Programs Doreen Marshall, Ph.D., and Senior Director of Project 2025 Michael Rosanoff, M.P.H., to discuss AFSP's Firearms and Suicide Prevention Initiative, outlining next steps, partnerships and practical application in achieving our bold goal of reducing the suicide rate 20% by the year 2025.
Dr. Moutier made the exciting announcement of AFSP's new joint partnership with the Department of Defense and the Veterans Administration, welcoming Keita Franklin, national director for suicide prevention, V.A., and Wendy Lakso, director of outreach and engagement, Defense Suicide Prevention Office, U.S. Department of Defense. The three outlined the partnership with these two government agencies.
A chapter awards luncheon preceded breakout sessions on topics including AFSP's firearms prevention program; donor cultivation and stewardship; implementing Project 2025 in local communities; and partnering with military communities. A break gave attendees a chance to mingle and share ideas while fueling up on snacks and coffee, prior to another set of breakout sessions. Topics included the importance of measuring impact and sharing our success; engaging those with lived experience; promoting and expanding the Survivor Outreach Program; advocating for mental health parity; and a preview of the next version of Chapterland, AFSP's internal resource hub.
Saturday evening's Chapter Awards Banquet was both emotional and energetic, encompassing the incredible breadth of accomplishments by AFSP's chapters this past year. Mary Weiler was presented with the Leadership Award for her work on the Chapter Leadership Council, as founder of the North Dakota chapter, serving on the National Board, and in service over many years to AFSP. There wasn't a dry eye in the house as Mary spoke of her personal connection to the cause, and what her AFSP family means to her. Later in the evening, the Utah Chapter took to the stage – dancing – accompanied by the triumphant music of Pink to accept their award for Chapter of the Year.
SUNDAY
Sunday morning began on an inspirational and energizing note with a talk from mental health speaker and trainer Hakeem Rahim. Beginning with powerful spoken-word poetry, Rahim spoke stirringly of his personal struggles living with bi-polar disorder, and his quest to destigmatize mental illness and empower others to take full control of their mental health.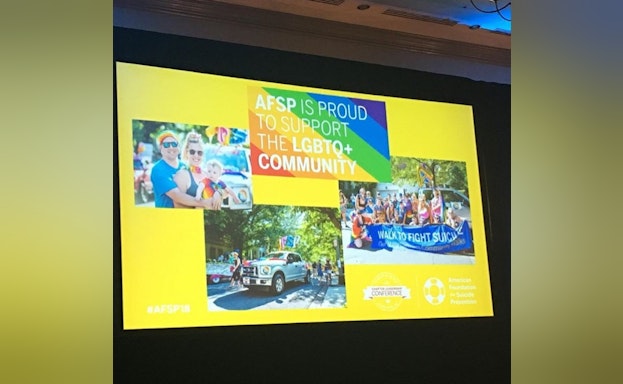 In a round table discussion on LGBTQ+ and suicide prevention, Dr. Harkavy-Friedman, together with Michele Greco, senior director, education and prevention; Maggie Mortali, director, Interactive Screening Program; and Dana Cea, co-chair of the North Carolina chapter, presented the latest data and information regarding prevention efforts and ways to engage the LGBTQ+ community.
Thank you to our dedicated volunteers and staff for a memorable Chapter Leadership Conference, and the contributions you shared in the discussions of our progress and the continued commitment to the cause.
To learn more about the conference, please check out #AFSP18 on social media.