Jan. 31, 2020 - Volunteers from local chapters of the American Foundation for Suicide Prevention nationwide, as well as staff from across the country, came together in Denver, Colorado on Friday, January 25 to kick off the 15th Annual Chapter Leadership Conference. With the theme "Saving Lives in Your Community," the three-day event was an exciting look ahead as well as an opportunity to celebrate the efforts of our chapters throughout the past year.
FRIDAY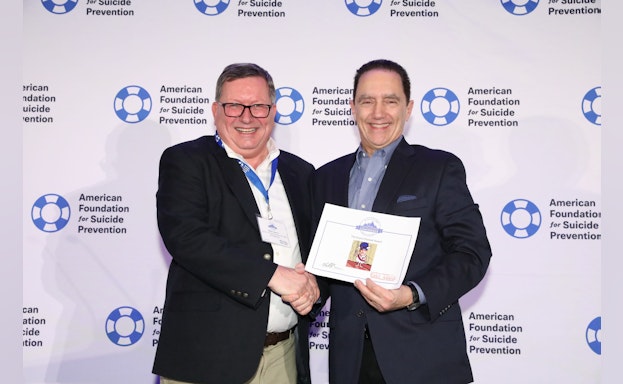 The conference kicked off with stirring opening ceremonies. I had the privilege to welcome all of this year's attendees, alongside Christopher Epperson, Chair of AFSP's Chapter Leadership Council and Nancy Medina, chair of our host chapter in Colorado. Our annual Chapter Roll Call followed, bringing with it a chorus of cheers as each chapter's attendees applauded their fellow volunteers.
AFSP's Chief Executive Officer Robert Gebbia gave an inspiring message, reflecting on how much we've accomplished together in this past year. His remarks emphasized how together, we will further our mission to save lives and bring hope to those affected by suicide.
Our first plenary session of the weekend was a panel discussion on diversity within our chapters, moderated by Janice Hurtado Aeppli, Senior Director of AFSP's Central Division. The panel featured Denisse Lamas, AFSP Chair of the Chapter Diversity Work Group, AFSP Central Florida Chapter; Dionne Monsanto of the AFSP New York City Chapter; Bo Kim of the AFSP National Capital Area Chapter; and Bradley Balandis of the AFSP Central Texas Chapter. Each of the panelists spoke passionately about the need to include diverse voices in our chapters and how hearing from those who can speak to different experiences will maximize our impact in communities everywhere.
The morning continued with a presentation from John Madigan, AFSP's Senior Vice President of Public Policy, who spoke on our public policy goals in relationship to the new Three Year Strategic Plan, alongside Melissa D'Arabian, Chair of AFSP's Public Policy Council; and Nancy Farrell, Vice Chair of AFSP's Public Policy Council and Chair of the Nominating/Governance Committee.
After a lunch break provided everyone with a chance to reconnect with some familiar faces and meet some new ones, Nicole Dolan, Senior Director of the Out of the Darkness™ Walks kicked off the afternoon's sessions with a discussion on practical tips and best practices for exceeding walk goals. Following Nicole's presentation was an opportunity to recognize walks that joined the "Century Club," raising over $100,000.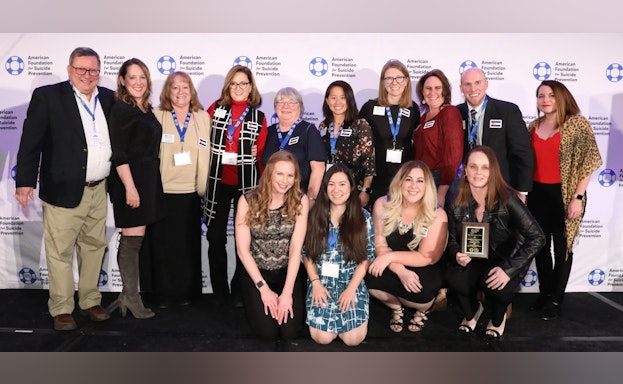 Mike Rayburn, a TEDx Presenter who uses guitar and humor to deliver his message in a unique and inspiring way, delivered the keynote address entitled "What If?" Afterwards, a wide array of breakout sessions included a workshop on storytelling and social media, a session on enhancing State Capitol Days, and more.
SATURDAY
Day two of the conference kicked off with a plenary session from Dr. Christine Moutier, Chief Medical Officer, "Better Together," offering an exciting update on our programs.
In the spirit of looking ahead at things to come, Dr. Doreen Marshall, Vice President Programs, presented a plenary on the launch of a new program coming soon, which focuses on supporting those with lived experience, alongside Adrianna Maldonado, Director of Prevention Education; and Kim McKewon of AFSP's San Diego Chapter.
Speakers then focused on how we could save the most lives in the shortest amount of time, as Dr. Jill Harkavy-Friedman, Vice President of Research, presented on the science behind Project 2025. Robert Gebbia and Christine Moutier joined Alex Karydi, AFSP's Director of Project 2025, to speak on where we've been and where we're going with the initiative.
The annual Chapter Awards Luncheon preceded a variety of breakout sessions throughout the afternoon, such as sessions on both Individual Giving and Corporate Giving, a Talk Saves Lives™ Training for Presenters, and a workshop on engaging and collaborating with loss survivors in your community.
The night wrapped up with our Annual Awards Banquet, shining a spotlight on the work of our volunteers around the country, and formally recognizing those chapters that have gone above and beyond in their efforts this past year. Further Walk Awards were presented, providing the crowd an opportunity to recognize and cheer their fellow chapters for their incredible efforts over the past year. Arapahoe High School Walk was recognized for their fundraising efforts as the highest-earning Campus Walk, while the Chicagoland Community Walk was recognized for their work in raising over a million dollars, after becoming the first Community Walk ever to do so last year. AFSP's Illinois Chapter was recognized as Overall Chapter of the Year in acknowledgement of all they've done in their community, including the success of their Chicagoland Walk.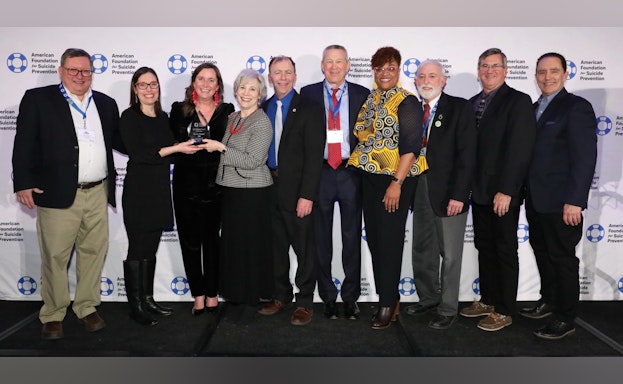 SUNDAY
The final day of this year's conference kicked off with a presentation of plans for a new-and-improved afsp.org website, delivered by Stephanie Rogers, Senior Vice President for Communications and Marketing; and Jonathan Dozier-Ezell, Director of Digital Communications.
Mary Jean Coleman, MSW, AFSP Trainer and Instructor, concluded the plenary sessions with a talk focused on self-care, and the message, "You can't pour from an empty cup."
We thank all our dedicated volunteers and staff for attending an unforgettable Chapter Leadership Conference in Denver. Their dedication and determination inspires me each day.
See more great photos from CLC on Facebook, and to learn more about the conference, be sure to check out #AFSP20 across social media.