Jun. 15, 2018- Suicide is the tenth leading cause of death in the United States. On June 10-13, more than 225 volunteer advocates traveled from all 50 states to the nation's capital to urge lawmakers to change this statistic.
At the 9th Annual AFSP Advocacy Forum, advocates were educated in federal and state policy areas in preparation for meetings with members of Congress. They made powerful human connections by sharing their stories and made the case for adoption of smart legislation promoting suicide prevention and increased mental health care.
SUNDAY
There was a buzz in the air as advocates gathered on Sunday for the kick-off session that included a traditional Alaskan Cauyak Welcome from AFSP Advocate and Alaska native Wilton Charles and presentation of the Sandy Martin Grassroots Field Advocate of the Year Awards. John Madigan, AFSP Vice President of Public Policy, and Nancy Farrell, Chair of the AFSP Public Policy Council, led the way in energizing attendees to be the voice for suicide prevention and mental health. Award recipients were individuals who embody AFSP's mission to save lives and bring hope to those affected by suicide, exemplifying a sustained commitment to suicide prevention while working at the state and local level. This year's recipients included Dr. Hollis Hackman of Wyoming, Susan Marine of Colorado, and Mary and Vic Ojakian of California.
MONDAY
After an early breakfast on Monday, advocates gathered for the morning sessions featuring speakers from the CDC, SAMHSA, Safe States Alliance, and a Service member and Veteran Suicide Prevention Panel with representation from the Department of Veterans Affairs, Veterans of Foreign Wars, and the New York City Department of Veterans' Services. The afternoon was highlighted by Joshua Gordon, Director of the National Institute of Mental Health alongside AFSP CEO Bob Gebbia who led a session on why basic suicide prevention research is critical. Advocates also experienced a self-care session led by Nancy Farrell, and Jill Harkavy-Friedman, AFSP Vice President of Research that reminded participants to find ways to relax and improve their own mental health. The day closed with a quick tips and tricks for the hill session with Jonah Cunningham, Senior Policy Advisor for Rep. Grace Napolitano and Jennifer Wood, Legislative Assistance for Rep. John Katko.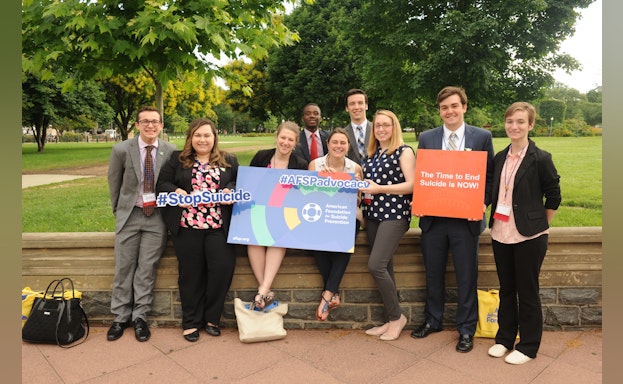 TUESDAY
On Tuesday, advocates stormed the Hill as they met with all 100 Senate offices and over 350 House offices encouraging Congress to act in the following priority areas to improve mental health and suicide prevention.
$150 million for National Institute of Mental Health for suicide prevention research
Maintain military and veteran suicide prevention as a national priority
Highest funding levels possible for SAMHSA and CDC suicide prevention programs
Support significant funding for mental health and substance abuse services
Support house passage of H.R. 2345, the National Suicide Hotline Improvement Act
Advocates from Utah alongside representatives from Mental Health America (MHA) had the privilege of meeting with U.S. Senator Orrin Hatch to thank him for his support, and honor him with a 2018 AFSP Allies in Action Award. Senator Hatch was instrumental in passing the National Suicide Hotline Improvement Act through the Senate in October of 2017.
MHA and AFSP also honored several other 2018 Allies in Action, recipients included Representative Don Beyer (D-VA-8), Representative Diana DeGette (D-CO-01) and Representative Chris Stewart (R-UT-22). Representative Grace Napolitano (D-CA-32) was honored with a Lifetime Achievement Award for her impact on suicide prevention and access to mental health services during her distinguished tenure of over ten terms in the U.S. House of Representatives.
State awards were presented by AFSP to Colorado State Senator Linda Newell, California State Superintendent of Public Instruction Tom Torlakson, and Allysa Dittmar, Communication and Policy Manager for Maryland Governor Larry Hogan.
WEDNESDAY
On Wednesday, advocates gained a deeper understanding of state-level policy they can use to affect change upon returning to their local communities. The morning opened with a keynote panel on mental health and suicide prevention policy that included Missouri State Senator Jill Schupp, Karl Rosston, Suicide Prevention Coordinator for the Montana Department of Public Health and Human Services, and Tom Torlakson, California Superintendent of Public Instruction. Breakout sessions were offered on an array of topics including LGBTQ+ policy and conversion therapy, presented by Sam Brinton of the Trevor Project. Local reporter Peggy Fox of WUSA Channel 9 and Bob Cusak, Editor-in-Chief of The Hill magazine presented a session on best practices when engaging local media in advocacy.
With tired feet, brains full of knowledge, and the continued desire to save lives, AFSP advocates departed the forum with high hopes for the future: one in which suicide prevention research is funded; military and veteran suicides are prevented; the National Suicide Prevention Lifeline is a three digit easy to remember number; and suicide prevention programs and crisis centers nationwide are permanently funded.
Suicide is preventable, and it is through the hard work and dedication of AFSP's advocates that we are able to bring about change. Thank to all those who attended the forum in person, as well as to those who showed their support online through the virtual forum. Together, you are the voice for suicide prevention!