AFSP to hold powerful demonstration of suicide impact at Capitol
4 Mar 2019 — 3 min read
By AFSP
Tagged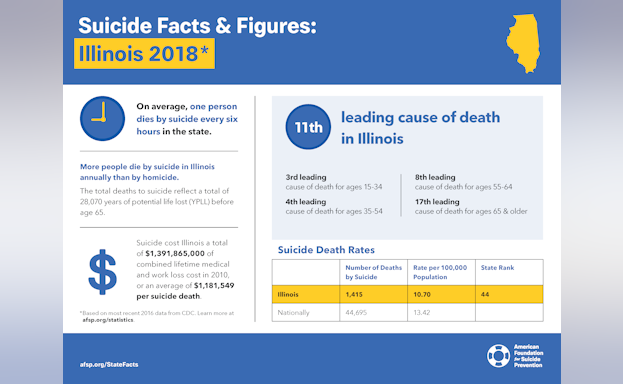 Contact: Steve Moore, AFSP Illinois Board Co-Chair, 312-391-8056, smore200400@yahoo.com
AFSP to hold powerful demonstration of annual suicide deaths at Capitol
SPRINGFIELD, IL – A powerful demonstration depicting the number of lives lost to suicide in Illinois will take place inside the Illinois State Capitol building on March 6, 2019.
Advocates with the Illinois chapter of the American Foundation for Suicide Prevention (AFSP) will be placing 1,474 rose petals on and 8 foot poster inside the word "HOPE" as a graphic illustration of the number of Illinois residents lost to suicide in 2017, the most recent year for which data is available. The governor's office, General Assembly members and their staff, and the general public will be encouraged to participate in this moving project.
In conjunction with this event, AFSP volunteer advocates will visit members of the General Assembly to request support for several bills that will enhance the state's efforts to prevent suicides.
"AFSP's advocates have a personal stake in improving Illinois' suicide prevention efforts. They have lost someone to suicide or fought against suicide themselves and want to ensure that others do not have to endure the same experience," said Steve Moore, AFSP Illinois Chapter Board Co-Chair and National Public Policy Council Member.
Suicide is a serious public health issue in Illinois, with one death every six hours. Yet, Illinois devotes few state resources to prevention. The only state body addressing the issue is an advisory board, the Illinois Suicide Prevention Alliance. There is no person in the state government devoted solely to suicide prevention. This lack of commitment to suicide prevention has had tragic consequences: since the Illinois Suicide Prevention Alliance was created in 2004, suicide deaths have increased by 38 percent, rising from 8.11 deaths per 100,000 in 2004 to 11.19 deaths per 100,000 in 2017.
SB 1425 [Steans] creates the Illinois Office of Suicide Prevention within the Illinois Department of Public Health and directs the Illinois Suicide Prevention Alliance to develop a new state suicide prevention strategy based on current national priorities, research and strategies. The Office of Suicide Prevention would be responsible for implementing the new plan and supporting suicide prevention efforts of governmental and non-governmental organizations throughout the state. Senator Steans and AFSP advocates will hold a press conference at 2:30 p.m. on March 6 in the State Capitol to display the completed rose petal board and discuss SB 1425.
AFSP advocates will also request support for HB 2152 [Welch], which requires colleges and universities to complete specific tasks to address gaps in mental health services on campuses, and HB 2766 [Hurley], which improves the effectiveness of law enforcement and firefighter employee assistance peer support programs as well as requiring suicide prevention training for first responders.
This is the sixth year advocates from AFSP have visited Springfield for a State Capitol Day event. They are part of a larger national contingent of AFSP volunteer advocates who will be visiting over 40 state capitols across the United States in the spring of 2019 to bring best practices in suicide prevention to state legislators and their staff.
The American Foundation for Suicide Prevention is dedicated to saving lives and bringing hope to those affected by suicide. AFSP creates a culture that's smart about mental health through education and community programs, develops suicide prevention through research and advocacy, and provides support for those affected by suicide. Led by CEO Robert Gebbia and headquartered in New York, and with a public policy office in Washington, D.C., AFSP has local chapters in all 50 states with programs and events nationwide. Learn more about AFSP in its latest Annual Report, and join the conversation on suicide prevention by following AFSP on Facebook, Twitter, Instagram, and YouTube.