American Foundation for Suicide Prevention Raises Over $620,000 for Suicide Prevention at 34th Annual Lifesavers Gala
June 28, 2023 – 3 min read
By AFSP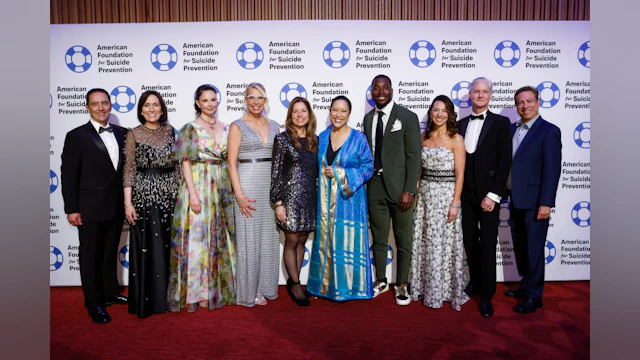 NEW YORK (June 28, 2023) --The nation's leading suicide prevention organization, the American Foundation for Suicide Prevention (AFSP), held its 34th Annual Lifesavers Gala on Thursday, May 4, 2023 in New York City. Hosted this year by Emmy Award-winning anchor and reporter Cindy Hsu of CBS New York, the event honored those who bring hope to the fight against suicide and have made significant contributions to suicide prevention.
Held at Jazz at Lincoln Center, the black-tie event, which attracted 375 attendees, included an awards ceremony with five major awards given. The night raised over $620,000 – money AFSP will use to fund research, offer educational programs, advocate for public policy, and support those affected by suicide.
Awards honorees spoke about the advances in research, shared powerful personal stories and emphasized the importance of coming together to prevent the leading cause of death. 
Highlights of the night included the moving remarks from CBS host Cindy Hsu who shared her personal journey with mental health; Doug Middleton's inspiring speech on how each and every one of us can make a difference in the lives of others; and more. 
During her inspiring acceptance speech, Survivor of Suicide Loss Lifesaver Awardee Ashley Judd spoke about her journey of losing her mother and the support she has received: "No one can do our grief for us, but we don't have to do it alone."
"There's nothing more powerful than voices coming together to share messages of hope," said Robert Gebbia, CEO, American Foundation for Suicide Prevention. "Our Gala honorees are each making a difference through their research, by helping to educate the public, and by talking about how suicide has affected their lives. Our organization is so proud to recognize these suicide prevention champions who have joined us to save lives."
Gala Awardees:
Survivor of Suicide Loss Lifesaver Award
Presented by David Kessler, Ashley Judd, actor, author, and mental health advocate, was honored with the Survivor of Suicide Loss Award for the work she has done following the death of her mother, Grammy Award-winning singer Naomi Judd, to advocate for responsible reporting on suicide.
Public Education Lifesaver Award
Presented by Tiki Barber, the Public Education Lifesaver Award was given to Audacy, multi-platform audio content and entertainment company, for its partnership with AFSP on the "I'm Listening" program, a live national broadcast bringing together artists, athletes, medical specialists, and others with intimate conversations about mental health through authentic, open dialogue.
Public Service Lifesaver Award
Doug Middleton, NFL veteran and founder of Dream the Impossible, was presented with the Public Service Lifesaver Award by Nyaka NiiLampti, vice president of cultural and wellness services for the National Football Association, for starting an organization that sets out to fix the lack of awareness surrounding mental health in the African American community. Dream the Impossible is dedicated to rescinding the stigma of mental health and promoting healthy and positive practices. 
Lifetime Achievement Research Award
Madelyn Gould, Ph.D., MPH, Irving Philips Professor of Epidemiology in Psychiatry at Columbia University, was presented with the Lifetime Achievement Research Award for the extensive research she has contributed to deepen our understanding of youth mental health and suicide prevention over the past four decades.
Annual Research Award
Rory O'Connor, Ph.D., FRSE, FAcSS, Professor of Health Psychology at the University of Glasgow in Scotland, was recognized with the Annual Research Award for the work he has done to provide a framework for how a person shifts from suicidal thought to suicidal behavior. Dr. O'Connor leads the Suicidal Behaviour Research Lab at Glasgow, one of the leading suicide and self-harm research groups internationally.

The Lifesavers Gala was chaired by President, Behavioral Health and Mental Well-being for CVS Health Cara McNulty, DPA.
*Select photos below. All photos are available here on facebook.
###
The American Foundation for Suicide Prevention is dedicated to saving lives and bringing hope to those affected by suicide, including those who have experienced a loss. AFSP creates a culture that's smart about mental health through public education and community programs, develops suicide prevention through research and advocacy, and provides support for those affected by suicide. Led by CEO Robert Gebbia and headquartered in New York, with a public policy office in Washington, DC, AFSP has local chapters in all 50 states and Puerto Rico, with programs and events nationwide. Learn more about AFSP in its latest Annual Report, and join the conversation on suicide prevention by following AFSP on Facebook, Twitter, Instagram, and YouTube.
Media Contact: PR Manager, [email protected]