An AFSP Love Story
12 Feb 2019 — 1 min read
By AFSP
Tagged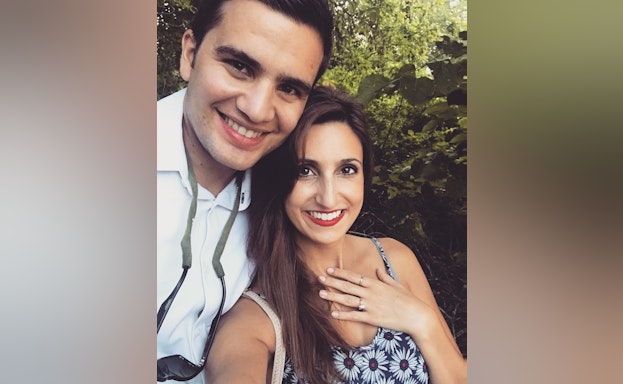 Feb. 12, 2019 - Ali Walker, current board chair of the National Capital Area chapter, recently became engaged to former board member and education chair Chris Naso, who lost his mother to suicide. Ali, who lost a close personal friend to suicide in high school, has worked tirelessly this past year to organize and rebuild the chapter after a brief transitional period, recruiting new volunteers, leading and motivating the board, developing a chapter database, building committees and identifying potential leaders, and setting up new policies and procedures.
As a result, the chapter has seen an increase in new volunteer applications, gained more than 300 new Facebook followers, added three new locations for this year's local Survivor Day events, and developed a new Youth Engagement committee, which has established AFSP's first college chapter in the DC area.
Ali met Chris when she started volunteering with the chapter.
Chris proposed to Ali with his late mother's ring. "I never would have thought something as painful as losing someone to suicide could lead to something so beautiful. Meeting Ali through AFSP, and sharing our experiences together, personifies the message AFSP strives to communicate every day: 'You are not alone.' And we are not alone. I treasure that my mother's memory continues to live on in our lives. I also treasure that Ali and I are able to share this message of hope with all those who face life's difficulties."
This piece originally appeared as a Volunteer Spotlight Story in AFSP's 2018 Annual Report. For other inspiring and emotional Volunteer Spotlight Stories, and to learn more about our exciting work, visit afsp.org/2018report.