An Inspiring Journey: The 2019 Overnight in Pictures
28 Jun 2019 — 1 min read
By AFSP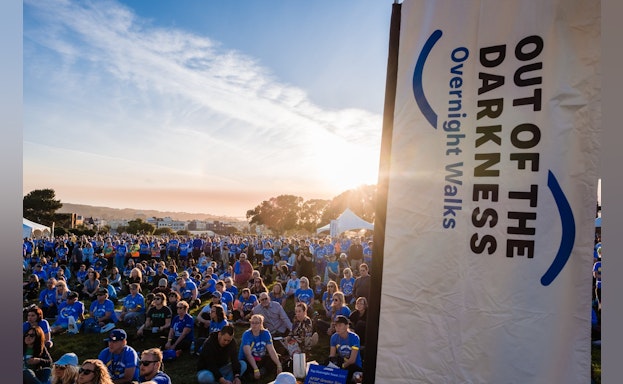 Jun. 28, 2019 - This June, over 3,000 people participated in the American Foundation for Suicide Prevention's Out of the Darkness™ Overnight Walks. The events, which took place on June 8 in San Francisco, and June 22 in Boston, saw almost 2,500 Walkers raise over $4 million in support of advocacy, education, research, and support for those affected by suicide. The Overnight Walks delivered an unmistakable message of hope, creating awareness and serving as a reminder that no one is alone.
Below are just a few of the amazing photos taken at both events. To see more of the inspiring journey of our Walkers, Crew and volunteers from San Francisco and Boston, be sure to check out the Overnight Walk page on Facebook!
We thank our sponsors, Boston Bruins Foundation and Sunovion, for their generous support. We'd also like to sincerely thank all of the donors, volunteers, and participants of the 2019 Out of the Darkness Overnight Walks, in both San Francisco and Boston, for making them a truly special, unique and moving experience. It is through your extraordinary efforts, during The Overnight and beyond, that we serve our mission of saving lives and bringing hope to those affected by suicide.