Awareness Through Art
8 Mar 2019 — 1 min read
By AFSP
Tagged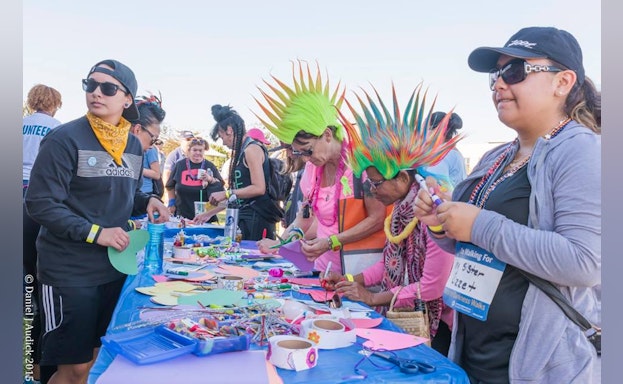 Mar. 8, 2019 - Elie Kennedy is a mother on a mission.
As part of her healing process after the loss of her son 29-year-old son Anthony, Elie began volunteering for AFSP and participating in the Out of the Darkness Walks, leading a group known as Team Anthony. The team stands out at events with their unique, colorful mohawks in recognition of Anthony's signature style. Anthony always cut his hair into a mohawk and Elie and her family wanted to continue this as a way to honor his life. This year, Team Anthony raised close to six thousand dollars, which will go toward important suicide prevention programs in the area.
Now a member of the board of the San Diego chapter, Elie is a mixed-media artist who channels her healing into her artwork, raising further funds for the cause while serving as a tribute to her son.
"My family has a favorite beach spot up in North County. We spent many days and years there, sitting in the same spot every time. After Anthony's passing, I began painting the rocks my husband and I would find while at the beach. I'd leave them in our spot as a tribute. Generally, they washed away by the time we returned. But one day we came back, and found that one of the many rocks I'd painted was sitting there waiting for us. I had painted 'ANT' -- my nickname for him -- on it with a red heart. I took this as a sign that I should keep going. That he wanted me to paint rocks."
Elie, who now refers to herself as an "Artivist for Suicide Prevention," uses her creativity to raise awareness and funds, with every piece of art sold going to AFSP.
"Every suicide loss is a personal loss to me," she says. "AFSP saved my life. When I first got involved, I felt welcomed, supported, understood and loved. Now I try to channel the painful energy to create something beautiful and positive."
This piece originally appeared as a Volunteer Spotlight Story in AFSP's 2018 Annual Report. For other inspiring and emotional Volunteer Spotlight Stories, and to learn more about our exciting work, visit afsp.org/2018report.