Being There for Other Suicide Loss Survivors
4 Oct 2019 — 4 min read
Tagged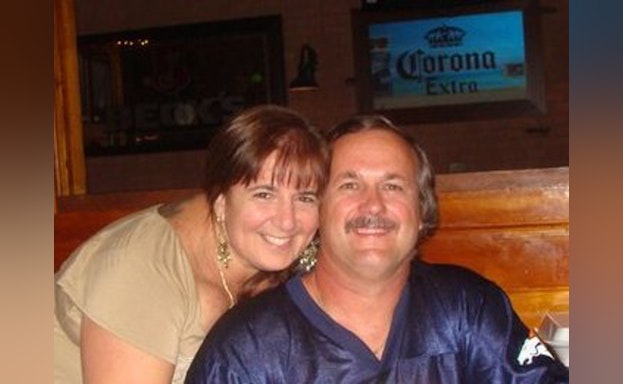 Oct. 4, 2019- I met and fell in love with my husband Jimmy in 2000. Our first date was at the movies with his two daughters. He traveled often with his job, and any time he was home, he spent it with his daughters. I loved that about him. We lived together for 10 years before getting married.
Our lives aligned through our work, as well. I worked in real estate, and he worked in construction. I thought we made a good team.
Jimmy has always been there for his family. After he lost his father in 2003, he felt he needed to be there for his mother and siblings. At times, he felt he wasn't doing enough, and felt pressured to do more. The market fell, and business was bad for him. These were some of the factors that contributed to his experiencing serious depression.
I loved him so much and hated that he was so depressed. We would talk for hours, sometimes all night. I only wanted him to feel better, and stop worrying and stressing. There were many nights that I prayed to God to please help him out of this depression.
Jimmy did work through his depression, and I was so happy about it. He loved to sing and became a karaoke DJ on the side. I think this was therapy for him. He was doing so well for a while. But then, later, he became very depressed again. Even during this time, he was accomplishing so much with his work: he got a certified general contractor license, a mold remediation license, a home inspector license and a lead-based paint certification. I was so proud of him, but knew he was struggling.
In June of 2013, his grandson was born. He was so happy. I watched him get better. He loved that baby. Again, he seemed to be doing better.
The first week of September 2013 he made an appointment to renew his driver's license. He also made a follow-up appointment for his foot from an injury he had a month prior. The night of September third, we went out to dinner. Again, I could tell Jimmy was extremely sad and depressed. I asked him if we could go see someone. He didn't want to be on medication, and didn't want people to think he was weak. Even though we stayed up all night talking, and I knew how sad he was, I still – never in my wildest dreams – had any clue he would take his own life.
The next morning, he said he wanted to go to work and wanted me to go to work. I called him several times that day to check on him. We had a normal conversation about the job he was on. He texted me later, saying he was headed home.
That night, Jimmy took his own life.
People say that suicide is a selfish act. But Jimmy did not have a selfish bone in his body. My husband had everything going for him. A loving marriage, two beautiful daughters, a grandson, two businesses. He was never a drug user, was not a heavy drinker of alcohol. He had been making plans in the days ahead for his driver's license and a doctor's appointment.
It just didn't make sense.
The death of a loved one is always tragic but suicide complicates that tragedy with far too many unanswered questions, and so much confusion. I was in severe shock, and was left with feelings of blame, shame and guilt, as well.
When his cousin told me about one of the American Foundation for Suicide Prevention's Out of the Darkness Community Walks, I coordinated a team to walk together and raise funds that would go toward the organization's important work in education programs, suicide prevention research, advocacy, and support for survivors of suicide loss. We had over 50 people walking in honor of Jimmy.
After the walk, I became more actively involved with my local AFSP chapter. I wanted to help educate people about the signs of depression, mental health, and what we can all do to help prevent suicide. I wanted to let people who are depressed or experiencing a mental health condition know how important their life is and how much they are needed here. I wanted to do whatever I could to help other families avoid the possibility of going through the pain mine had gone through. These were my goals. But I couldn't help asking myself: "How can I help others when I couldn't help the person who mattered most to me?"
I served as a board member of AFSP's North Florida chapter for over four years and am currently serving as one of the chapter's coordinators of the Healing Conversations Program, which gives people who have lost someone to suicide the opportunity to talk with trained volunteers who are themselves survivors of suicide loss, and can offer understanding and guidance in the weeks and months following a suicide death. I also attended several classes offered by AFSP, and in 2016 started facilitating local support groups for suicide loss survivors. I began with one meeting a month, and am now facilitating four meetings per month at three different locations. I wanted to provide a safe, comfortable place with no judgment where people can make a connection and get the comfort they need. No suicide loss survivor should feel they have to deal with this alone. I know firsthand how difficult it is to cope with a death by suicide. Helping others who are going through that themselves has become my passion.
I would not have been able to cope with my own loss had it not been for the many people I have met and am now friends with, through AFSP. Volunteering in this organization's loss and healing program has helped provide meaning to my experience. In more ways than one, I am so grateful for my AFSP family.