Between Matches
2 Aug 2019 — 5 min read
Tagged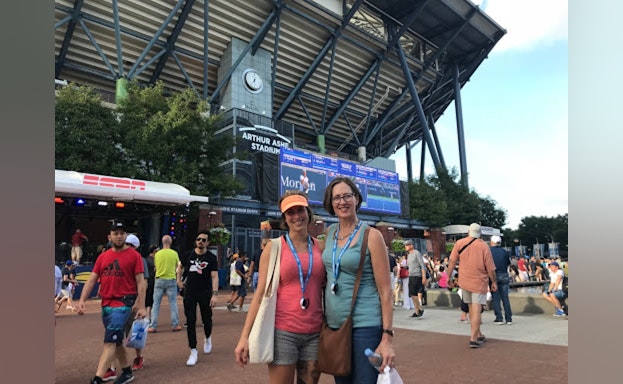 Aug. 2, 2019- After my husband and I finished moving our daughter, Tara, into her freshman dorm in mid-August of 2010, we walked her to the student center where the women's tennis team was meeting. She said goodbye to us without expressing much emotion. It felt like a continuation of how she had seemed through her final two years of high school: emotionally distant and perfunctory.
After watching Tara compete in college tennis for the first time in early September that year — she and her teammate won their doubles match — Tara motioned to me to enter the sports complex. We met inside and walked together to the women's rest room. As Tara washed her hands, she turned to me and said, "I can't do this," tears flooding down her cheeks.
The moment was brief — Tara had to return to the courts for her singles match — but it felt like the first time in years that she had been open and honest about how she was feeling. Tara and I began to speak on a daily basis.
By the spring semester, Tara was crying less often in our conversations, and it seemed to me that she was adjusting to the transition of college life, and that her mental wellness was improving. Simultaneously, though, I started to notice signs of disordered eating.
The weekend before Thanksgiving of her sophomore year, I awakened to the ring of my cell phone. The woman on the phone, after confirming I was Tara's mother, identified herself as an ER nurse and stated, "We've stabilized her." When I arrived at the hospital near her school, the attending physician informed me that Tara's blood-alcohol level was nearly three times the legal limit — but that his greater concern was her electrolyte levels. He'd stabilized the electrolytes, but warned of the terrible health risks associated with what he suspected was restricted eating.
Tara was emaciated. That Thanksgiving, Tara's aunts and uncles were shocked at the sight of her. It was at this point that I fully recognized she was starving herself, and she needed help desperately.
After Tara's first appointment with an eating disorders specialist, the doctor phoned me to share her thoughts. "This could kill her," Dr. Sanders said, sharing the grim statistics: 30% recover; 30% battle the eating disorder for life and have trouble functioning; 30% don't recover but somehow continue to function; 10% die.
Discussing this with Tara, I was distressed by her reaction: she aspired to be in the 30% who don't recover but somehow continue to function. My husband and I required her participation in a structured treatment program and maintenance of a minimum weight in exchange for allowing her to continue attending college. We were trying to keep her alive until she wanted to do the work of keeping herself alive.
Tara and I spoke regularly through her junior year. She was angry because we forced her to attend treatment and therapy. She continued to acknowledge her eating disorder, but also made clear that she wanted to retain it; she resisted fully engaging in treatment. Over time, though, Tara began to trust her therapist.
One evening in early March, she phoned me explaining that one of her tennis teammates, Paige, had been behaving differently. Over the next few weeks, Paige's mental health deteriorated rapidly.
Paige took her life on April 9th. This loss devastated Tara, and she grew to depend on therapy to process it. She also decided to pursue recovery from her eating disorder. Tara spent the summer in a residential program. Though focused on the eating disorder, it allowed her time and space to process the loss of Paige and how it had impacted her. I believe that the loss of her friend made Tara recognize that her eating disorder and mental health struggles were real, and could have devastating consequences.
Tara has four younger siblings, and my experiences with Tara's eating disorder, and her friend's death by suicide, fundamentally changed the way I parent. I learned – gradually, and more slowly than I care to admit – to stop expecting my children to be younger versions of myself in how they approach issues and challenges. I now understand better how we are all incredibly vulnerable to stress. More than anything, I want my children to know that I love and support them. I will help them through anything; there is no problem we can't resolve.
Recently, one of our sons called home to discuss his plan to graduate from college on time. He'd fallen behind in credits, but graduating on time was important to him. To make up for it, he described a grueling academic schedule for the following 15 months. As I listened, I feared the pressure he would be placing on himself. I knew that over the course of a lifetime, graduating one semester later than expected would be irrelevant to future outcomes.
As it became clear I wasn't getting through to him, I shared that we happened to be having this conversation on what I felt was a significant date: the sixth anniversary of Paige's suicide. I explained I was concerned about his ability to remain mentally and psychologically healthy under the extremely stressful conditions he described.
Without having walked Tara's journey with her, I'm not sure I would have perceived the risk and evaluated my son's proposal in the same way. Ultimately, we were able to conceive of an easier path for him to meet his graduation requirements. I remain ready to depart at a moment's notice and travel to him if I notice any warning signs of potential mental health struggles.
My parenting has undeniably changed following Tara's experience with an eating disorder and her friend Paige's death by suicide. I characterize the changes as a combination of humility and confidence. I try to push away expectations and allow my children's situations to unfold. I parent with less arrogance, but more assuredness – not in that I have life figured out, but that I can and will help them climb out of any hole.
I am forever grateful for my journey to understanding, and Tara's own journey toward true healing. Looking back, I realize it all began very simply: through a short #RealConvo we had, in the restroom between tennis matches, during her freshman year.
---
---
Learn how to have a #RealConvo about mental health with someone you care about – check out our #RealConvo Guides:
How to Start (and Continue!) a Conversation About Mental Health: A #RealConvo Guide from AFSP
If Someone Tells You They're Thinking About Suicide: A #RealConvo Guide from AFSP
Reaching Out for Help: A #RealConvo Guide from AFSP
How to Talk to a Suicide Loss Survivor: A #RealConvo Guide from AFSP
---
If you or someone you know is struggling with an eating disorder, contact the National Eating Disorder Association's helpline (nationaleatingdisorders.org/helpline) for information and resources for both individuals who may be struggling as well as for friends and family member. Crisis support is also available via text message by texting 'NEDA' to 741741