Bound by Triumph
9 Apr 2019 — 3 min read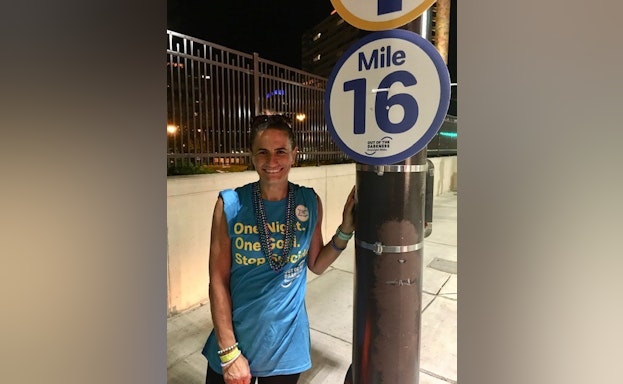 Apr. 9, 2019 - In 2012, I lost my best friend Chris to suicide. Chris and I had met when we were 16, at the grocery store where we both worked. We quickly became inseparable. We spent almost every night after work ice skating at the local college rink, eating Friendly's sundaes, and cruising around the dark streets of Connecticut in his beat up Toyota Camry, listening to Billy Joel.
Chris and I lost touch, as high school friends often do, until 23 years later when Facebook reconnected us. Life and time had marched on for both of us, but it felt like only a day had gone by. We picked up right where we had left off all those years before. Chris was a devoted father, a war veteran, and an incredible friend. When I lost Chris to suicide five years later, I lost my biggest supporter. It felt like my world had shattered.
In 2017, I decided to take part for the first time in the American Foundation for Suicide Prevention's Out of Darkness Overnight Walk in Washington, D.C. to honor Chris. What I found that night, in our nation's capital, was beyond what I ever could have imagined. Despite arriving alone, I was immediately embraced by the welcoming arms of fellow Walkers and AFSP staff. Prior to finding the immense support of this immediately welcoming community, I hadn't realized how alone and misunderstood I had felt in my grief.
As I approached the finish line the following morning, I saw all the luminaria – glowing lanterns representing those we had lost to suicide – decorating the area. I could feel, in that moment, their spirits cheering us on and thanking us for not letting their deaths be in vain. The Overnight is important because it not only raises funds to fight suicide – through education, advocacy, and support for those affected – but because it raises awareness.
I had arrived at the steps of the Lincoln Memorial alone, but crossed the finish line with Brianna, another solo walker from Queens. We had walked for hours, sharing stories about our families and lives back home, and opening up about our experiences with suicide loss and our own struggles with mental illnesses. The friendship I forged with Brianna that night will last a lifetime. Brianna wasn't the only person I connected with that night. What I had found at The Overnight was a community of individuals united by tragedy, but bound by triumph: hundreds of shoulders to cry on, hands to hold, and voices whispering, "You are not alone. I am here. You are never alone at The Overnight."
This past June I participated in my second Overnight, this time in Philadelphia. The experience was even better than I had remembered. Thanks to the community of Walkers and the sense of purpose the event provides, The Overnight is truly a place of healing: for me, the most profound healing I had felt in all the years since Chris has been gone.
I walk to honor those we have lost, those who struggle, and my own battles with mental illness. Most of all, I walk so that one day we can live in a world where treatment is more accessible, people are as open about mental health as they are with physical health, and suicide takes far fewer beautiful souls such as Chris.
If I could sum up what The Overnight means to me in one word, it would be HOPE. Incredible, empowering, triumphant HOPE!
To learn more about The Overnight, click here.
To learn about AFSP's Community and Campus Walks, click here.