Bringing Prevention to the Church
19 Apr 2019 — 2 min read
By AFSP
Tagged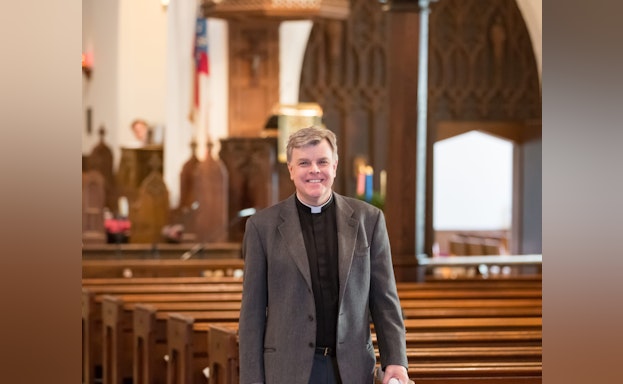 Apr. 19, 2019 - The Rev. Dr. Robert D. Flanagan first became involved with AFSP in 2011 while working as School Minister and Chair of the Theology Department at Brooks School in North Andover, Massachusetts. The school had lost a recent graduate to suicide. Father Bob quickly recognized the need for bringing suicide prevention education and awareness to the school community.
After serving on the board of our Boston chapter, Father Bob moved to Connecticut in 2013. There, he joined the board and became Lead Ambassador for public policy, chairing the chapter's annual State Capitol Day, advocating at the State House and attending several of AFSP's annual Advocacy Forums, proudly wearing his collar to show state legislators and congressional staff and representatives that clergy are focused on suicide prevention.
This year, Father Bob helped AFSP and suicide prevention reach a significant milestone. Working with clergy colleagues in the Episcopal Diocese of New York, he first put forward a suicide prevention training and advocacy resolution at the New York Diocesan Convention, which referred to the 79th General Convention of the Episcopal Church. Thanks to his hard work and support from Episcopal clergy and lay people across the country the resolution passed, with $75,000 allocated to suicide prevention training, the first of its kind for the Episcopal Church. Father Bob is now working with his colleagues to schedule and implement trainings across the country.
"Most clergy have little training and preparation to counsel individuals struggling with depression and mental illness. They do not know how to access resources and support. By offering suicide prevention training, such as AFSP's Talk Saves Lives™ and AFSP chapter-sponsored programs such as LivingWorks' safeTALK and ASIST, and SoulShop training, clergy will be better equipped to help save lives. With more than 6,900 parishes and more than 1.7 million members of the Episcopal Church in the U.S., the training of its clergy in suicide prevention can help thousands of people in times of suicidal distress and crisis."
Through his enormous dedication to the cause, Father Bob continues to ensure that many people will have access to understanding and support when they and those in their community need it most.
This piece originally appeared as a Volunteer Spotlight Story in AFSP's 2018 Annual Report. For other inspiring and emotional Volunteer Spotlight Stories, and to learn more about our exciting work, visit afsp.org/2018report.