Climbing a Mountain for Trent
15 Jun 2018 — 4 min read
Tagged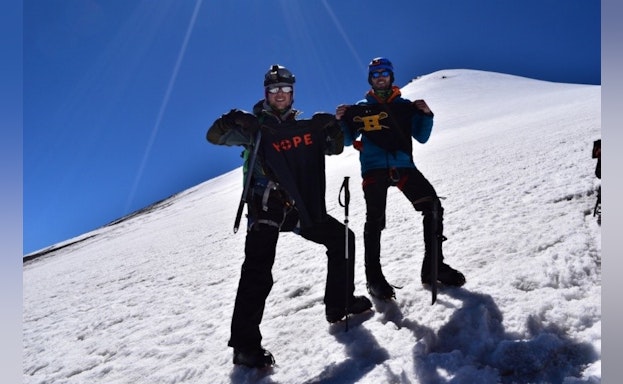 "You cannot stay on the summit forever; you have to come down again. So why bother in the first place? Just this: What is above knows what is below, but what is below does not know what is above. One climbs, one sees. One descends, one sees no longer, but one has seen. There is an art of conducting oneself in the lower regions by the memory of what one saw higher up. When one can no longer see, one can at least still know." – Rene Daumal, French poet
Jun. 15, 2018- The passing of a close friend often breeds the need for a fresh perspective. So in February, my friend Cabriel Sullivan and I set off to conquer the continent's third tallest peak, Pico de Orizaba, in Mexico. At 18,491 feet, Orizaba is a dormant stratovolcano, making it the world's second most prominent volcano. It was over 4,000 feet higher than Mt. Rainier, our only comparable previous climb, and brought a new set of challenges. The hope was to gain some personal perspective while raising awareness for suicide prevention along the way.
We set off to climb the volcano to honor one of our best friends, Trent, who had died by suicide three years earlier. Our intention was to use the expedition to shine a light on mental health, and raise money for the remarkable work of the American Foundation for Suicide Prevention in saving lives and bringing hope to those affected by suicide. We were skittish to share our mission, hesitant that Trent's death wouldn't provide the same rallying cry it may have when he passed three years ago. But we created the campaign anyway, and made our goal $1,849 – one dollar for every 10 feet in elevation on Orizaba.
We shared our fundraising page, and within a week had already surpassed our goal. Friends who had fallen out of touch for years shared and donated. Colleagues, fellow Orizaba climbers, and university friends did the same. We used this moral support to heighten our training, extending our runs and pushing our training circuits to over an hour. We spent six days a week training. We soon doubled our goal, to $3,968, and surpassed that, too. We realized that our rallying cry in support of suicide prevention was as strong as ever, and that mental health had impacted the lives of most of the people we knew.
There is no one personality type associated with suicide risk. Thinking back to Trent's death, no one had seen it coming. Trent was a widely liked and admired student. He was handsome as could be, with a girlfriend and friends who loved him very much. He breezed through exams with little of the stress that plagued most college students. He worked for the Phoenix Club, staffing sporting events and greeting fans with his infectious smile. Everyone, from the janitors to his team's director, adored him. And then he took his life.
Trent, like many college students, buried his inner battles. He was climbing a mountain that to him felt insurmountable. To the outside world, he was the posterchild of early collegiate success. To us, he is sorely missed.
We climbed Pico de Orizaba to prove to ourselves that we were capable of pushing our minds and bodies beyond what was previously achievable. On the day of the summit climb, we were greeted by blue ice, which is an unwelcome sight on a 45 degree drop. It is the type of ice that condenses over thousands of years, leaving it incredibly dense, devoid of air bubbles and almost impossible to dig into. The previous week it had left one American dead, and another badly injured when they slipped and weren't able to stop. Despite the conditions, we pushed on to 17,500 feet, barely shy of the summit but higher than most were willing to go that day. In that space of time, it is likely we were two of the highest people on the continent.
Cabriel and I pushed through numb extremities and blistering feet, as well as fear and self-doubt. The truth is, there are bigger mountains out there, but we had learned one thing about depression that seemed relevant: it's not about comparing one person's struggles to those of anyone else. You should never trivialize another person's internal battles. As friends and family, the best thing we can do is listen, provide unwavering support, and help our loved ones believe in themselves…no matter how high the mountain.
In the whirlwind of modern society, with nonstop electronic notifications and full calendars, there is something to be said for time spent on a glacier. There is a meditative quality to mountaineering. There are no emails, Instagram feeds, or boastful social media posts.
Instead, there is only the next step in front of you, leaving little room for "what if." Life becomes clear, and one soon becomes much less concerned about what is happening on Facebook. You can't compare yourself to others because you simply can't afford to. I think that connection to the natural world can go a long way for those who struggle to find clarity within their inner thoughts.