Delivering Suicide Prevention to the Firearms Community in Nebraska
21 Jan 2020 — 4 min read
By Aileen Brady
Tagged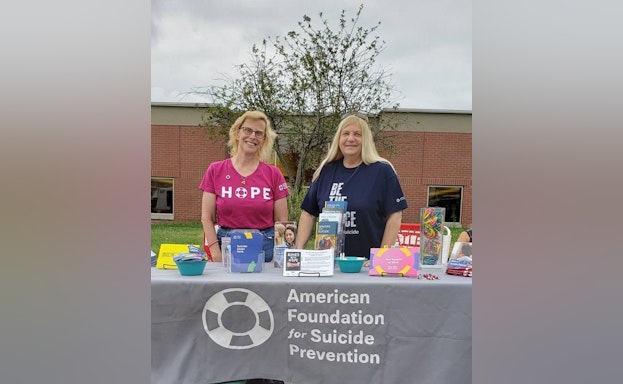 Jan. 21, 2020 - The American Foundation for Suicide Prevention (AFSP) has set a bold goal to reduce the nation's annual suicide rate 20 percent by the year 2025. Four critical areas were identified which represent the highest potential to reach the most people at risk for suicide in the shortest amount of time. One of these areas is Firearms and Suicide Prevention. There are nearly 23,000 firearms-related suicides each year; roughly half of all suicides. By making suicide prevention education a basic part of firearms ownership, we can increase awareness of mental health and suicide prevention tools, and further the importance of safe storage and other life-saving practices.
The Nebraska Chapter of the American Foundation for Suicide Prevention began our work with the firearms community in early 2018 not long after the launch of the national partnership between AFSP and the National Shooting Sports Foundation (NSSF), which was established to help us get suicide prevention education and materials to the firearms-owning community. Those of us involved in the Programs and Education committee of our chapter were eager to get involved and see what we could do in our area. Most of us didn't have a lot of experience with firearms or the firearms community. We wanted to make sure our first contacts were done right in building rapport and a relationship with potential partners. Even though as suicide prevention volunteers we were passionate about getting started, we understood the tremendous impact this program could have if presented in the correct way. Our efforts are not about politics or about firearm ownership; it's all about saving lives. It's about prevention, education, reducing risk, knowing when to restrict access to lethal means, and coming together for the greater good. As mentioned earlier, half of all suicides occur using a firearm and about two thirds of all gun deaths are suicides.
Naturally, we spent some time learning about the program and what our best role would be as volunteers. AFSP's national office provided us with resources we could use, such as a Talk Saves Lives™ presentation, brochures geared toward suicide prevention for firearms owners, and a list of gun ranges and retail shops we could contact.
Starting with our suggested list of contacts, we made our first calls to retail shops and gun ranges. And while we didn't get returns calls from all, we received positive responses from many that were also concerned about the number of lives lost to suicide. We had local shops take us up on the offer to provide education for their employees. We quickly learned from the firearm owners and employees that firearms safety was incredibly important to them. We learned that some had delayed the sale or rental of a firearm if they had concerns for the person's safety. They wanted to educate themselves as to the risk factors for suicide, and what they could do to help.
We met a woman active in the firearms community who is the President at the Nebraska Firearms Owners Association. This woman is not only active in the firearms community, but is a passionate advocate for suicide prevention. Especially important to her are the efforts toward the prevention of veteran suicide. She invited our group to present and table at the State Firearm Owners Association Conference. She has continued to provide us with sage advice about reaching the firearms community, as well as providing information about gun shows across the State of Nebraska.
During 2019, we provided well over 500 brochures to firearms owners, ranges and gun shops. We continue our relationship with the Nebraska Firearms Owners Association. This past year, we provided twenty-seven specific firearms safety and suicide preventions program presentations through our efforts in reaching out to retailers, gun shows, ranges and more. In addition, our AFSP volunteers have been participating in our local Suicide Prevention Coalition means restriction work group. This group tables quarterly at a local grocery store to provide information on suicide prevention, specifically to talk about restricting lethal means through the use of gun locks/safes and medication lock boxes. They also worked with the mayor's office and law enforcement to develop and install signs with a message of hope and contact information for the National Suicide Prevention Lifeline and Crisis Text Line numbers on bridges and parking structures that have been the site of suicides. We are seeking to expand our reach in 2020, using suicide prevention messaging on mirror clings and koozies in a variety of public spaces. Our team also partnered with the Omaha Police Department and provided resources for officers around suicide prevention and dealing with individuals after a loss.
Being involved in AFSP's Firearms Prevention program has been a gratifying experience. Having provided AFSP-sponsored firearm and safety programming and having the opportunity to talk with individuals in the firearms community, I have found more common ground than not. Early on in our efforts, I represented AFSP at a fundraiser at a gun range and it was an enlightening experience for me. It was important to the organizer of the event that I engage with those in attendance to understand how important firearms were to them. I was invited to join the others in the gun range where I learned even more about safety and the importance of safe use of a firearm. Progress is being made in our relationships, with the hope of continued conversations and education about suicide prevention.
This national partnership between AFSP and NSSF may have found the sweetest spot of collaboration – saving lives.
To learn more about AFSP's Firearms and Suicide Prevention Program, click here.
To learn more about Project 2025, click here.