Educating Gun Owners About Firearms Safety
8 Feb 2019 — 3 min read
By AFSP
Tagged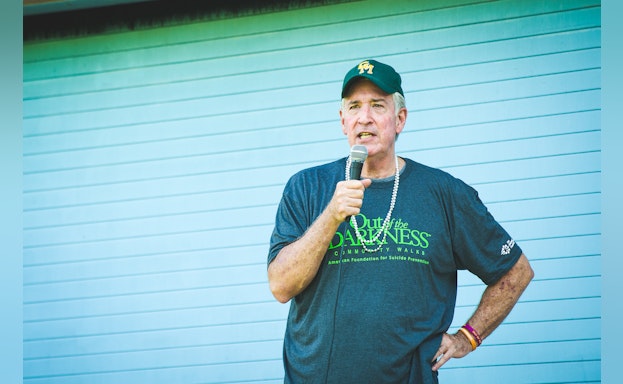 Feb. 8, 2019 - Greg Reuss is a retired Marine who has lost fellow Marines to suicide. In support of the cause, he walked together with his son Paul through the rain for the 2015 Boston Out of the Darkness Overnight Walk.
Several months later, Paul took his life with a firearm.
Now a member of the board of our Maryland chapter, Greg has made it his mission to educate people about suicide prevention and firearm safety.
What prompted you to first get involved with AFSP, and to have your son join you on the Overnight Walk?
I lost a Marine to suicide in 2005. Johnny left behind a family, many friends and fellow Marines. I started volunteering with AFSP in 2014 to learn more about suicide – and how to prevent it. My son, Paul, knew Johnny as well. As a Father's Day gift in June of 2015, Paul flew to Boston and surprised me by informing me he had registered to walk with me in honor of the fellow Marine I had lost. Together, Paul and I proudly participated in the 2015 Out of the Darkness Overnight Walk. In August of 2015 my son died by suicide.
Paul and I had discussed suicide before. He had acknowledged he'd previously thought of suicide himself. However, he had confirmed he was doing fine and had stated, "I would never do that to you and mom." I was not aware my son owned a firearm, until his death. I am dedicated to supporting AFSP's mission, "to save lives and bring hope to those affected by suicide," and in particular to support AFSP's Talk Saves Lives: Firearms and Suicide Prevention program.
Is there anything specific to military culture you'd like to see changed when it comes to suicide prevention?
I had the privilege to serve on active duty for 30 years, and I am proud of the progress that has been made in mental health care and suicide prevention over the years. We still have more work to be done.
Vigilant leadership, an engaged chain of command, sensitized and proactive peer support, and access to health care are all positive factors available to our service members. That said, there can still be reluctance for someone in uniform struggling with mental health to ask for help. Folks often don't want to be perceived as being weak or as letting their unit down. Sometimes, people may be concerned about jeopardizing their job status or losing their security clearance. Neither of these worries are well-founded, nor should they ever preclude someone from reaching out for help.
Enhanced suicide prevention education messaging and increased awareness regarding available resources, within the military community and "outside the fence," are essential for our caregivers, our active duty folks, veterans, and family members. I am encouraged by AFSP's efforts in this regard, and in particular, by our ongoing collaboration with the U.S. Department of Defense, the U.S. Department of Veterans Affairs (the V.A.) and the Tragedy Assistance Program for Survivors.
Tell us about your efforts this past year in bringing suicide prevention education to the firearms community in Maryland.
Approximately 70 percent of military suicide deaths result from a firearm. Working in collaboration with the St. Mary's Health Department, I have introduced local audiences to AFSP's Project 2025 initiative, addressed lethal means access, and shared AFSP's Firearms and Suicide Prevention brochures with retailers for them to display and distribute. I've also over the last year had the opportunity, along with others, to bring several of AFSP's suicide prevention education programs, including Talk Saves Lives, It's Real: College Students and Mental Health, and More Than Sad, to many of our Maryland communities.
Starting last year, the county sheriff's department in Leonardtown, Maryland has been distributing our Firearms and Suicide Prevention brochures when returning firearms to their respective owners. Additionally, I have given Talk Saves Lives: Firearms and Suicide Prevention presentations to local shooting ranges and District EMS personnel. I have also been afforded the opportunity to present our Talk Saves Lives: Firearms and Suicide Prevention program at community veterans' resource fairs, and to active duty and retired personnel at Naval Air Station, Patuxent River.
Over the last year, our firearms and suicide prevention messaging has reached over 1,000 folks throughout Southern Maryland. Later this month, other volunteers and I will be at a table, sharing suicide prevention information at Timonium Gun Show, which is one of Maryland's premier gun shows.
I am encouraged by the progress we have made to date, and motivated to do more moving forward. Semper Fidelis!
This piece originally appeared as a Volunteer Spotlight Story in AFSP's 2018 Annual Report.