Father's Day Re-Tooled
17 Jun 2021 — 3 min read
By Erika Barber
Tagged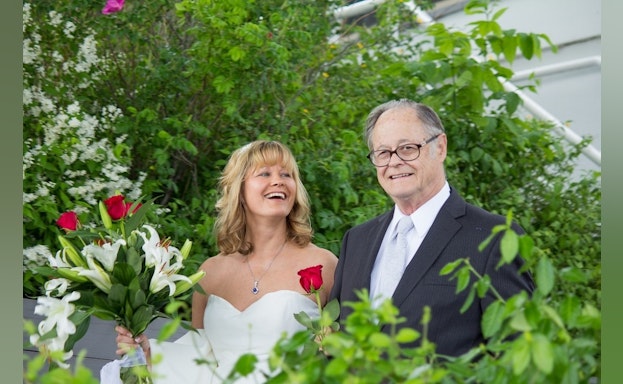 If you were to ask me what I remember most about my dad I would say it was his dry, almost Peter Sellers-esque sense of humor. I might recount the dinner when Dad animatedly struggled to slice the rye loaf, waiting until we noticed to reveal that he was trying to do so not with a bread knife, but a straw. I could attempt to imitate the serious expression he would use to indicate his cluelessness after purposely positioning his glasses wildly askew on his face.
That's what I would tell you now, nearly two years after his suicide.
If you had asked me about my dad in the weeks more closely following his death, though, I likely would have told you about his lifelong struggle with depression and anxiety. All my other memories of Dad at that time were overshadowed by his mental health conditions and his suicide. I probably would have explained how on special occasions, like my first Father's Day without him, the darkness I felt only deepened and exacerbated my feelings of abandonment.
Father's Day, like most holidays that first year, became a reminder of what I no longer had. I had not only lost my dad in a physical sense, but with his suicide I also lost possibility. Never again would I be the girl perusing the store's selection of "Dad" cards. Without knowing it, I had already hosted Dad's last Father's Day barbeque. There would be no more gift-wrapped ties or tools labeled "To Dad."
I felt stripped of my title of "Daughter." I questioned my worth. Why did Dad choose to die over staying alive for me? I asked myself what more I could have done to keep him here.
It's taken these years of healing to realize that Dad's suicide was never about me. It was never a decision between me and death. The blinders that formed from his depression and anxiety prevented him from seeing beyond the pain and past his darkness to me. To Dad, dying wasn't a decision but the only escape from his anguish: a mistaken perception of an endless future in which he burdened those he loved.
In this new awareness, I recognize that my father's legacy doesn't need to be backlit by depression or framed by imperfect brain chemistry. I choose not to summarize his life as the hopelessness that ultimately led him to end his life that day.
This enlightenment has tempered my memories to be more realistic. My dad may have died by suicide but – more importantly – he lived! Dad was a Golden Glove boxer in his youth. In his seventies, he won two medals at his health club's senior Olympics.
He was Daddy, who supported me on my first training wheel-free bike ride. He was Papa, who gave me piggy-back rides. He was the culprit behind the unexplained rhubarb plant I discovered growing in my yard, which turned out to be his attempt to convince me to bake him his favorite pie!
He was, as each of us are, a person with weaknesses, strengths, challenges, hopes and regrets.
As this Father's Day approaches, a new-found belief comforts me: that no one is defined by any single moment, whether it's the moment someone dies by suicide, or any of the individual moments suicide loss survivors replay in their heads, wondering if they might, in retrospect, have done something differently to change the outcome. The truth is, people and relationships are more complex than any single episode in time might portray.
Somewhere in that realization is where forgiveness and empathy lie. It is also where compassion is cultivated, both for the person who died by suicide and for ourselves.
I will forever be my father's daughter, and this Father's Day I plan to celebrate his impact on my life. I might grill burgers again. Maybe I'll ride a bike. The rhubarb looks ripe…I just might bake that pie.
Erika Barber is a board member for the Illinois Chapter of the American Foundation for Suicide Prevention (AFSP) and the author of Conversations of Courage: a caregiver-guided activity journal for the child of suicide loss (available through the AFSP Illinois Chapter) and Letters from a Friend: A Sibling's Guide for Coping and Grief.