Finding Connection Through Vulnerability: AFSP's Overnight Walk
1 May 2018 — 3 min read
Tagged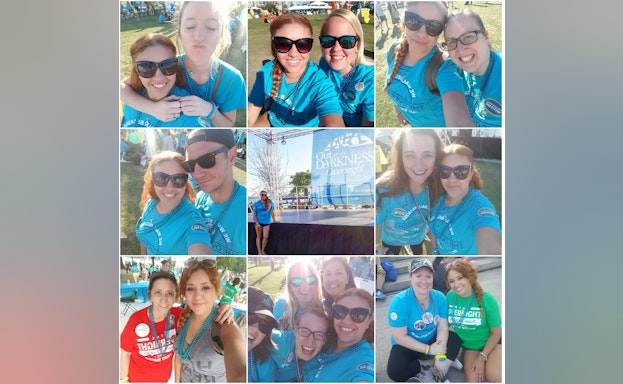 "Connection is why we're here. We are hardwired to connect with others…it's what gives purpose and meaning to our lives."
-- Brene Brown, from the book Daring Greatly: How the Courage to be Vulnerable Transforms the Way We Live, Love, Parent, and Lead
May 1, 2018- Community saved my life.
Three years ago, I decided to travel to Texas for the first time in my life, to participate in one of the American Foundation for Suicide Prevention's Out of the Darkness Overnight Walks. In order to fundraise for the event, I decided to be more public with my own story, as someone who struggles. It was an idea that terrified me, but I knew it was essential to the goal of raising awareness and breaking down the kind of shame that can be attached to the topic of mental health and suicide.
In the weeks leading up to the Overnight, I received messages on social media from people I had never met. These people supported me, encouraged me and thanked me for speaking out. What I found in AFSP and the Overnight Walk was a community free of shame or judgment. I was met with empathy, open arms, and words of love and encouragement.
I used my experience in the Overnight Walk that year as a way of taking back my life: focusing on recovery, getting help and moving forward. I was able to stand on the stage and represent the green honor beads that signify those of us living with mental health conditions. This was such an important moment in my life: I was moving from a place of shame, secrecy and darkness, and into the light. As I stood on the stage and looked out at the crowd, I was met with kind eyes, smiles and encouragement. I knew I was not alone.
This year I return to Dallas to participate in another Overnight. For me, the event represents three years of recovery from self-harm and suicidal thoughts. I will walk through the night and into the dawn with those I consider to be my community: people affected by suicide who have been there since that first night in Dallas, who have become like family to me. Over the last three years, we have traveled from coast to coast to different cities – Dallas, San Francisco, New York City, San Diego, and Washington, D.C. – to support one another on these walks. But the Overnight represents so much more than just one night a year. We walk together through life: through the joys and heartbreaks, our accomplishments and disappointments. We share laughter and tears. We are a band of warriors, because we have faced some of the darkest days of our lives but are still fighting. We are in it together.
Recovery is a process, and it is not linear and I know that I will face hard days. At these times, I know that empathy, love and understanding are only a message or a phone call away. For many years I hid what I was going through, because I feared people would not understand, or would judge me. But now I know I have these amazing people in my life, whose goal is always to keep me safe, make sure I am ok, and that I have access to the resources I need. I have found a place where I am able to be vulnerable and honest.
The connections I have made through AFSP have come from being vulnerable, and allowing others to walk in my pain with me, so that I could find my way through it. The Overnight Walk is a place that birthed connection and community in my life. It is a place where I finally felt true belonging; a place to call my own.
Registration is now open for this year's Overnights, in Dallas and Philadelphia.