Finding Her Voice For Her Father
29 Jan 2019 — 1 min read
By AFSP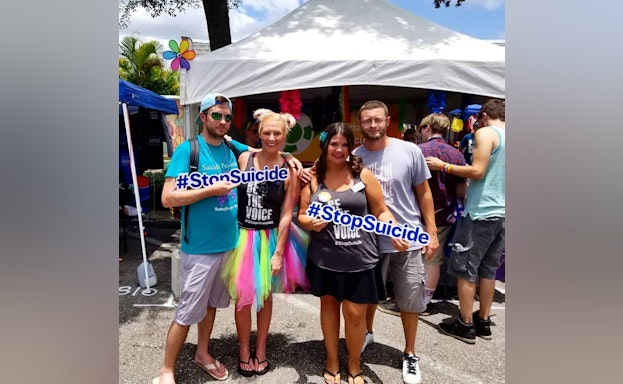 Jan. 29, 2019 - "At first, no one wanted to believe that it was a suicide."
Hannah Jines lost her father, a retired Master Chief who had served in the Navy for 25 years.
"My father's death was referred to as an accident, but I knew deep down what my father battled. I knew it was suicide."
Afterwards, Hannah faced her own battle with depression and suicidal thoughts. Eventually, she found a support group for suicide loss survivors through the AFSP website.
Today, as a volunteer Field Ambassador and board chair for the Tampa Bay chapter, Hannah Jines honors her father by speaking out about this health crisis to state and federal representatives on public policy issues. This year, Hannah helped organized AFSP's Florida State Capitol Day, an event that brings together AFSP volunteers with state and local elected officials, and was part of a bill passing that would cover lost wages for first responders with PTSD. She also works closely with her local legislators year round by attending multiple town halls and meeting individually with local legislators regularly.
Hannah is also a certified safeTALK trainer and has presented many safeTALK trainings along with Talk Saves Lives™ in her community.
Speaking out about suicide didn't come naturally to her.
"I felt my heart pounding and my hands shaking," Jines says of her experience participating in Florida's State Capitol Day for the first time. "I wasn't a natural public speaker, and the topic of suicide was still one that was hard for me to talk about. But it was time for me to raise my voice to help make change.
This piece originally appeared as a Volunteer Spotlight Story in AFSP's 2018 Annual Report. For other inspiring and emotional Volunteer Spotlight Stories, and to learn more about our exciting work, visit afsp.org/2018report.