Finding Peace After a Suicide: One Walker's Healing Journey in Nature
February 1, 2022 – 4 min read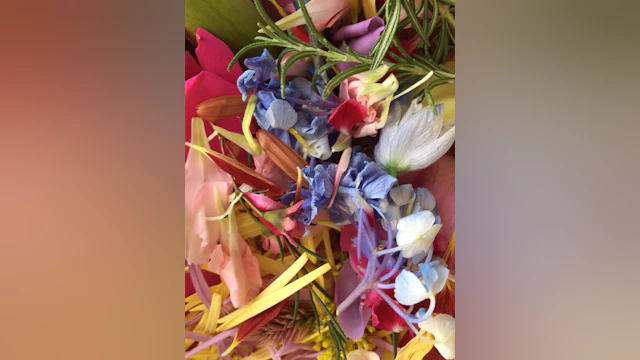 My son Lee's love of nature began when he won a large crepe myrtle sapling in the fourth grade by selling coupon books for his elementary school. He was thrilled when the tree wouldn't fit in my car and our friend with a tiny dark green TR3 convertible took him to pick up his prize. I heard their laughter as they drove up our driveway, his arms wrapped around the tree, the car's top down in the crisp fall evening. It was in the ground by the next afternoon, the first of several trees he planted.
I learned later that crepe myrtles symbolize love, longevity, and good fortune. It seemed to bode so well for Lee and his life. The next year, he won the Ecologist Award at his school's end-of-year celebrations.
 When he died by suicide a month shy of 20 in 1998, close friends planted an October Glory Maple by the Tennessee River, where Lee often met his best friend to ride their bicycles up to the baseball fields for a game. Always late in showing its brilliant fall colors, the tree was a perfect representation of Lee, who was also known to run behind, whether it was his due date (he was induced two weeks late), with homework, or in his turn at mowing the grass. Also like Lee, the tree was handsome, strong, and colorful.
After his death, friends and colleagues from The University of Tennessee, Lee's alma mater, also planted a dogwood tree in his honor. It was introduced to the campus during a loud but somehow gentle thunderstorm. His brother and I clenched hands as we listened to a reading from Silverstein's The Giving Tree, his favorite book as a child.
As Lee's trees grow taller and sturdier, they remind me of the many years he has missed, and how much he never had the chance to grow. They also provide a welcoming place to honor him, a place centered around something living given in his name.
In searching for other ways to find peace, I found the American Foundation for Suicide Prevention's annual Out of Darkness Walks. From the moment Walkers arrive at the beautiful locations by rivers, mountains, deserts, the ocean, and cityscapes across the U.S. selected for the Walks, the natural beauty places its welcoming, comforting arms around them and their grief.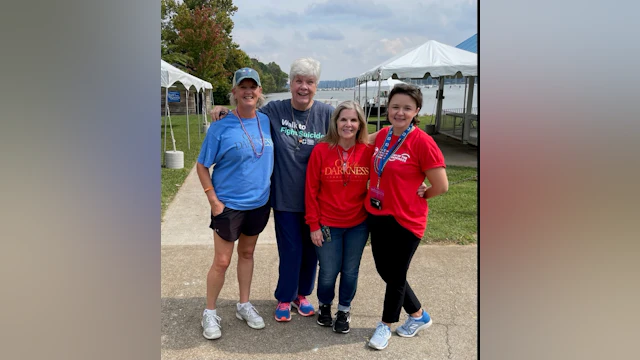 Out of the Darkness Walk participants come to remember, to miss, to heal, and to recognize they are not the only person walking to remember someone who died by suicide, to honor their own personal journey, or simply to support the cause. Sometimes people come alone. Sometimes large groups of families or friends come wearing t-shirts they've designed especially for the walk.
The conclusion of our local AFSP Community Walk was always a balloon release – a moment of peace in which attendees watched the brightly colored balloons quietly fly up and away, as they appreciated the peaceful leaving of what, to them, symbolized the soul of their lost one. But with Lee in mind, in 2019 I asked if we could change the customary ending to a more environmentally conscious ritual. A flower lover, I had an idea. It would be as colorful and as peaceful as watching the balloons rise. And I hoped it might encompass even more.
Now every year, I gather flowers and separate their petals for participants to release into a cove at the local park. I hope that at least part of peoples' pain will float away, safely nestled inside each petal. I collect roses for love; blue delphinium for cheerfulness, goodwill, and loss; and fresh rosemary from my little herb garden to remind the Walkers that our absent ones will be remembered.
Some parents, siblings, and friends tuck a few petals in their pockets to take home, and I'm glad. Last year, I watched a child cup petals in her hands and raise them to her face to smell. She looked up, satisfied and happy, and placed the petals, one by one, into the calm water just past the rocky shore.
Her mother leaned against an oak near the riverbank, wiped away tears, and smiled slightly as she watched her child. In this moment, I remembered my Lee's trees, and the sanctuary they provide. I felt conscious of the refuge of being with others on this Walk; and as I let my petals go into the water, I felt the river's breeze caress and wish us well.
My hope is that all those present will be reassured as they recall the sun glinting on the Tennessee River and lighting the petals which moved slowly onward, and as they gave their benediction in both a gentle release and encouragement to loved ones.
Sweet and safe travels on your journeys. And may each of us, living and dead, find our peace as well.