From Mother to Daughter
1 Jan 2019 — 1 min read
By AFSP
Tagged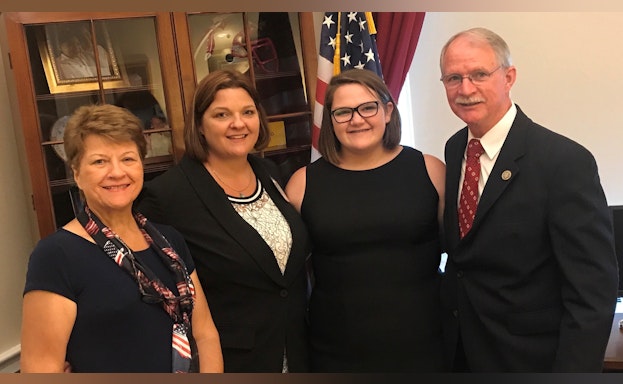 Jan. 1, 2019 - Ellen Menendez first became involved with AFSP after losing a dear friend to suicide. Her hope was that by educating herself about this leading cause of death, she could equip herself with the knowledge and training to prevent any other friends or family members from losing a loved one to suicide.
She didn't expect her training to come in handy with her own daughter.
"My involvement with AFSP enabled me to open a dialogue with my 15-year-old daughter when she came to me expressing thoughts of suicide. I knew to ask her if she had a plan, and was able to assess her symptoms of depression. I was able to calmly discuss the warning signs she was experiencing, and provide her primary care doctor with a clear picture of her mental health."
Since then, Ellen and her daughter have attended AFSP's annual Advocacy Forum in Washington, D.C. together, storming the Hill hand-in-hand to convince representatives on Capitol Hill of the need for smart mental health and suicide prevention legislation throughout the United States.
"Advocacy gives us both the opportunity to be the voice for so many others who no longer have a voice or cannot be a voice for themselves."
Most recently, Ellen, who serves as the North Florida board chair and Jacksonville walk chair, has been working to bring a suicide support group for children and teens to Jacksonville, after attending a children/teen support group facilitator training herself.
"Only adult support groups are available in my community for loss survivors. Teens and children do not have their own safe space to connect with others their age who are experiencing the same feelings of loss. This connection in a support group helps to normalize the bereavement process."
"AFSP has brought meaning to such a tremendous loss. It has allowed me the opportunity to raise awareness and support a community in need."
This piece originally appeared as a Volunteer Spotlight Story in AFSP's 2018 Annual Report. For other inspiring and emotional Volunteer Spotlight Stories, and to learn more about our exciting work, visit afsp.org/2018report.