Join the American Foundation for Suicide Prevention for the 2023 Overnight Walk on June 3 in D.C.! 
May 18, 2023 – 2 min read
By AFSP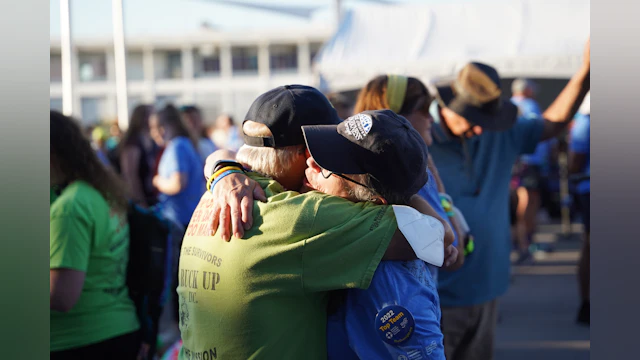 NEW YORK, NEW YORK (May 18, 2023) - The American Foundation for Suicide Prevention (AFSP), the nation's leading suicide prevention organization, is hosting its flagship fundraising event, the 28th Out of the Darkness Overnight Walk on June 3, 2023, in Washington, D.C. 
Suicide is a leading cause of death, but it is preventable. The Overnight is the largest single annual fundraising event held by AFSP and a powerful opportunity for suicide prevention advocates to raise awareness for suicide prevention and connect with a community that understands.   
"The Overnight is an opportunity like no other to support suicide prevention and healing after loss," said AFSP Chief Executive Officer Bob Gebbia. "We hope you'll join us in this unforgettable experience as we walk to advance the life-saving work of our organization and honor those who've struggled. Walking from dusk to dawn with more than 1,500 participants, you will be reminded that you're not alone." 
Walkers come together from across the country for The Overnight and there is also an option to participate virtually. Each Walker raises a minimum of $1,000 to participate, and students and military members raise $700. There is also an option to participate virtually and the minimum to participate virtually is $500. Thus far, 1.7 million dollars has been raised. 
Proceeds help AFSP save lives and bring hope to those affected by suicide by funding the creation of evidence-informed programs, advocacy efforts, and ground-breaking research. AFSP is the largest private funder of suicide prevention in the country. Last year's event raised three million dollars and brought thousands together with the shared goal to #StopSuicide.  
"I walk to keep my twin brother's memory alive," said Walker Chloe Stevens who will be walking in her fourth Overnight in D.C. in memory of Clark Stevens. "The Overnight Walk sparks connections between people who have experienced the devastating effects of suicide. It is a healing environment that not only promotes awareness but changes the lives of people that have been impacted by suicide." 
We can't wait for you to join us in D.C. in 2023.  Register today for the 2023 Overnight Walk.

### 
The American Foundation for Suicide Prevention is dedicated to saving lives and bringing hope to those affected by suicide, including those who have experienced a loss. AFSP creates a culture that's smart about mental health through public education and community programs, develops suicide prevention through research and advocacy, and provides support for those affected by suicide. Led by CEO Robert Gebbia and headquartered in New York, with a public policy office in Washington, DC, AFSP has local chapters in all 50 states including Puerto Rico, with programs and events nationwide. Learn more about AFSP in its latest Annual Report and join the conversation on suicide prevention by following AFSP on Facebook, Twitter, Instagram, and YouTube. 
Media Contact:  PR Manager, [email protected]