Megan Thee Stallion Says "Check In On Your Friends" in New PSA With Seize the Awkward
September 26, 2023 – 6 min read
By AFSP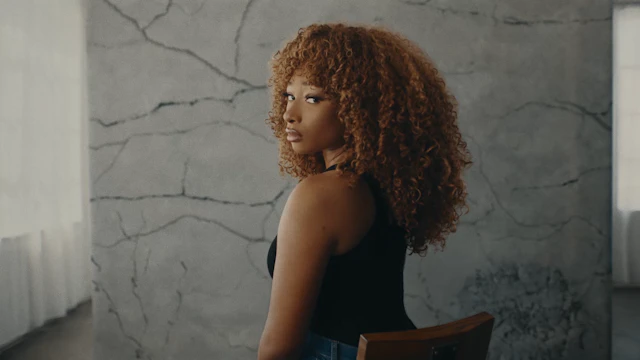 Grammy Award-Winning Artist & Philanthropist Joins the National Campaign Encouraging Young Adults to Reach Out to Each Other
NEW YORK, NY (September 26, 2023) – Seize the Awkward, a national campaign that inspires and prepares young adults (ages 16-24) to talk about mental health with their friends, spotlights three-time Grammy-winning superstar, entrepreneur and philanthropist Megan Thee Stallion in a new public service advertisement (PSA), "Check In On Your Friends," which launched today.
In the latest PSA from the award-winning campaign from the American Foundation for Suicide Prevention (AFSP) and The Jed Foundation (JED) in collaboration with the Ad Council and Droga5, Megan gets real about the pressures to be strong and the importance of peer-to-peer support, reminding viewers that "It's OK to not be OK."
"I'm proud to team up with Seize the Awkward and use my platform to help normalize conversations around mental health," Megan said. "It's important that we regularly check in on our friends and family and make sure to show empathy, encouragement, and love when they're struggling. A strong support system can make a powerful difference in someone's life."
Data shows that 76% of young adults will turn to a peer for support in a time of crisis, a statistic that inspires the mission of Seize the Awkward. The goal of the campaign is to equip young adults, especially Black and Hispanic youth, with accessible and useful resources for starting conversations around mental health with friends and spotting the signs that a peer may be struggling. In addition to promoting SeizeTheAwkward.org, the PSA also highlights BadBitchesHaveBadDaysToo.com, Megan's website that offers a wide array of mental health resources.
Seize the Awkward's latest PSA, "Check In On Your Friends," was developed pro bono by award-winning creative agency Droga5, part of Accenture Song, and directed by Ewurakua Dawson-Amoah with Greenpoint Pictures. By reflecting Megan's personal experience with feeling the need to showcase a tough exterior, the film encourages viewers to find strength in vulnerability and open up that conversation with friends.
"We know that social connections and feelings of belonging can reduce stress, anxiety, depression, and loneliness," said JED CEO John MacPhee. "Partnering with Megan Thee Stallion for our latest Seize the Awkward initiative lets young people know that they don't have to be strong all the time or suffer in silence. They can reach out to friends in the community for support and care when faced with mental health challenges. Celebrating and advocating for one another not only supports well-being, but protects emotional health and prevents suicide for teens and young adults across America."
"As we work to address the mental health needs of marginalized youth, our partnership with Megan Thee Stallion will help connect our Seize the Awkward campaign in a more relatable way to a younger and diverse population," said AFSP CEO Bob Gebbia. "Her involvement will help ensure young people hear the message that struggling with one's mental health is normal, and so is asking for help. We are grateful to Megan Thee Stallion for being open about her struggles and for normalizing mental health conversations."
The PSA will appear nationwide across broadcast, digital, social, out-of-home and print formats, including donated media support from Snap Inc., SXM Media and TikTok, among others. Forthcoming audio assets will also be produced by SXM Media's Studio Resonate. Additionally, a #SeizeTheAwkward influencer activation in partnership with Black-owned influencer agency Kensington Grey will feature Ava Teteh-Ocloo (@ava_tocloo), Charisma Stevens (@charismaticblackgal), Whitney Madueke (@whitneymadueke), Taty Cokley (@tatycokley) and more. Shareable gifs will also be available on GIPHY to help young adults to start the conversation about mental health with each other.
"We are so proud to collaborate with Megan Thee Stallion to further the reach and impact of the Seize the Awkward campaign and elevate her longstanding commitment to mental health. Megan has a unique and powerful connection with young adults and this creative content will inspire people to talk about mental health and check in with each other," said Ad Council Chief Campaign Development Officer Heidi Arthur. "This new PSA will have ripple effects for years to come, bringing necessary attention and changing the narrative around mental health."
"As women of color, we are too often perceived as 'strong,' so it was imperative to prove that all friends should be checked on – no matter who they are or how they may appear to be," explains Courtney Richardson, creative director at Droga5. "Our campaign is a visual representation of when we are given a chance to be vulnerable, allowed to unapologetically open up and have hard conversations, that's when our real emotions can crack the surface and we can start to become whole."
Since its inception in January 2018, Seize the Awkward has been a trusted source of information for young adults across the country, driving over 3.5 million visits to the campaign's website and more than 63 million video views. In the campaign's efforts to reflect a diverse range of young adult experiences with mental health,  Seize the Awkward recently released PSAs including  "We Can Talk About It" produced by long-time partner Droga5 and a student-produced video featuring Heisman-winning quarterback Caleb Williams.
For tools and resources to start a conversation with a friend around mental health, visit SeizeTheAwkward.org and @SeizeTheAwkward on Instagram.
American Foundation for Suicide Prevention (AFSP)
The American Foundation for Suicide Prevention is dedicated to saving lives and bringing hope to those affected by suicide, including those who have experienced a loss. AFSP creates a culture that's smart about mental health through public education and community programs, develops suicide prevention through research and advocacy, and provides support for those affected by suicide. Led by CEO Robert Gebbia and headquartered in New York, and with a public policy office in Washington, D.C., AFSP has local chapters in all 50 states, DC and Puerto Rico with programs and events nationwide. Learn more about AFSP in its latest Annual Report, and join the conversation on suicide prevention by following AFSP on Facebook, Twitter, Instagram, and YouTube.
The Jed Foundation (JED)
JED is a leading nonprofit that protects emotional health and prevents suicide for our nation's teens and young adults. We're partnering with high schools and colleges to strengthen their mental health, substance misuse, and suicide prevention programs and systems. We're equipping teens and young adults with the skills and knowledge to help themselves and each other. We're encouraging community awareness, understanding, and action for young adult mental health.
Connect with JED: Email | Twitter | Facebook | Instagram | YouTube | LinkedIn | Snapchat | Pinterest
The Ad Council
The Ad Council convenes creative storytellers to educate, unite and uplift audiences by opening hearts, inspiring action and accelerating change around the most pressing issues in America. Since the non-profit's founding, the organization and its partners in advertising, media, marketing and tech have been behind some of the country's most iconic social impact campaigns – Smokey Bear, A Mind Is a Terrible Thing to Waste, Love Has No Labels, Tear the Paper Ceiling and many more. With a current focus on mental health, gun safety, the opioid epidemic, skill-based hiring and other critical issues, the Ad Council's national campaigns encompass advertising and media content, ground game and community efforts, trusted messenger and influencer engagement, and employer programs, among other innovative strategies to move the needle on the most important issues of the day.
In November 2022, the Ad Council announced a new Mental Health Initiative, uniting brands, marketers, media companies and nonprofits to address the mental health crisis throughout the U.S. at scale. With a founding investment from the Huntsman Mental Health Institute, the multi-year initiative aims to change social norms and create a society that is more open, accepting and proactive when it comes to mental health.
To learn more or get involved, visit AdCouncil.org, join the Ad Council's communities on Facebook, Instagram, LinkedIn and Twitter, and view campaign creative on YouTube.
Droga5
Droga5, part of Accenture Song, is a creative agency with offices in New York, London, Dublin, Tokyo and São Paulo. From integrated communications and experience innovation to business design, Droga5 exists to build and sustain the most influential brands of the 21st century through creativity. Droga5 was founded in 2006 and has been recognized as Agency of the Year more than 25 times and was named both Ad Age and Adweek's Agency of the Decade (2010–2019). Droga5 clients include JPMorgan Chase, Kimberly-Clark, LinkedIn, Meta, Molson Coors, The New York Times, and Kaiser Permanente among others. Visit Droga5.com or @droga5 on all social platforms to get to know us better.
###
MEDIA CONTACTS:
The Ad Council
Nina Trach
[email protected] 
The American Foundation for Suicide Prevention (AFSP)
Maria de los Angeles Corral
[email protected]
The Jed Foundation (JED)
Justin Barbo
[email protected]
Droga5
Casey Powers
[email protected]