My Milestones: A Look Back at The Overnight Walks (Part One)
25 Feb 2020 — 4 min read
By AFSP
Tagged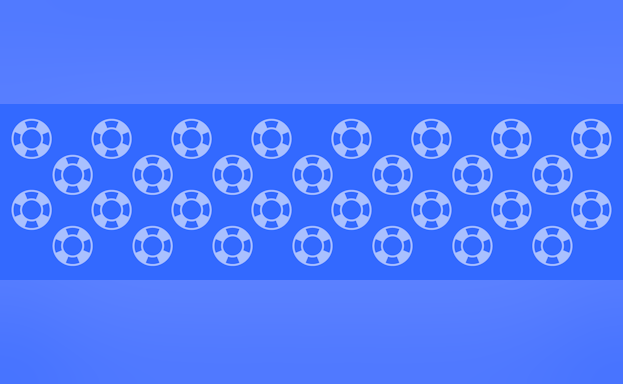 The 2020 Overnight takes place on June 20 in New York City. Register today!
Once a year, at the American Foundation for Suicide Prevention's Overnight Walk, thousands join together to walk through the night to stop suicide. The host city for The Overnight changes each year, allowing participants nationwide the chance to honor themselves and their loved ones as they raise awareness and funds for this important cause. Over 17 years, The Overnight has traveled to nine major U.S. cities.
The 2020 Overnight Walk, held in New York City, will be the 25th Overnight since the event was founded in 2002. To commemorate this milestone, we will be taking a look back, with Walkers sharing their stories from their first Overnight experiences at different host cities through the years.
Washington, D.C.
The very first Overnight Walk, held in our nation's capital, was AFSP's first-ever Out of the Darkness Walk, which now also includes Community and Campus Walks. 2,300 people attended that first year, walking over 20 miles in the August heat. Since then, the event has come to Washington, D.C. twice more, and has brought with it many more miles of hope and reflection for the participants that make it so remarkable.
Ray and Mary Anne Burke
Washington, D.C. – August 17, 2002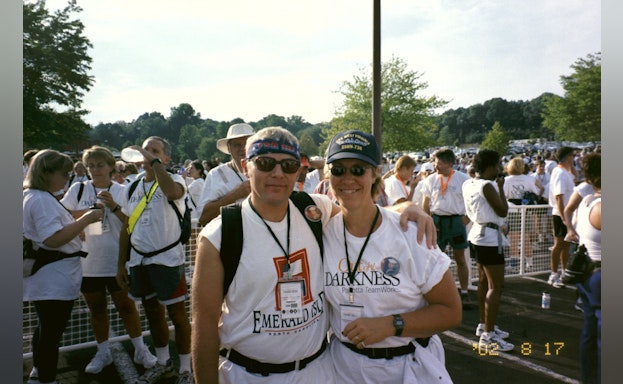 Our family became involved in the Overnight Walks after the death of our son, Raymond Matthew Burke, by suicide on November 25, 2001. The loss of our son brought with it a new reality, and we had to find our own way of dealing with this devastating grief. During these darkest moments, we attempted to be brave and resist tears.
Preparing for a 26 mile walk through the night in Washington, D.C. in 2002 was our first step to healing. It gave us the opportunity to give our son's life meaning. The feeling of being part of this event, which brought together those who had lost someone, as well as those who struggle, was in some ways overwhelming, but also rewarding. We connected with so many.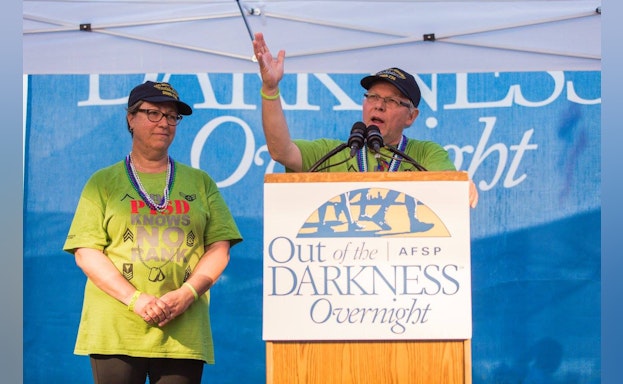 Since then, we have participated in every Overnight Walk event, and have met many great and wonderful people. As we prepare for our own 25th Walk in New York City in 2020, our reason for participating has not wavered. We walk to help others, as a way of giving our son's life meaning. We are here to help our AFSP family who are always there for us, and who have contributed so much to our healing.
With Raymond Matthew Burke as our shining star, and AFSP as our true compass, we walk on, with the knowledge in our hearts that we will never walk alone on this journey.

Maria Ruane
Washington, D.C. – June 1, 2013
My brother, Mark, died by suicide in 2007. I was heartbroken in my grief: confused and numb.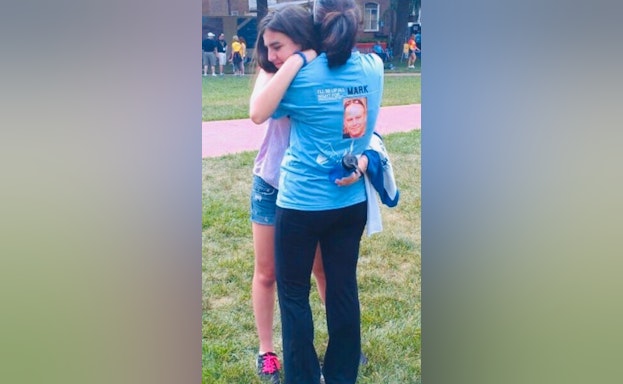 In 2013, overwhelmed by the feeling that I had to do something, I searched the internet looking for ways to make a difference. It was then that I found a link for the Overnight Walk in Washington, D.C. I was daunted by the prospect of fundraising, and walking alone through the night. After sharing my story on social media, my worries about fundraising were eased. Friends and family gave generously, and I ended up raising over twice the minimum fundraising amount.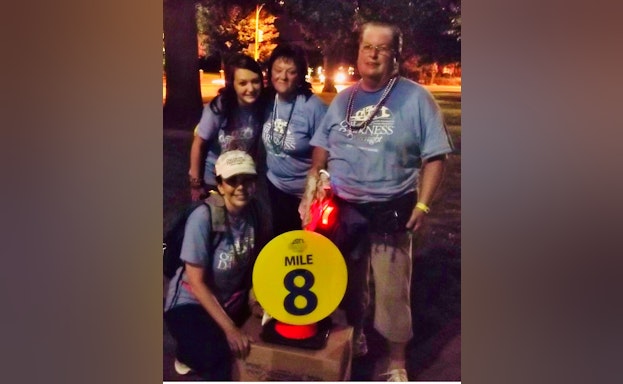 At a reception the night before the walk, I shared a table with three other women. At the end of the evening, we agreed to meet up the following night and walk together. Those women are now family. In the years since, each time I've participated in The Overnight, I have walked with those same wonderful ladies. This year, in New York City, will mark our seventh time doing so. Sometimes the weather is nice, and sometimes it isn't. Through heat or torrential rain, climbing hills and battling blisters, we walk together.
The Overnight is my night to honor my brother Mark, and all those who struggle or have lost someone. For them, I walk to create a world without suicide.

Mike Scheinberg
Washington, D.C. – June 17, 2017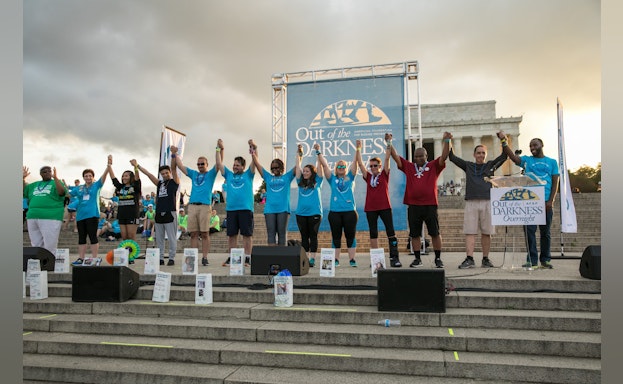 I had heard about The Overnight before, but it had never been something I thought I would participate in myself. But in June of 2017, in Washington, D.C., I had the opportunity to walk with a friend, whose sister had died by suicide.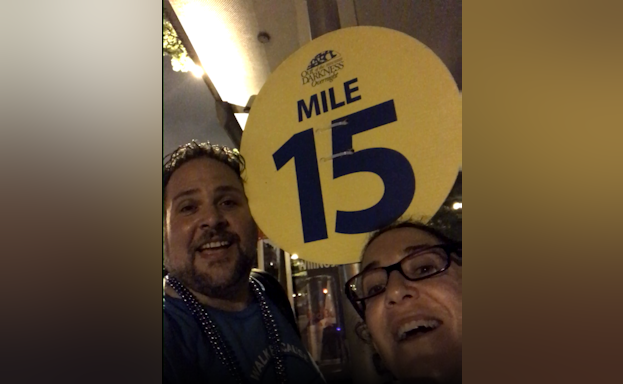 The Overnight helped me speak out about my own battles with suicidal ideation. That night, I met many others who shared the same challenges I had. I was embraced with so much support and understanding from this community. Those I met that night became fast friends. When it's 3:00 in the morning and you've been walking 15 miles, a bond is formed unlike any other. It's a connection that lasts a lifetime.
After walking in 2017, I knew that I had to participate in The Overnight the following year. Walking in The Overnight is a chance to see old friends, make new ones, and feel a part of something important, inspiring and cathartic. This year in New York will be my fourth Overnight Walk. I'm looking forward to walking many more miles, and making new memories in The Overnight in the years ahead.
---
Register today to participate in the American Foundation for Suicide Prevention's milestone 25th Out of the Darkness Overnight Walk on June 20, 2020, in New York City