One Foot in Front of the Other: Training for the American Foundation for Suicide Prevention's Overnight Walk in Memory of Our Son
16 Mar 2023 — 5 min read
By Senior Chief Raymond Burke, USN Retired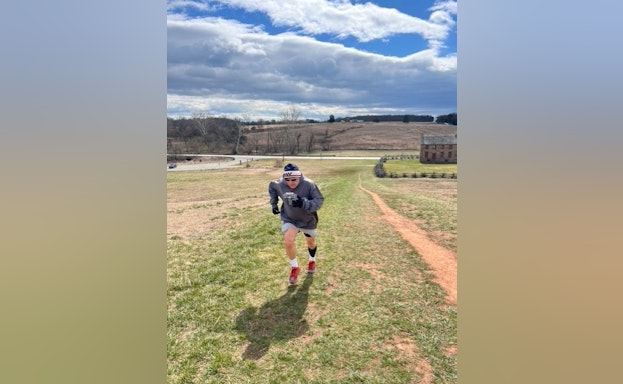 REGISTER TODAY FOR THE 2023 OVERNIGHT WALK.
What do you say about your 21-year-old son who leaves home and never returns?
At about noon on November 25, 2001, our son Raymond Matthew Burke and I had a conversation in our driveway. He seemed happy, without a care in the world. He told me he was fine and was going to take his Corvette for a drive into the country.
He had come home on leave for the Thanksgiving holiday from his U.S. Navy submarine duty. He seemed unusually quiet, which concerned us as parents. We did talk about his being home for only a few days and having to leave for an upcoming deployment. My wife Mary Anne and I are Navy Vets, and had experienced feelings of anxiety when having to leave home to support the Navy's mission. We talked about these feelings being normal for young military personnel.
On November 27, we were notified that Matthew had died by suicide. Our journey of mourning and grief began. Our immediate goal was just to survive.
After months of trying desperately to find our way, we heard about a new event sponsored by the American Foundation for Suicide Prevention: the Out of the Darkness Overnight Walk, which would take place in Washington, D.C. on August 17, 2002.
That was the very first Overnight. Since then, one or two Overnight events take place each year in different host cities, with thousands of people gathering to walk 16+ miles from dusk to dawn. The 2023 Overnight, taking place on June 3 (once again in Washington, D.C.) will be the 26th Overnight we have attended. We have participated in every single one.
Many people train in preparation for the long walk, often using their training as an opportunity to generate interest and raise funds, which go toward things like suicide prevention research, education, advocacy, and support for survivors of suicide loss.
Part of what was so painful was that Matthew's dream was to serve in the world's greatest Navy. For our training for that first Overnight, Mary Anne and I decided to walk where our son had trained so hard prior to departing for Navy Boot Camp. Every step we took that spring and summer gave us purpose and hope, as we were now doing something to give his life meaning. We looked beyond our physical discomfort by concentrating on how much pain we realized our son had endured. It inspired us to put one foot in front of the other in his memory.
After that first Walk, we felt we had finally begun our path toward healing. Not only had we taken action to give Matthew's life meaning; we had also discovered we were helping others. We were particularly interested in helping our military personnel. AFSP works with the V.A. to assist in this endeavor, among all the other great work they do.
Each Overnight is different, but two specific thoughts always occur to me. As we gather for the Opening Ceremony each year, I am reminded of each individual at the event, and I picture each of us carrying a candle to light the path of our journey of healing. From the flickers of light on display at The Overnight in the form of luminaria, with each glowing white bag representing someone loved, the darkness will be lessened. My second thought is of a speech the late U.S. Senator Robert F. Kennedy gave to young students in Cape Town, South Africa in 1966. He talked about a "Ripple of Hope." Each year, I look around at all the Walkers, Volunteers, and Staff, and think of each person as a ripple representing thousands of individuals who are now companions on this journey of hope. We are all carrying on the change we want to see in the world: to reverse the sense of shame some people associate with mental illness and suicide.
In the spring of 2019, I decided I wanted to do something physically and mentally challenging to honor our son that would help me with training for The Overnight. It was a spring day while taking our two grandchildren home that I looked to my right, to see a steep hill in Old Manassas Civil War Battlefield. I made the decision to run that hill 39 times on Matthew's birthday, in acknowledgment of how old he would have been that year. It represented the mental hill Matthew climbed many days of his life. I realized that to avoid injury, I needed to warm up on a longer hill prior to training on the steep one. It was hard, but so meaningful. The days it was hot, humid and difficult, I thought about how much pain our son had endured. On September 29, 2019, I completed the mission by running up that steep hill in Old Manassas Battlefield 39 times to honor Matthew on his birthday. I have since continued to run that same hill each year. Each year, I increase the times up the hill by one.
Prior to Memorial Day this year, I plan on running that hill 22 times to honor the 22 Vets who die by suicide every day. During the Walk this year, I also plan on doing 22 push-ups at each mile marker to honor all Vets who die by suicide.
Not everyone trains this hard physically for The Overnight, but during my journey of grief, the running has become a place of meditation. AFSP – specifically The Overnight staff – has taught me it is okay to open up about your feelings, and to share our experiences as we continue doing the hard work required to feel joy again.
As Mary Anne and I prepare ourselves for our 26th Overnight, we realize our road to recovery has not been easy, but that our resolve has never been stronger. Participating in the Overnight Walks has helped us so much in putting the shattered pieces back together in our lives. Raymond Matthew Burke fought the good fight for as long as he could, and slipped away. The memories and moments he provided will always be a part of us. We hold him close as we participate in each Overnight. Our motivation is to give his life meaning, and help others who struggle or have been affected by this leading cause of death.
The writer Henry David Thoreau said, "A single footstep will not make a path on the earth…to make a deep physical path, we walk again and again."
Our journey has not been soft grass. It is sometimes a steep, long hill, sometimes a mountain path with lots of stone – but it goes upward toward the sun. The most difficult aspect of this for me is that I could not save Matthew's life. Whatever happiness and joy we have experienced the last 21 plus years, we still carry the loss of our son each and every day. Matthew is our shining star to light the path, and the support of our family, friends and AFSP is our compass, knowing we will never be alone.
*None of these Walks would be possible without our family of donors who have been so generous in supporting this cause: we are thankful to everyone who has contributed over the years. I would also like to thank my wife Mary Anne, son Brian, his wife Kristie, and our grandchildren Lilly and Jackson, who have been so supportive on our journey of grief. They have helped us to experience happiness, which we thought we would never have again.