Out of the Darkness Walker Spotlight Interview: Catharyn Turner
31 Aug 2022 — 4 min read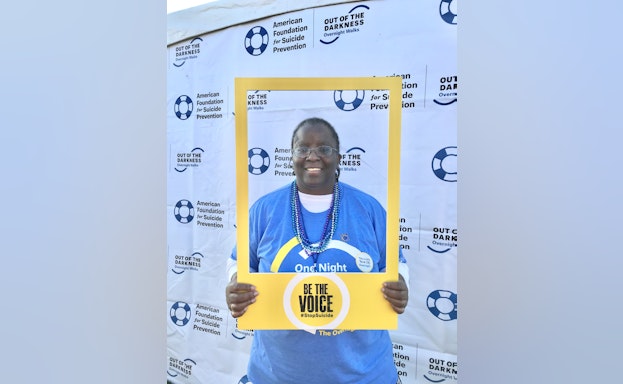 September is National Suicide Prevention Month. Since 2002, the American Foundation for Suicide Prevention's Out of the Darkness Walks have brought friends, neighbors, family members and colleagues together to walk through their communities to raise public awareness and funds to support suicide prevention. The following is one of a series of interviews conducted with Walkers about their own connection to the cause, and what the Out of the Darkness Walks mean to them.
Together, let's walk.
Do you have a personal connection to suicide?
I have lost many people to suicide. The first time, I was 11 years old, entering sixth grade. I remember the hushed tones used by my friend Brigitta's mother while letting my own mother know that Brigitta had taken her own life. I was eager to understand more about what suicide was, but it was harder back then to find information in the pre-Internet era.
Since then, I have lost friends, colleagues, a coach, schoolmates, and – just one year ago – a young cousin. These were creative, artistic, funny, professional, bold, daring, sweet, trustworthy people. These were real people, who lived real, important lives. Inside, they were all hurting deeply.
I'm a pediatrician and a child and adolescent psychiatrist. One encounter from early in my medical training has stayed with me. It occurred when I was a pediatrics intern working in a primary care clinic. I was speaking with a four-year-old boy who had come in with his mother because of "behavioral problems." I quickly realized from our conversation that this wasn't a "behavioral problem." At four years old, he was already thinking about wanting to end his life. The vast majority of young kids do not understand the concept of suicide. Many do not understand what death is. But this four-year-old did. He knew that if he died he wouldn't be alive anymore. He knew that if he died he would never see his mother again. He thought he would go to heaven. He had a plan, and his plan would have likely been lethal. That experience, and connecting that little boy to help, put me solidly on a path to practice psychiatry as my primary specialty.
In addition to my dedication to preventing suicide among children and adolescents, I am also very concerned by the number of physicians who die by suicide each year. Doctors face daily stressors of which the general public may not be aware. Aside from too often dismissing their own health, they are often encouraged NOT to get help for mental health concerns, for fear of professional repercussions.
I come from a military family, and so another aspect of suicide prevention I care about involves the military. Four of my seven siblings followed their father into military service. In some ways, the struggles faced by physicians and military personnel are similar. Both the military and medicine are societal systems that place societal well-being above the individual. This may inadvertently lead the individual to believe that if they are not performing perfectly, they have no purpose. We need to change the narrative so that individuals who work so diligently at supporting a system can also feel supported by that system when it comes to mental health.
These are just two specific examples of how suicide prevention is a deeply cultural issue that needs to be addressed within every culture: from workplaces to schools, within communities, in families, and beyond. The American Foundation for Suicide Prevention's Out of the Darkness Walks help start these conversations, and raise our culture's understanding of suicide prevention, and the resources that are available to everyone.
What does it mean to you to walk together toward a world without suicide?
Walking together toward a world without suicide – both at the Out of the Darkness Walks and metaphorically – means walking toward a world in which every human being is loved, is supported, and is encouraged to seek help when they are struggling. It means dismantling barriers to healthcare, including those systemic ones codified within our society: poverty, unemployment, under-education, hunger, lack of public safety, and stigma related to mental health. It means putting one's best self forward, especially when that best self needs hope. It means reaching out, reaching back, and bringing forward those who are in need of a hand.
As a pediatrician and child and adolescent psychiatrist, it means making sure that people understand that mental health is health; reducing the stigma of seeking help; and helping people realize there are ways to cope with despair. It means improving mental wellbeing before a crisis occurs, and providing timely, supportive care in the midst of crisis. We have preventive health care: our society now needs to work on providing preventive mental health care.
The Out of the Darkness Walks send the message that there is hope, and that there are many people in one's corner. Through walking, one may find solace, comfort, closure, and the impetus to step up and be the voice in one's own community.
What do you think is special about the Out of the Darkness Walks?
The Out of the Darkness Walks are, at heart, a celebration of life! There are tears, there's family, and there are hundreds of understanding people. Strangers you don't even know will support you in the kindest ways. You bond over little things: a Band-Aid, extra Chapstick, a piece of gum. The Walks can feel like restorative meditation. They are an experience unlike any other. You're surrounded by people who want to make sure you don't feel alone. We are surrounded by understanding. That's what it means to walk out of the darkness.