Overnight Recap -- Dallas 2018
5 Jun 2018 — 3 min read
By AFSP
Tagged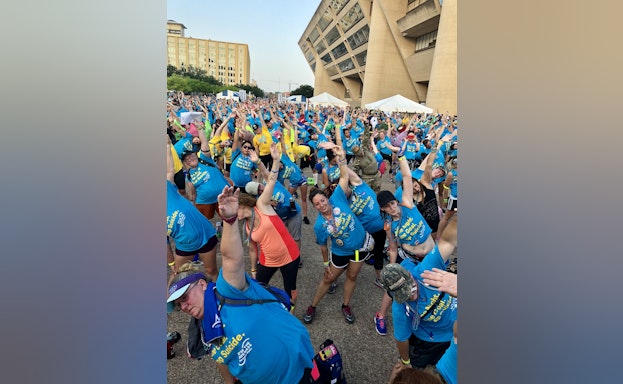 Jun. 5, 2018- On June 2, 2018, volunteers from across the country gathered in Dallas, Texas at City Hall Plaza to participate in the American Foundation for Suicide Prevention's Out of the Darkness Overnight Walk. Walking through the night from dusk to dawn, those involved raised over $1.3 million to support the work of AFSP in funding education, research, advocacy, and support for those affected by suicide. In all, over 1,000 people participated, making the event a tremendous success.
AFSP CEO Robert Gebbia welcomed participants, commenting that since Dallas is known for its support of our military, this year's Overnight Walk would be dedicated to the brave men and women of our military whom we have lost to suicide. "We will walk through the night to lift up those who struggle with thoughts of suicide and those who've acted on those thoughts," he said. "To everyone with us this evening who has lived the experience of being suicidal, I say to you, 'Thank you for your courage. We are so glad that you are with us.'" Gebbia then added, "As we lead the fight to prevent suicide, we will never forget those we've lost … sons and daughters, siblings and parents, spouses, partners and friends."
At each Overnight, luminaria bags are lit to help remember those we've lost and those who have been to the darkest places imaginable and have thankfully made it through. Walkers came forward to light the candles within each bag, and placed them at the front of the stage.
Gebbia then introduced some of the walkers who would be participating. "Since our first Overnight Walk 16 years ago, we have become a powerful force for understanding and preventing suicide. And AFSP's grassroots activism, combined with our emphasis on research and evidence-based programs, is providing hope, hope for a day when no one will die by suicide."
He then introduced walker Cindy Miley, who lost her 15-year-old son Jay 19 years ago, and who has participated in the Overnight for the last 16 years. This would be her first time walking publicly as a survivor of a suicide attempt, from when she was a teenager. Following her remarks, Cindy introduced to the stage several participants each representing different honor bead colors, which highlight the different types of loss.
Motivated and inspired, participants began walking at 8 p.m. Throughout the course of the night, walkers journeyed past landmarks including the Dallas Art Museum, Klyde Warren Park, the Swiss Avenue Historic District, Dealey Plaza, among many others.
Supported by each other, and joining fellow walkers in conversation and sharing personal stories – or in some cases, simply making eye contact to silently communicate their understood, powerful connection – Overnight participants arrived around 5 a.m. back at City Hall Plaza for the closing ceremonies as the sun rose, symbolizing the bringing of light to the darkness of suicide.
AFSP extends its heartfelt thanks to all those who walked, and to each volunteer, crew member, and donor who participated in the 2018 Dallas, Texas Overnight.
For more photos from the event, check out our Facebook page.
This year's Overnight Walk was covered by ABC News, which was there to film both the opening and closing ceremony, Fox, and the radio show "Tell Me More."
You may also view the opening and closing ceremonies:
Opening Ceremony: https://www.facebook.com/overnightwalk/videos/1868795233184363/
Closing Ceremony: https://www.facebook.com/overnightwalk/videos/1869196269810926/
There is still plenty of time to register for the Philadelphia Overnight Walk on June 16.
The 2019 Overnight Walk locations and dates will be announced in just a few months. Please visit https://www.theovernight.org/saveaspot to reserve your place and to receive a discount when registration opens.
We hope to see you in 2019!